Why Trader Joe's Sliced Grilled Chicken Is Dividing Shoppers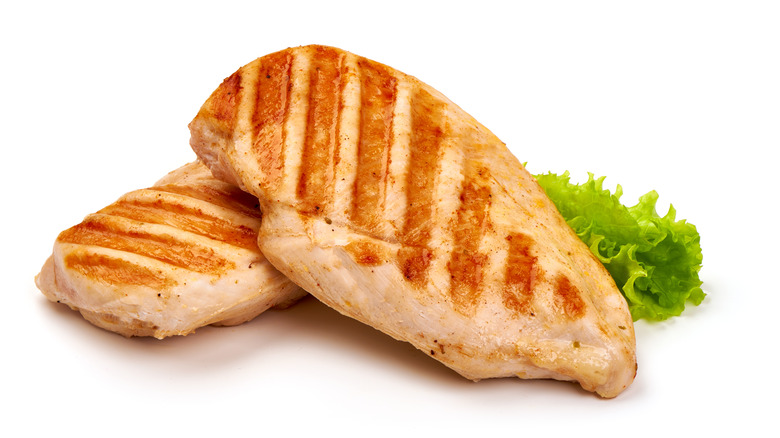 GSDesign/Shutterstock
Most of us probably know that cutting back on red meat may be good for our health. A diet that is high in red meat, particularly overly processed meat, has been linked to an increased risk of heart disease, stroke, and cancer, according to Scripps. But while starting a vegetarian or even vegan diet is certainly an option, not everyone is ready to give up meat entirely. Luckily, there are some alternatives that don't require cutting out meat completely.
Grilled chicken could be a healthy alternative to red meat. An average chicken breast delivers around 24 grams of protein and is low in fat, calories, sodium, and sugar, according to WebMD. Chicken also contains a good deal of other healthy essential nutrients including iron, zinc, copper, vitamin B12, and tryptophan. However, even the most health-conscious among us probably don't always have time to grill their own chicken every night after work, or simply don't want to deal with raw poultry on their kitchen counters. That's where Trader Joe's Organic Grilled Chicken Breast with Rib Meat comes in.
This pre-cooked meat comes already sliced and ready to add to soups, salads, sandwiches, stir fries, or just about any other meal you can think of. The organic meat contains just 100 calories and 1 gram of fat, plus 21 grams of protein, per serving, making it a low-fat, low-calorie way to add some protein to your diet, even when you are on the go (via Nutritionix).
Some shoppers felt the chicken was overpriced and underwhelming
Some Trader Joe's fans took to social media to praise this healthy and convenient product, which is currently selling for $4.49 per bag. "This is a great way to protein boost your next meal. Top off a salad, add it to a sandwich or wrap, make a quesadilla, this list goes on!" the popular Instagram account @traderjoeslist posted on social media, adding, "the chicken tastes delicious — a little garlic and savory. The texture comes off a little processed but the organic rating on this makes it even better." Many followers were quick to agree that this poultry was worth the purchase. "I buy 2-3 every month to keep on hand! Perfect addition to TJs bagged salads," one fan replied. "Yes I love it. I put it in a pan, warm it and make quesadillas," agreed another fan.
However, not everyone was convinced by this positive post. "This chicken has such a weird smell and texture to it no matter how many times I buy it, I just can't do it anymore," one user wrote, while another disappointed shopper complained it was "way too salty. Left my mouth feeling dry the rest of the day." Instagram user @mrs_traderjoes declared "I think I'll stick to my $4.99 rotiss chicken at Costco," while another user called it a product "for the lazies." So while chicken can definitely be a healthy addition to one's diet, it seems some shoppers would rather get their healthy protein elsewhere.