Trader Joe Fans Can't Get Enough Of This Returning Fall Salad Kit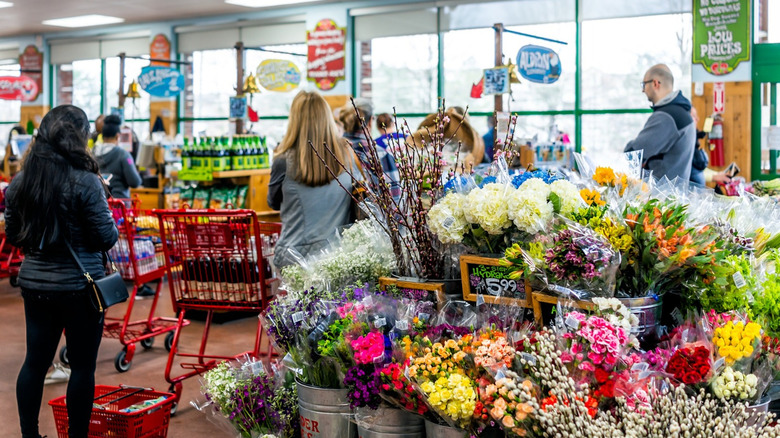 Kristi Blokhin/Shutterstock
You might think summer has a monopoly on the best salads of the year. After all, plenty of the best fruits and veggies are in season and at their freshest in the spring and summer months, according to the US Department of Agriculture. These ingredients can be combined to make the kind of perfect light, refreshing, and nutritious summer salads that you'll want to eat night after night. However, just because the weather starts to get cooler, that doesn't mean you have to stop eating salads entirely.
Of course, fall and winter are the perfect seasons to indulge in your favorite comfort foods. But, that doesn't mean you won't be able to snag a satisfying salad that manages to be fresh, nutritious, and delicious. In fact, Trader Joe's is now selling a fan-favorite Harvest Apple Salad Kit that brings together some of fall's best fruits and veggies into one convenient package for a healthy and comforting fall meal. According to Trader Joe's website, the leafy base of this Harvest Apple Salad Kit is "based on daily availability" but could include spinach, kale, green leaf lettuce, green chard, or arugula. The salad is topped with healthy pecans, autumnal pieces of apple cinnamon chips, and hearty cheddar cheese, all drizzled over with a seasonal apple vinaigrette, for just $3.99.
The Harvest Apple Salad Kit received rave reviews online
The popular Instagram account @traderjoeslist announced the return of this Harvest Apple Salad Kit online, joking "you had me at unexpected cheddar. I love adding grilled chicken and fresh apple slices to this seasonal salad," they captioned their post, adding, "The apple vinaigrette dressing is so delish, I want Trader Joe's to carry it separately!" Some of their followers also shared their favorite ways to add a little extra oomph to this fall salad mix. "Replaced the cheddar with goat cheese and added fresh apple slices and it was 10x better," @mandypandy_ suggested, while another user said it was "so good with grilled salmon!!"
Other followers simply couldn't wait to get their hands on this returning salad kit. "I wait for this salad every fall! Finally got it yesterday. So delicious" raved one follower. Many others said this was "my favorite salad" and "the best." One particularly ardent fan screamed, "AHHHHH I've been waiting for this one!!" So if you have been looking for a way to kick your fall salad game up a notch, you might want to consider adding this seasonal salad kit to your cart on your next trip to Trader Joe's.