We Tried Daiya's New Plant-Based Flatbreads. Here's How It Went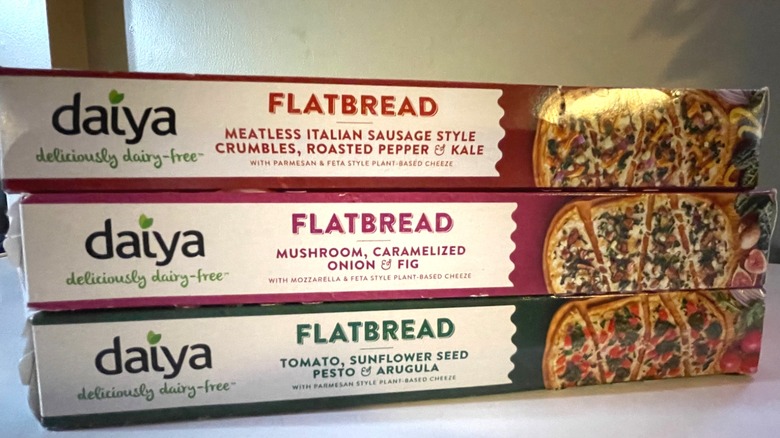 Mikala Lugen/Mashed
Since debuting its ever-popular Cheddar Style and Mozzarella Style Shreds in 2009, Daiya has been a big name in the growing plant-based food movement. It's also served as a reliable source of good-tasting dairy-free and vegan food offerings for anyone looking for a good meal. The growing numbers of vegetarians and vegans are nothing to dismiss, either. More and more people are dipping their toes into the plant-based food movement, with a 6.2% industry increase in 2021 alone and a $7.4 billion market value, according to Daiya (via PR Newswire). Daiya has championed itself as a leader within the community with its growing line of cheese formats including dessert bars, cheesecakes, burritos, pizzas, and more.
Now, Daiya is back with its latest plant-based food offering that's here to brighten up all of your late-night pizza cravings. Well, let's be honest: our pizza cravings come daily. That makes this potentially great for us because Daiya has launched its first-ever completely plant-based and allergen-friendly flatbreads.
Want to know all about the new Daiya flatbreads and if they're worth trying? We tried them ourselves — here's what we thought of Daiya's latest product.
What kinds of flatbreads does Daiya offer?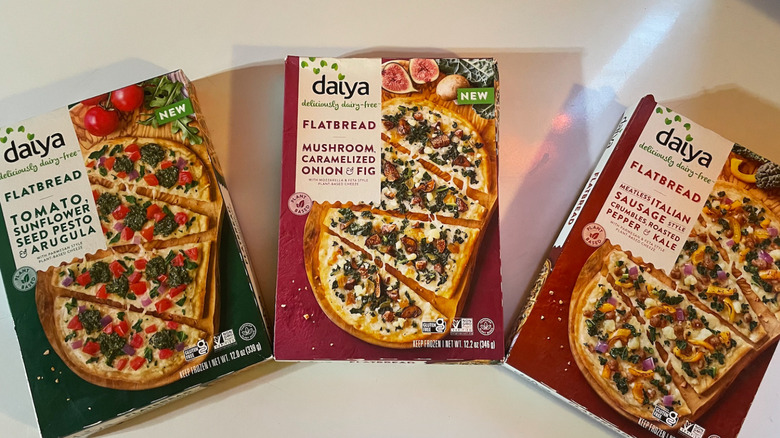 Mikala Lugen/Mashed
Now on the shelves of select grocery stores around the country, Daiya's new plant-based flatbreads feature three specially curated Italian trattoria-inspired flavors: Tomato, Sunflower Seed Pesto & Arugula; Mushroom, Caramelized Onion & Fig; and Meatless Italian Sausage Style Crumbles, Roasted Pepper & Kale. Two of the three flatbreads are centered on plants, while the third includes a vegan meat substitute. After all, what would any plant-based food option be without some plant-based meat alternatives? 
In true Daiya fashion, each flatbread is free of eight common allergens and contains no traces of dairy, gluten, soy, eggs, peanuts, tree nuts, fish, or shellfish. What makes these a home run in terms of allergen-safe ingredients is the gluten-free crust made from tapioca flour, chickpea flour, and potato starch. Unfortunately, plant-based cheese and meat alternatives are still in need of processing, so each flatbread contains various additives and not-so-health-conscious ingredients that may make you pause. These include xanthan gum, some rather vague "natural flavors," and fats like canola oil, sunflower oil, and safflower oil.
How much do the flatbreads cost and where can you buy them?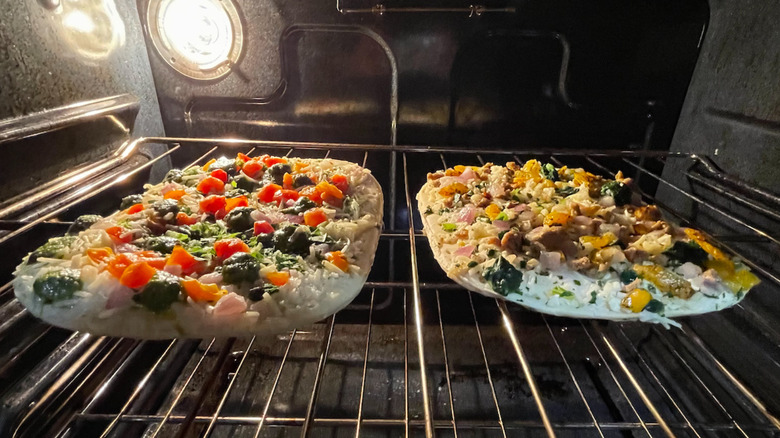 Mikala Lugen/Mashed
You can find Daiya's plant-based flatbreads in the frozen section at over 25,000 nationwide grocery stores in the United States and Canada, as well as locations throughout Asia, Europe, and Latin America. Daiya's products are most easily found at Stop & Shop, Giant, Price Chopper, Whole Foods, and New Seasons Market. Each flatbread is priced at $6.99, which we think is pretty reasonable compared to the company's other plant-based food options (via PR Newswire). 
These are a great option if you want to dip your toes into plant-based eating and get a "personal-sized" flatbread without going all-in on a whole pizza. However, it's important to note that Daiya's larger dairy-free and gluten-free pizzas are also currently priced at $6.99. Strictly speaking, you'll get more food for your money with the company's original pizzas, which come in seven different flavors (via Target). That said, Daiya's new plant-based flatbreads seem to be one of the only such options on the market right now. If you search for plant-based flatbreads, you'll find an array of flatbread crusts that you can mix and make at home, but little that's pre-made to simply pop in the oven and devour.
What's the nutritional value?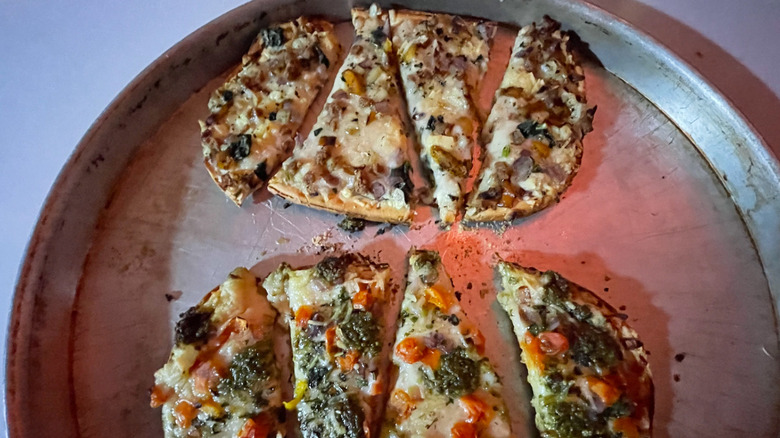 Mikala Lugen/Mashed
According to Daiya, each flatbread contains two to three servings. Maybe we should've read that before we decided to cut them up into four slim pieces and eat the whole thing, which is very easy to do. We consider these to be "personal" flatbreads, which means that eating the whole thing is quite possible. Remember also that you can count on each of the three flatbreads to contain none of the common allergens we mentioned earlier. While each flatbread varies slightly in its nutritional value, you can expect between 680-750 calories for a whole flatbread. 
Unfortunately, while the flatbreads serve a greater purpose by being fully plant-based and dairy-free, they're not exactly healthy food. These come loaded with saturated fat, making up anywhere from 35-50% of your daily value. It's the same with the sodium intake, as each flatbread comes in with around a whopping 1000 milligrams of sodium, taking up 45% of your daily intake. Additionally, if you're watching your carbs, you might want to skip out on these, as they also make up an average of 40-45% of your total carbohydrates for the day. Each flatbread does offer a hearty dose of fiber ­– five or six grams to be exact – as well as calcium, iron, and potassium.
How does the Tomato, Sunflower Seed Pesto & Arugula flatbread taste?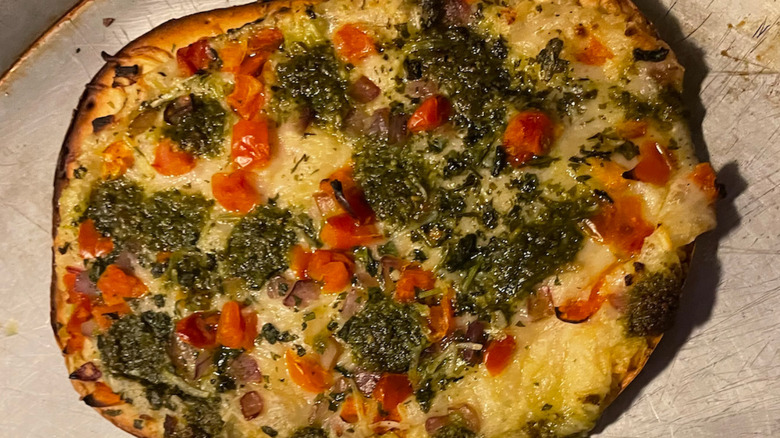 Mikala Lugen/Mashed
As our first time cooking a pre-made, frozen plant-based flatbread, we followed the directions directly stated on the box. That includes putting the flatbread directly on the hot oven rack at 425 degrees. While these flatbreads feature a completely covered plant-based parmesan cheese layer that we found seriously tasty, it did make a mess on the bottom of the oven and stirred up some smoke in the kitchen. Next time, we'll cook these flatbreads on a pizza stone to hopefully avoid such a cheesy, smoky mess.
When it comes to taste, this flatbread hit the spot, especially with the twist of pesto added to otherwise fairly traditional pizza flavors. The sunflower seed pesto had great flavor without overpowering the other ingredients. We even detected a pleasantly homemade edge to this treat.
With tomato listed first among the ingredients, we do wish there were more on the flatbread, as they provided a delicious, zesty sun-dried taste that we wanted just a little bit more of. Although it was good, it lacked the spark that would push us to buy this again and again.
How does the Mushroom, Caramelized Onion & Fig flatbread taste?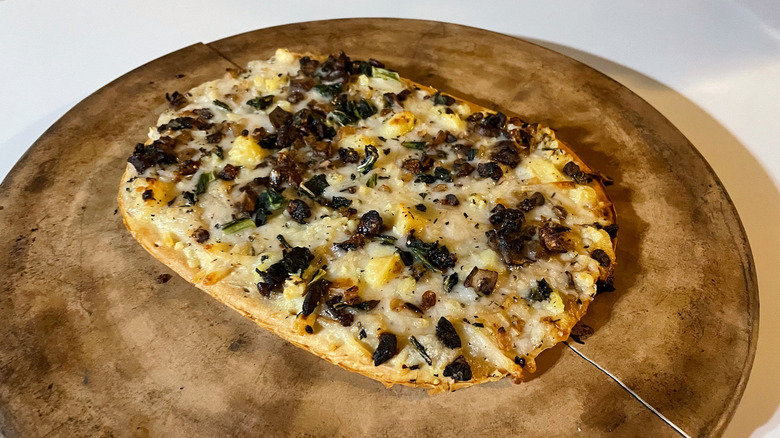 Mikala Lugen/Mashed
To be honest, we were a little wary of how much flavor this one would have. We weren't getting our hopes up for our tastebuds to encounter anything out of the ordinary. That is until we baked this flatbread. The onions are indeed caramelized with all of the complex flavors that involves, while the figs bring a lightly sweet and savory taste balance things out. Unfortunately, the figs are few and far between, so make sure you relish those bites where you do get that sweet, cheesy blend.
As for the garlic cream sauce, we feared that it would dominate the experience. Yet it blends well with the plant-based feta and mozzarella cheese topping. The kale is basically unnoticeable, but the mushrooms are aplenty.
While the Tomato, Sunflower Seed Pesto & Arugula flatbread somewhat underwhelmed us, we happily ate all of this in one sitting. This was especially satisfying and made us feel as if we were eating something actually healthy.
How does the Meatless Italian Sausage Style Crumbles, Roasted Pepper & Kale flatbread taste?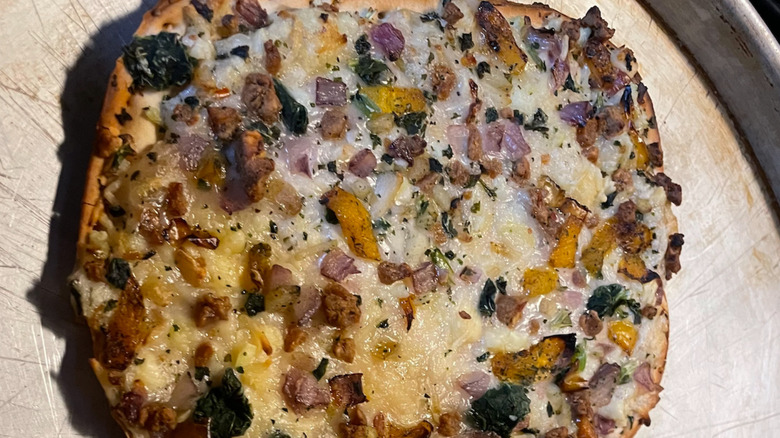 Mikala Lugen/Mashed
As the only "meaty" flatbread of the Daiya trio, we had high expectations for this one. Thankfully, it lived up to those hopes. Usually when we eat a real meat-topped pizza or flatbread, we feel as if we're gorging on fatty, greasy, and unhealthy food and tend to stay away from the sausage-laden ones for that very reason. Thankfully, the Beyond Meat Italian sausage crumbles on this flatbread hit a home run. They brought a flavorful, smoky experience to the dish and when combined with the smoky yellow peppers, it was a match made in heaven. We would have loved to see even more Italian sausage crumbles on the flatbread, given that several bites on each slice lacked them.
The feta style plant-based cheeze was a great added flavor combined with the savory kale, but we wished there was a little more onion or garlic to add a complementary flavor to the overall smokiness. All in all, this is an amazing option for people who love the taste of meat but still want to go for a plant-based meal.