YouTube Comedian Uncle Roger And His Feud With Gordon Ramsay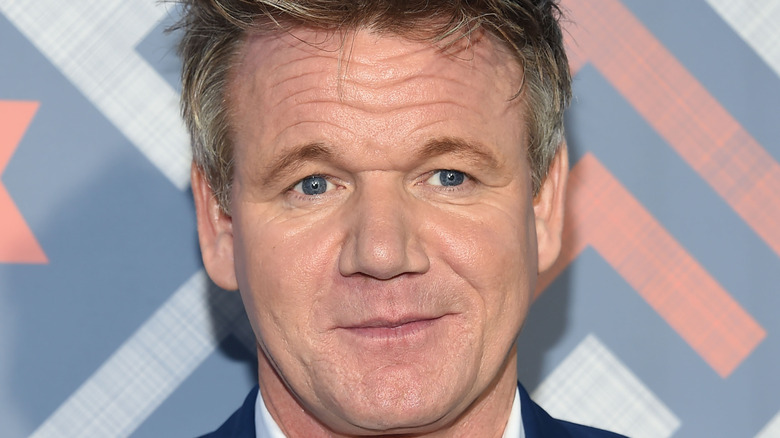 DFree/Shutterstock
U.K.-based Malaysian standup comedian Nigel Ng has made a name for himself as "Uncle Roger," the crabby uncle who calls out (mostly Western) chefs for making fried rice and other Asian dishes incorrectly. His YouTube channel boasts over six million subscribers who watch Ng pick apart the cooking styles, tools, and ingredients used by the chefs.
According to Ng, Uncle Roger is "a reflection of middle-aged Asian men" who are "a bit sassy, a bit know-it-all" but are genuinely kind people. "Everyone knows an Uncle Roger," he says. While he has been accused of perpetuating Asian stereotypes, Ng views Uncle Roger "as a celebration of Asianness and Asian culture" (via YouTube).
Uncle Roger's first big hit came when he posted a reaction video to BBC Food's fried rice video where Hersha Patel drains half-cooked rice and sends Uncle Roger into a spiral. The comedian also garnered attention for his review of a Gordon Ramsay dish.  
Ramsay is famous for his Michelin-starred restaurants and numerous television shows like "Hell's Kitchen" and "Kitchen Nightmares." Things between Uncle Roger and Ramsay started out on a high note. In 2020, Uncle Roger, along with 26 million others who viewed the video, was so impressed with Ramsay's authentic Indonesian-inspired fried rice that he deemed him "Uncle Gordon" as a term of respect. So, where did it all go wrong?
Ramsay's 'Uncle Gordon' title is revoked
Things came to a screeching halt when Ramsay posted a video for his book "Ramsay in 10," demonstrating how to make a bowl of ramen in ten minutes. Uncle Roger, already perplexed, says that it doesn't take ten minutes to make ramen — it takes at least ten hours. "Now you're just whacking random [stuff] in water," Uncle Roger says as Ramsay adds mushrooms, miso paste, and soy sauce to the pot of water. The final verdict from Uncle Roger is, "If you want ten minute ramen, just make instant ramen." After lamenting that Ramsay was supposed to be one of the good ones, he revoked Ramsay's "Uncle" title (via YouTube).
Not long after, Ramsay posted a recipe for Asian-inspired street food noodles. "This is going to send Uncle Roger into overdrive," the chef says as he spreads ingredients in a frying pan instead of a wok. Uncle Roger's reaction is pure shock as he says, "Gordon just call out Uncle Roger?" Sadly, Ramsay didn't earn his "Uncle Gordon" title back, because he used the wrong noodle. And Uncle Roger just really wants Ramsay to start using a wok (via YouTube).
There seemed to be a thawing in relations when Uncle Roger met Ramsay while shooting a guest spot on "Hell's Kitchen." And, Ng has been developing an Uncle Roger sitcom with Gordon Ramsay's production company, so perhaps this isn't the last we've seen of Uncle Roger and Ramsay (via British Comedy Guide).