Over-The-Top Desserts You Should Eat At Least Once
Desserts make everything a bit more special. They jazz up a meal (or snack time) no matter how bland or boring and make it into an event. There are plenty of stunning desserts you can make in your own kitchen, but some of the truly over-the-top desserts are ones you'll have to seek out, and it's worth doing so because everyone should eat them at least once.
PieCaken
You've probably heard of the odds and ends holiday dessert also known as PieCaken, but if you haven't tried it yet, you definitely should at least once. According to The PieCaken Shop's website, The Craveable Hospitality Group's Original PieCaken consists of an apple upside down cake layered on top of a pumpkin pie, layered on top of a pecan pie, all tied together with plenty of cinnamon buttercream. New Yorkers can pick up their own over-the-top treat at David Burke at Bloomingdale's. For those who don't live in New York, during the holidays you may be able to order your very own, otherwise you'll have to settle for experimenting in your own kitchen.
Black Tap milkshakes
You've probably seen Black Tap milkshakes featured in videos or somewhere else on social media at least once or twice without even knowing that that's what they were. According to TODAY, these social media-famous milkshakes are nearly a whole foot tall and come with over-the-top garnishes ranging from the more typical chocolate and sprinkles to candies and "whole slices of pie and cake." According to the Black Tap website, the restaurant itself was designed with the rise of Instagram food photos in mind, so it makes perfect sense that these towering confections are perfectly suited to social media. Check them out in New York City or at their soon-to-be-opening Las Vegas location within The Venetian Hotel or, of course, on Instagram.
Smith Island cake
If you've traveled Maryland or Virginia's coastline, along the Chesapeake Bay, you may have at least heard of Smith Island cake before, even if you've never tasted it for yourself. According to Saveur, this cake is actually Maryland's official dessert and is named after Smith Island, one of two inhabited islands in the Chesapeake Bay. The cake is made up of between eight and ten thin layers of yellow cake generously iced with chocolate icing. Saveur published a recipe for this stunning cake, but if you're in the area, you should definitely try the real thing.
Big Gay Ice Cream's Rocky Roadhouse
In addition to the classics, Big Gay Ice Cream also has several flavors that are a little bit more over-the-top. The New York and Philadelphia chain's Rocky Roadhouse, in particular, is a Rocky Road lover's dream. The toasted almonds, mini marshmallows, and chocolate pieces come piled on the cone-full of chocolate ice cream, which makes for an attention-grabbing presentation if I've ever seen one.
Cronuts
Celebrated (and award-winning) New York-based pastry chef Dominique Ansel invented (and trademarked) the Cronut, his croissant-doughnut hybrid that caught the attention of foodies across the country and around the world after it was introduced in May of 2013. Each Cronut is filled and each Dominique Ansel bakery serves one (and only one) flavor each month, without ever repeating a flavor, according to the bakery's website. If, for some reason, Cronuts aren't your thing, as LA Weekly reports, each bakery location (from L.A. to NYC to Tokyo) also serves up custom treats designed especially for — and only sold at — that particular location.
Alinea's Edible helium balloon
Dinner at Chicago's Alinea ranges from about $175 per person to $385 per person and you have to book tickets in advance. A meal there is an experience from start to finish, but one of the very memorable (and famous) desserts there is the edible helium balloon, an over-the-top, sensational dessert if there ever was one. According to Mental Floss, these edible balloons have been served in a wide variety of flavors, from grape to banana. Not only that, but, as Gizmodo reported, the entirety of the balloon, right on down to the string, is edible. 
Dylan's Candy Bar's I Bet You Can't Sundae
If you're looking for an over-the-top ice cream sundae that'll feed a crowd, look no further than the I Bet You Can't sundae at Dylan's Candy Bar's Chicago and New York City locations. According to the Bravo TV website, the sundae is made up of 10 scoops of ice cream, 10 toppings of your choice, hot fudge, cherry, whipped cream, sprinkles, and hot caramel. We bet you can't, too!
Macaron ice cream sandwiches
Macarons were the trendy dessert for a couple of years, and while they're not as big of a deal as they once were, you can still find them all over the place. At JOY Macarons in Dallas and Ft. Worth, as well as at many other fancy bakeries and pastry shops across the country, you can even get extra-large macaron shells filled with high-quality ice cream or gelato. Something new, something different, something eminently Instagram-worthy.
Portillo's Chocolate cake shake
The chocolate cake shake is a Portillo's masterpiece. While Portillo's was once only located in the Chicago area (and is a Chicago eats classic), the chain now has some locations outside of the metropolitan area, including in Florida, California, and Nevada. One of the best things on the Portillo's menu is the chain's extra-chocolatey chocolate cake. To make the chocolate cake shake, they simply add a piece of their popular chocolate cake to a milkshake. Everyone should try it at least once.
The King Kong sundae
If you thought there couldn't possibly be a larger, more over-the-top sundae than the one from Dylan's, you haven't seen the Sugar Factory's King Kong Sundae. According to INSIDER, this show-stopping sundae comes filled to the brim with 24 scoops of ice cream, cupcakes, candy, and more. With locations across the country, there are plenty of chances for you to try it for yourself, just make sure you bring plenty of friends along to help.
Chocolate salami
Now you can add dessert to your charcuterie plate. Chocolate salami is an inventive and creative mix of chocolate, nuts, sometimes dried fruit, and the like, combined and made to look like salami — it's sliceable and everything. If you want to try it out for yourself, there are some recipes floating around online, but if you'd rather leave it to the pros, Olive and Sinclair Chocolate Co. in Nashville sells the confection in all different flavors, according to Travel + Leisure. It's unique enough that you should give it a try at least once — just so you can say you have.
Original Rainbow Cone
The Original Rainbow Cone is a South Side of Chicago institution. Joseph Sapp and his wife Katherine founded Original Rainbow in 1926. Sapp's granddaughter Lynn took over in 1986, and while she's made many additions and tweaks, the Rainbow Cone has stayed the same. The Rainbow Cone consists of chocolate ice cream, strawberry, Palmer House, pistachio, and orange sherbet all piled high atop a cone. While you might be skeptical that those flavors could ever possibly go together, it's something you need to try, at least once, for sure.
A decadent chocolate soufflé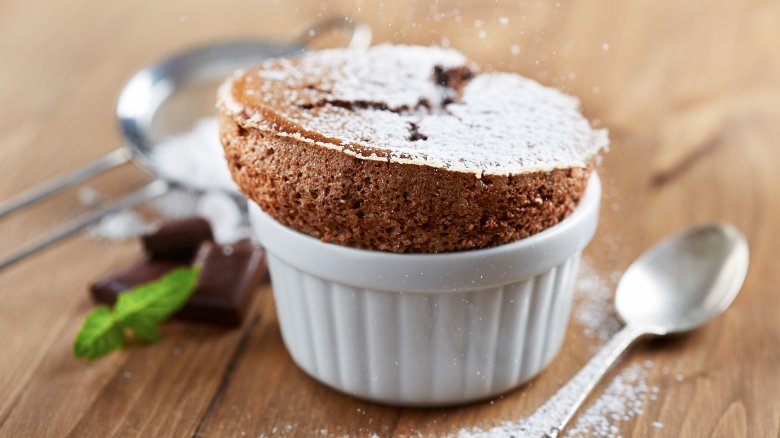 Shutterstock
Everyone should definitely eat an absurdly decadent chocolate soufflé at least once. You can make these at home if you'd like (believe it or not, they're not quite as difficult as people would have you think, they just take a little practice), but you can also occasionally spot them on dessert menus at all kinds of different restaurants. Lots of deep-dark chocolate, some sugar, egg whites and the like combine for a light-as-air dessert that you just must try. Want to take it up a notch? Serve with whipped cream, caramel sauce, raspberry sauce, or crème anglaise.