Poppy O'Toole's Cornflakes Dessert Is Giving TikTok Sweet Tooth Vibes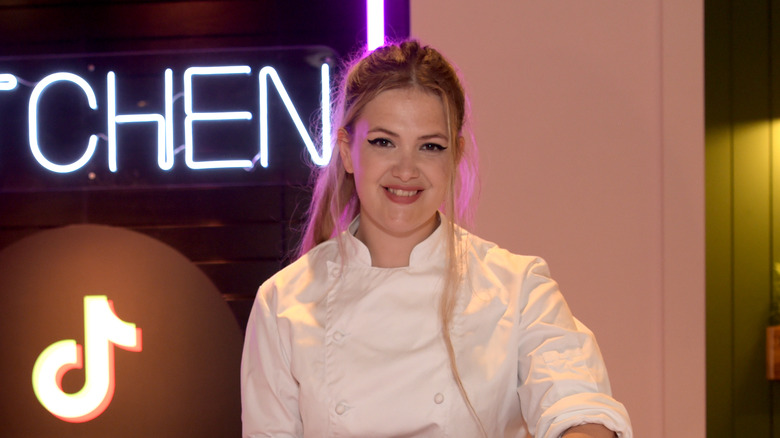 Antony Jones/Getty Images
When it comes to new and innovative food hacks, Poppy O'Toole has claimed her way to fame in that sector. Having been professionally trained at a Michelin-starred restaurant but later laid off during the pandemic, the British chef took to TikTok to connect with people around the world on the latest and greatest food hacks (via Insider). After informally labeling herself as the Potato Queen after a viral potato recipe hack, O'Toole has been deemed an influential voice in TikTok's food hack industry, now holding over 2.7 million followers on the platforms and earning over 45 million likes across her videos (via TikTok).
While some TikTok food trends can totally change your life, such as cloud bread, green goddess salad, baked oats, and more, others can be a total flop and can actually be dangerous. Not for Poppy O'Toole though. In one of her recent videos, O'Toole is seen making a delicious-looking creamy cold dessert that is sweeping us off of our feet.
Cereal Killer Cornflake milkshake is the best
The Potato Queen is exchanging her potato cooking hacks for a sweet milkshake treat. In a recent video posted on TikTok, Poppy O'Toole introduces viewers to what she calls the Cereal Killer. Yes, we do want all the details! O'Toole shows fans how to make this ultimate milkshake by first stating, "This milkshake right here made my day, my week, my entire year. It's a gorgeous milk and cornflake dessert made using my Ninja CREAMi."
First, O'Toole shows viewers how to make a simple vanilla cream base followed by the recipe that comes with the CREAMi. She then infuses her milk and cream with sugared cornflakes, followed by a marshmallow cornflake cereal spread. After freezing her ice cream for a day and then combining it with more milk in the CREAMi, she puts it all together for a delicious, creamy, sugared cornflake milkshake.
The video has gained quite the popularity on TikTok, earning over 25,000 views and taking sweet-tooth lovers' cravings to the next level. "This looks sooo good," commented one TikToker. "This looks INSANE," wrote another person. "It's giving heartstopper. I love it," another fan commented.