Stir-Fried Udon Noodles Recipe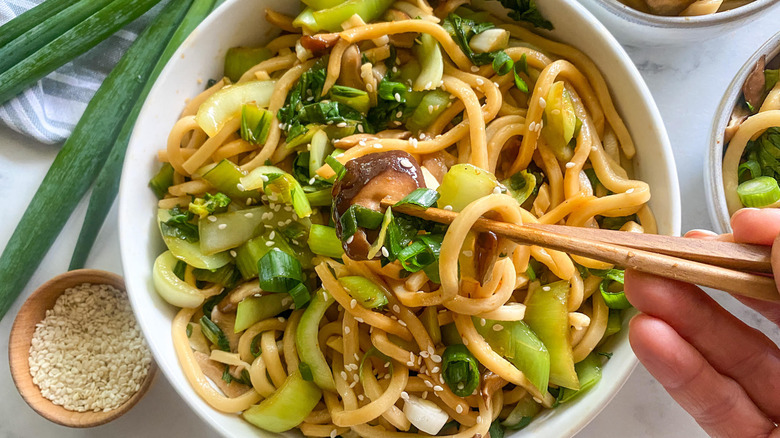 Miriam Hahn/Mashed
Who doesn't love a big bowl of stir-fry? When it comes to making this tasty dish, there are plenty of different ways to fix it up but in our opinion, noodles are always a must. And guess what? Udon noodles and stir-fry go hand in hand. These wheat noodles are thicker than average, making them incredibly filling. Add some veggies to the mix and you have an easy, delicious, and satisfying meal.
Recipe developer Miriam Hahn came up with this fantastic recipe that will surely be a hit for a family dinner or any other occasion. She loves how easy and delicious it is to prepare this nutritious dish and remarks, "Plus, you can mix up what you put in based on what you have on hand." Additionally, Hahn notes: "You can easily vary the servings by trimming down the ingredients." Whether you're serving a crowd or whipping up dinner for one, keep reading for the step-by-step instructions.
Gather the ingredients for these stir-fried udon noodles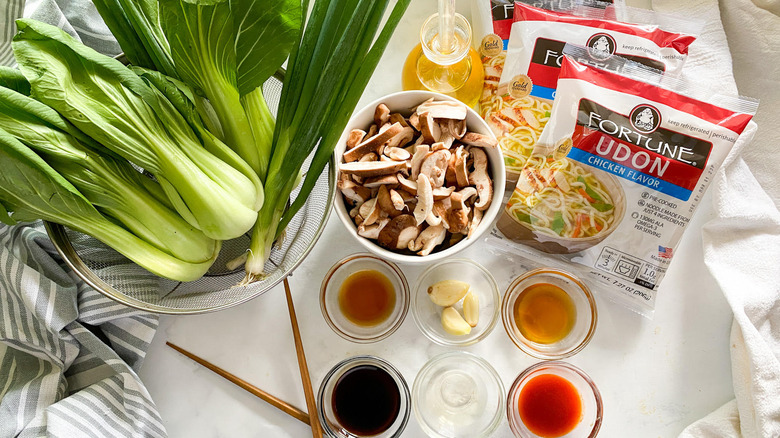 Miriam Hahn/Mashed
For this recipe, you will need baby bok choy, scallions, garlic cloves, shitake mushrooms, avocado oil, oyster sauce, soy sauce, honey, rice vinegar, Sriracha, and udon noodles. Hahn also suggests sesame seeds as an optional ingredient to sprinkle over the top when you serve this dish. 
When you're picking out your noodles at the store, take note that Hahn says, "I prefer to use the refrigerated udon noodles instead of the dry noodles." According to her, "The dry ones aren't as thick and tend to get 'sticky.' The refrigerated type is great every time, and they are basically cooked ... you just put them in hot water so you can pull them apart, easy!" 
If you want to keep this recipe vegan, Hahn suggests eliminating the oyster sauce and substituting the honey for maple syrup or agave nectar. One more note? "You can definitely swap the veggies out. Broccoli works really well here, and red peppers are a nice addition too. You can use any type of mushrooms," she shares.
Chop the veggies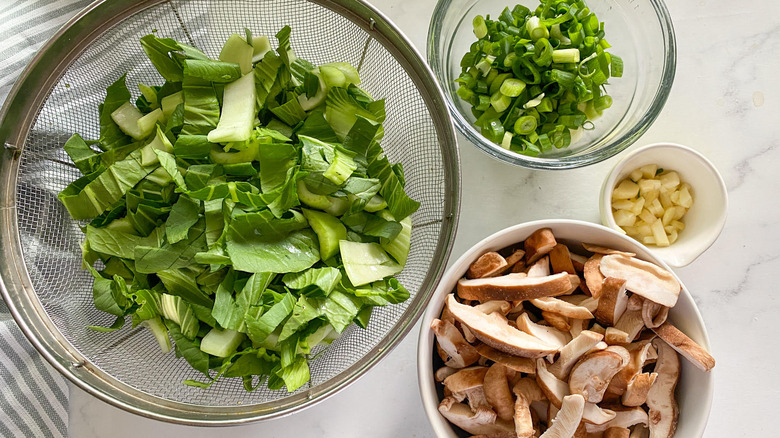 Miriam Hahn/Mashed
Start by prepping the vegetables. Get a cutting board and a sharp knife and chop the bok choy and scallions, then mince the garlic.
Cook the veggies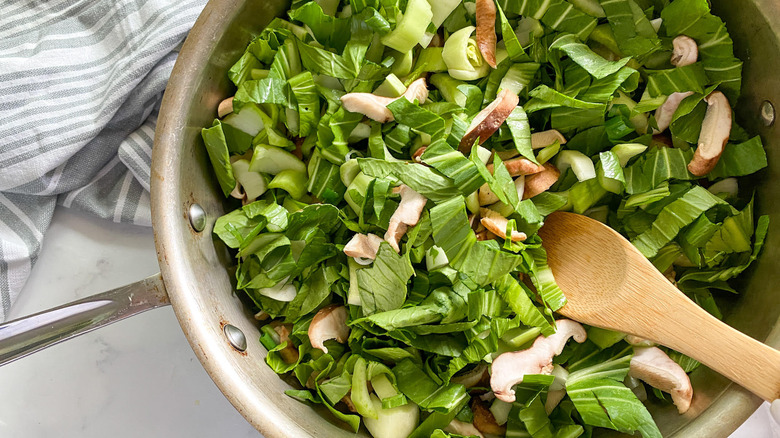 Miriam Hahn/Mashed
For this step, you will need a large frying pan. Place it on your stovetop and drizzle in the olive oil. Turn the heat to high and add the scallions and garlic. Saute them for 2 minutes then go ahead and add the bok choy and mushrooms. Cook the vegetables for 10 minutes, frequently stirring so they don't stick to the bottom of the pan.
"The only thing to look out for is to make sure you don't overcook the vegetables ... you want them bright in color and still crunchy," Hahn cautions. 
Make the sauce and noodles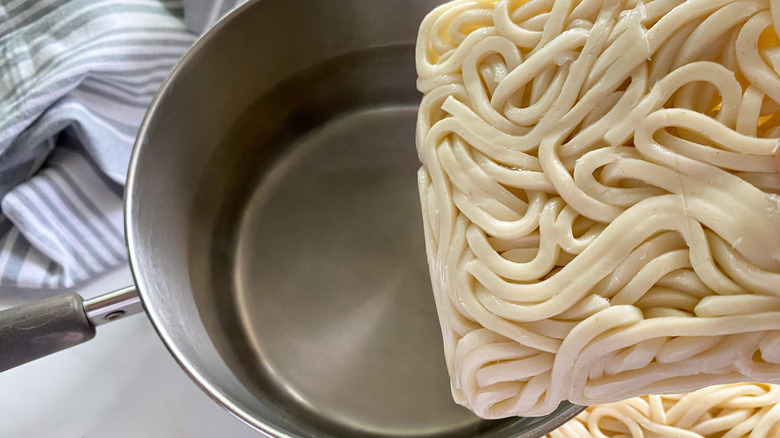 Miriam Hahn/Mashed
Next, make the sauce in a small bowl by combining the oyster sauce, soy sauce, honey, rice vinegar, and Sriracha. Whisk the contents so that they are properly blended.
Then, boil a pot of water and drop in the noodles. Break them apart with two forks then go ahead and drain the water. As Hahn explains, the noodles are already cooked so it will just take about 1 minute to heat them up and separate the strands.
Combine the ingredients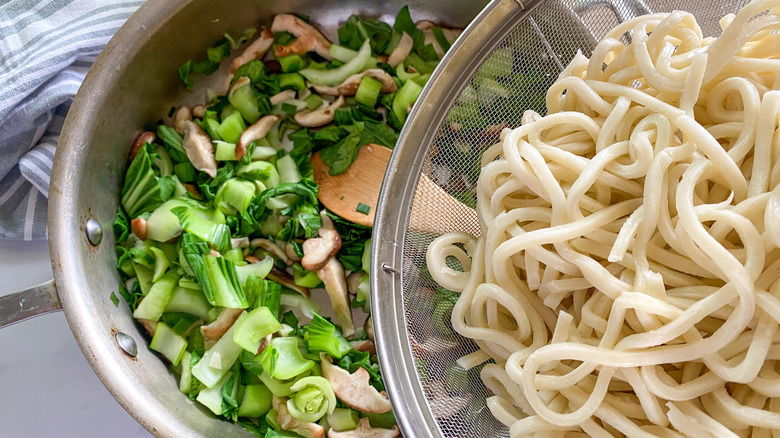 Miriam Hahn/Mashed
Now, add the noodles and the sauce to the frying pan with the vegetables and give the contents a few good stirs to combine and coat the ingredients. Easy enough, right? 
Serve and enjoy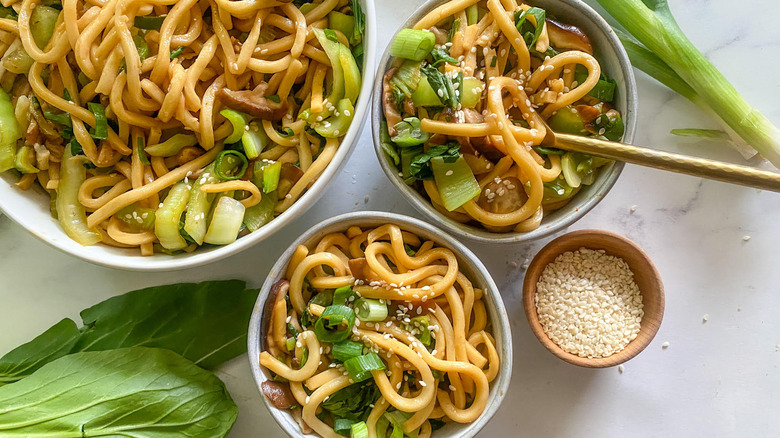 Miriam Hahn/Mashed
Remove the ingredients from the pan, portion them into four bowls, and add scallions and sesame seeds as garnish if you wish. These are plenty filling on their own, but Hahn provides a few additional serving suggestions in case you're still hungry. "[...] often I will add shelled edamame to add some protein. I find these frozen, and they thaw quickly if you just throw them into the pan with the other veggies," Hahn shares. "It is really good with tofu as well. If you add tofu you can cube it and get that cooked up first, remove it from the pan and add it back in when everything is done."
This stuff is so good, we're not sure you will have leftovers, but if you do, they make a great bonus meal. "Leftovers are good for a few days ... you usually just need to splash on some soy sauce because the original sauce will get absorbed by the noodles as they sit in the fridge," Hahn advises.
Stir-Fried Udon Noodles Recipe
If you want an easy, tasty, and versatile weeknight dinner to whip up, this stir-fried udon noodles recipe has it all. It'll be ready before you know it.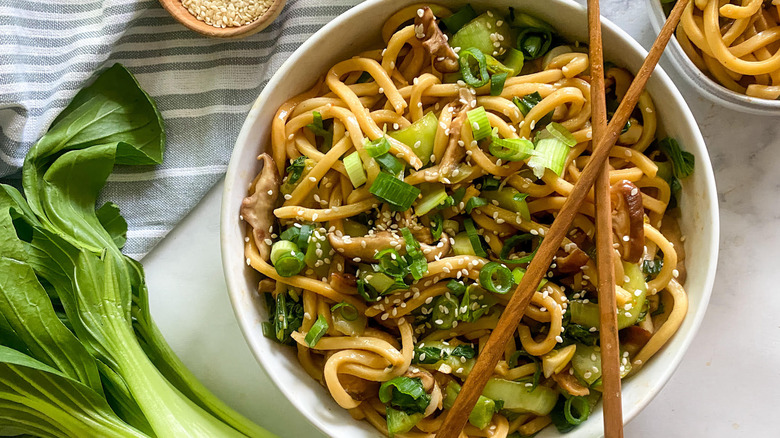 Ingredients
3 bundles baby bok choy
3 scallions
3 garlic cloves
1 (8-ounce) carton shitake mushrooms, sliced
1 tablespoon avocado oil
2 tablespoons oyster sauce
2 tablespoons soy sauce
1 tablespoon honey
1 tablespoon rice vinegar
1 tablespoon Sriracha
3 (7.27-ounce) packages udon noodles (refrigerated type)
Optional Ingredients
sesame seeds, for topping
scallions, for topping
Directions
Chop the baby bok choy and scallions and mince the garlic.
Add the oil to a large frying pan and heat to high.
Add the scallions and garlic to the pan and saute for 2 minutes.
Toss in the bok choy and mushrooms and continue to cook for about 10 minutes, stirring frequently.
In a small bowl, combine the oyster sauce, soy sauce, honey, rice vinegar, and Sriracha.
Heat a pot of water on the stovetop and when it comes to a boil, drop in the noodles.
Use two forks to break them apart into individual strands, then drain the water. This only takes about a minute.
Add the noodles and sauce to the frying pan with the vegetables and stir to coat and combine.
Top the dish with more scallions and sesame seeds if desired, then serve.
Nutrition
| | |
| --- | --- |
| Calories per Serving | 666 |
| Total Fat | 6.3 g |
| Saturated Fat | 0.9 g |
| Trans Fat | 0.0 g |
| Cholesterol | 0.0 mg |
| | |
| --- | --- |
| Total Carbohydrates | 128.4 g |
| Dietary Fiber | 7.5 g |
| Total Sugars | 11.0 g |
| Sodium | 800.6 mg |
| Protein | 23.3 g |