Here's Why Nestlé Toll House Just Recalled This Cookie Dough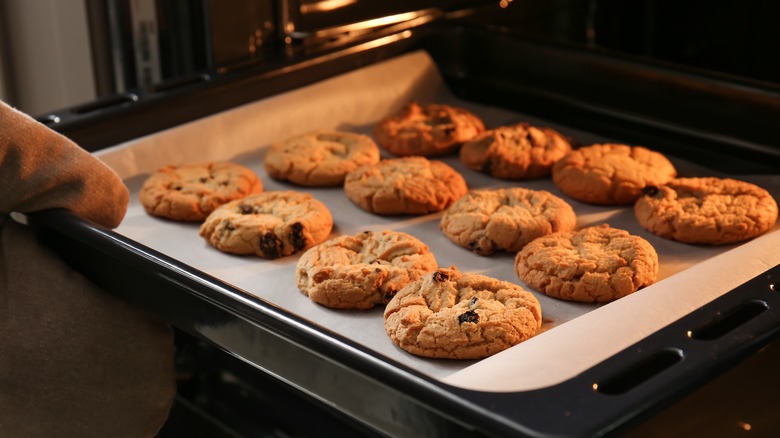 Pixel-Shot/Shutterstock
2022 has been a doozy of a year for food recalls, and now such an unfortunate announcement has struck an especially beloved brand – Nestlé Toll House. This isn't the company's first run-in with the recall police, however. Like many other brands, Nestlé Toll House has gone through the process in the past more than once.
In 2019, for example, Nestlé USA engaged in a voluntary recall of certain cookie dough products. That mishap was caused by the "potential presence of food-grade rubber pieces," according to an announcement issued by the U.S. Food & Drug Administration (FDA). For lay people not well-versed in food-chain terminology, that means that rubber seals, machine parts, etc. approved for food contact probably made their way into the product somehow. Fortunately, according to Allstate Gasket, they're all non-toxic and non-allergenic, so that's good news, at least.
Now, it seems, a similarly precarious scenario has affected the brand known for making dough from dough.
The culprit behind the latest Nestlé Toll House cookie dough recall
Few things are more comforting than fresh-baked chocolate chip cookies, but all those good vibes get wiped away in a hurry if the batch is potentially tainted. Unfortunately, foreign substances appear to have made their way back into select Nestlé Toll House cookie doughs. This time, the culprits are "white plastic pieces," according to a press release issued by the company.
The affected products are the brand's ready-to-bake refrigerated "NESTLÉ® TOLL HOUSE® STUFFED Chocolate Chip Cookie Dough with Fudge Filling" products, which were distributed to stores in both Puerto Rico and the continental United States. These items were produced in the time period of June to September 2022.
Food products are recalled for all sorts of reasons, says FoodSafety.gov. In addition to the presence of a potentially dangerous foreign material, as is the case with this recall, foods are also flagged if they don't properly declare allergens on the label, or if they're found to be contaminated with parasites or organisms that can cause serious illness, even death.
So far, no one has become sick or injured as a result of the Nestlé Toll House cookie dough tainting, however, the company is still issuing a recall of the product. They currently advise anyone in possession of the dough to return it to the point of purchase for a refund or replacement.