Here's What Happened To Shaun O'Neale After MasterChef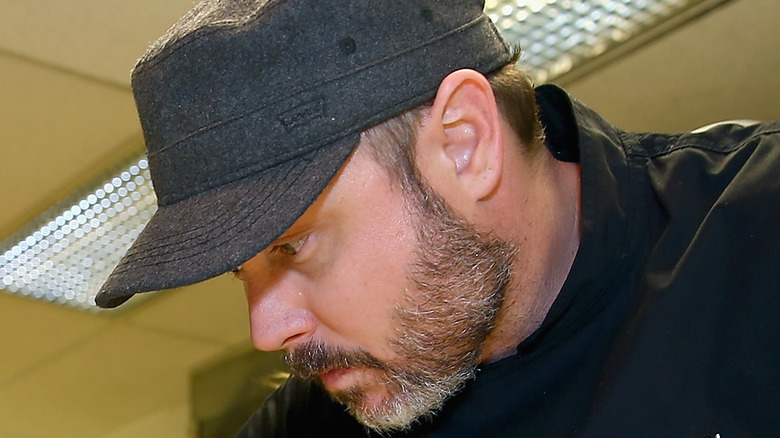 Tasos Katopodis/Getty Images
In 2016, a refined, robust three-course meal earned Shaun O'Neale victory on Season 7 of "MasterChef," a high-intensity cooking show where contestants race against the clock to present Gordon Ramsey and other celebrity chefs with exquisite haute cuisine.
In the finale, O'Neale's appetizer of miso halibut cheeks with vadouvan carrot puree and pickled mushrooms; an entrée of ancho coffee-roasted venison loin, roasted chanterelles, and smoked plums with a truffle demi-glaze; and a salted caramel chocolate tart, won judges over and secured his place as a world-renowned chef in the years to come. O'Neale told the Milwaukee Journal Sentinel that he'd struggled with venison earlier in the season. Still, the experimental and artful plating of his final venison entrée garnered him praise from Ramsey himself.
Following his win on "MasterChef," O'Neale's cookbook, "My Modern American Table: Recipes for Inspired Home Cooks," offers readers 65 eclectic and indulgent recipes that conjure the essence of modern American fare, infused with the bold flavors from far-reaching corners of the world.
O'Neale shares his culinary wisdom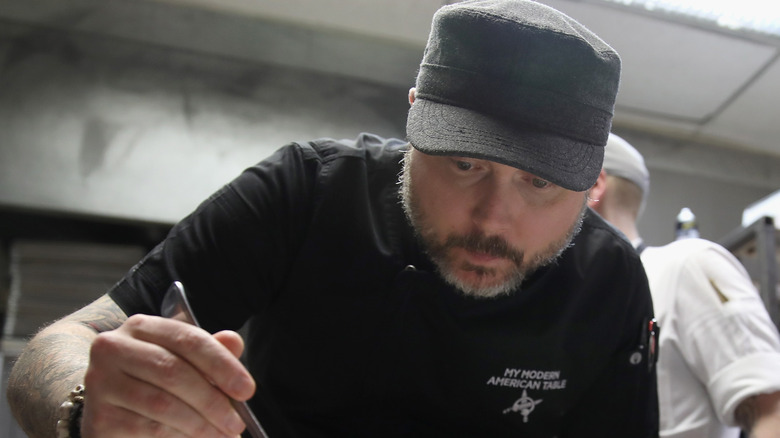 Tasos Katopodis/Getty Images
O'Neale continues to channel the energy of his previous career as a DJ from Las Vegas, Nevada, to a future traveling the world, crafting ethereal flavors, and sharing his culinary knowledge.
His website reports an abundance of television appearances. As a culinary host, O'Neale returned to grace "MasterChef" several more times, appearing on set for Seasons 8, 9, and 10 and participating in the "MasterChef Celebrity Throwdown" on FOX. As his fame grew, he contributed to Best in Food on the Travel Channel and became a celebrity guest judge for several episodes of the Hallmark Channel's "Home & Family." With a penchant for exploring new culinary terrains, he partnered with MorningStar Farms to design chef-inspired vegetarian meals, as this 2017 commercial shows. "MasterChef" remained an important part of O'Neale's life, and he later went on to mentor budding young chefs at Camp MasterChef.
From performing at the Epcot International Food & Wine Festival to headlining a food-focused journey on the Holland America Line, and training chefs at the five-star luxury resort Arenas del Mar in Costa Rica, O'Neale is no stranger to sharing his repertoire of culinary techniques and experiencing new cultures, per his website.
What's in store for O'Neale's future?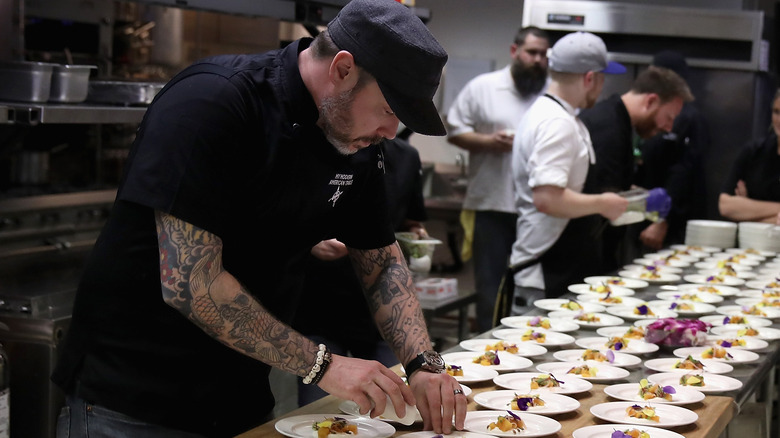 Tasos Katopodis/Getty Images
Even after traversing the globe, the star chef stayed true to his roots. In 2021, he returned to Las Vegas and launched Larrea, a sleek dining spot that aims to place seasonal, locally-sourced ingredients under the spotlight. On the menu, potato gnocchi, roasted butternut squash, and sautéed mushrooms and spinach absorb the rich flavors of a house-made truffle sauce. A classic American appetizer of buffalo wings features Korean gochujang sauce. And espresso-rubbed short ribs simmer in a hearty stout beer. Behind the soft-lit bar, award-winning mixologist, Benjamin Browning slings cocktails made of a smokey bourbon base or the tropical notes of fresh yuzu juice, zesty ginger beer, and a handcrafted grapefruit cordial.
But earlier this year, managing partners Ben Lugar and Keith Waidelich told Eater Las Vegas that O'Neale would be stepping away from the newly-launched restaurant venture. Eater Las Vegas also reports that O'Neale declined to comment on the matter, but Lugar and Waidelich claim there is no animosity between them. While the new team has reshaped some of the menu, many of O'Neale's famous dishes remain.
In the summer of 2022, O'Neale made another appearance on "MasterChef" Season 12 (per IMDB). Whatever his next venture may be, the celebrity chef continues to inspire people to pursue their dreams and make bold choices.