Duff Goldman Threw Shade At The Buddy Vs. Duff Judges
Duff Goldman isn't the type to get embroiled in many controversies. You can find plenty of Gordon Ramsay's most notable feuds with other chefs. Bobby Flay and Anthony Bourdain also tend to show up repeatedly on any list of epic celebrity chef battles. Go looking for fights that Goldman has been involved in, and the list is far shorter. Usually, the man who was formerly the Ace of Cakes is too busy promoting the charities he champions, like No Kid Hungry and the Independent Restaurant Coalition, to get embroiled in a war of words (via The Travel Addict).
Even when Goldman does speak out, he's usually fighting for what he believes is right. In 2017 Goldman took up his quill for People to write an essay regarding a legal case. The case was Masterpiece Cakeshop v. Colorado Civil Rights Commission, and in it, a bakery owner refused to make a wedding cake for same-sex couples. Since the celebrity baker also owns a bakery, Charm City Cakes in Baltimore, he felt the need to speak out against what he saw as injustice. In it, he said that bakers "don't get to choose who decides to stop in and purchase our goods." He said, "refusing service amounted to nothing more than discrimination," on the part of the baker. He compared it to a restaurant refusing to serve an interracial couple.
Though he's not quite as angry at the judges on "Buddy vs. Duff," he did throw a little shade.
Duff implies he'd beat Buddy in a real cake competition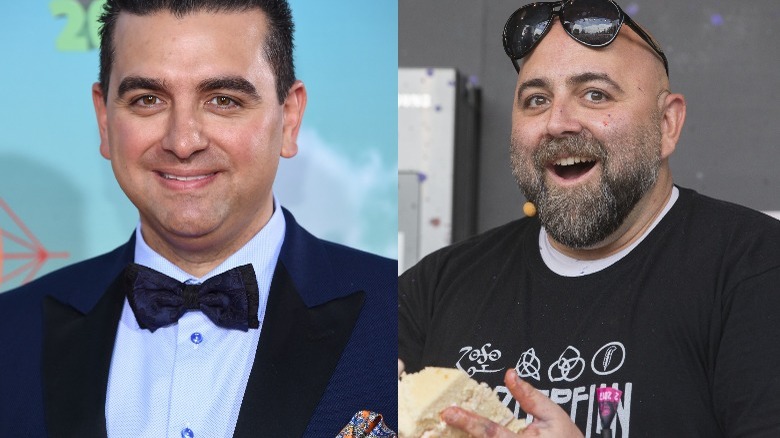 Sterling Munksgard & DFree/Shutterstock
Though "Ace of Cakes" is no longer on the air, Duff Goldman still is. One of his newer projects is a show entitled "Buddy vs. Duff" which involves him competing with none other than the beloved Cake Boss, Buddy Valastro. Though the show is all done in good fun, it's clear that there's a competitive edge inside Goldman. It appears that he doesn't like to lose and feels that the judges aren't quite what he expected.
"The judges are really impressed with size," said Goldman in an interview with The Travel Addict. It seemed to the interviewer that Valastro had been making much larger cakes than Goldman, which had led to judges giving the Cake Boss higher marks. The cake connoisseur said that wouldn't happen in a real cake contest. "The judges here are TV judges, not cake judges. They love it so big. In a real cake competition, they get up close and check for the cracks and the flaws."
He also says that his goal is to make cakes "flawless," and, "when we try to make cakes too big, they get kind of sloppy." It seems he's found a way to be diplomatic, and never needs to resort to violence to make his point.