Light And Crispy Fish Batter Recipe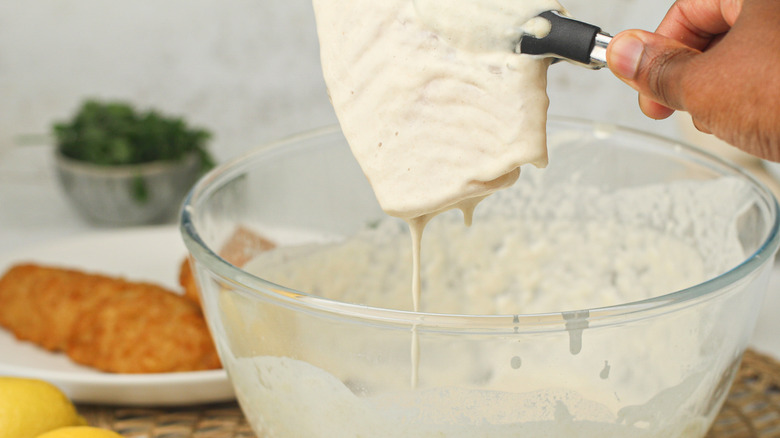 Susan Olayinka/Mashed
There are many ways to cook fish. While grilled, poached, sautéed, and baked are all good, if you want to make classic fish and chips or perhaps a Wisconsin-style Friday fish fry, then you'll need to fry your fish. This recipe is for a batter that can be used to dip the fish in before frying. Recipe developer Susan Olayinka assures us that it "turns out nice and light and crispy" when fried, pointing out that this "is exactly what you want in a fish batter."
Olayinka also notes that this batter "is very easy to make and ... only requires a few ingredients that you probably already have in your kitchen." One ingredient that she says gives it a little extra something is seltzer used in place of still water. This, she says, "gives the batter a little bit of extra lightness and crispiness." Olayinka feels that white fish is best suited to this batter, naming off cod, haddock, and tilapia as possibilities. She says it might be okay with salmon, but adds: "I would recommend avoiding anything too oily or fatty, as it might not turn out as crisp."
Assemble the ingredients for this light, crispy fish batter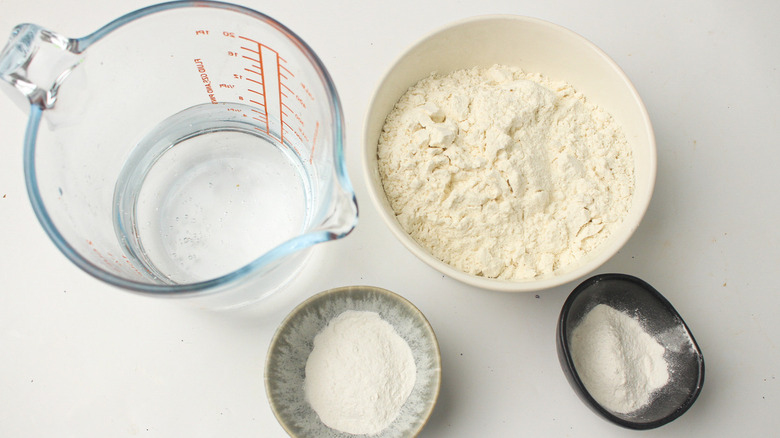 Susan Olayinka/Mashed
You'll need just four ingredients for this fish batter (besides the fish): all-purpose flour, baking powder, cornstarch, and seltzer. It's probably best to stick to a plain, unflavored seltzer for this dish, unless you really want an extra hint of fruit flavor.
Sift the dry ingredients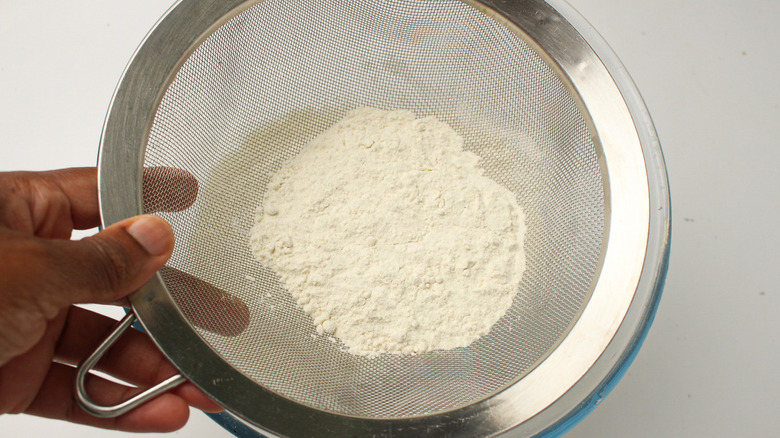 Susan Olayinka/Mashed
Measure each of the dry ingredients — the flour, baking powder, and cornstarch -– into a sieve or a sifter. Obviously, the flour makes up the bulk of the batter, but Olayinka explains that "the baking powder and cornstarch help to create a light and crispy batter. Without them, the batter would be dense and heavy."
Shake, tap, or stir the ingredients until they fall through the mesh, and then stir the sifted ingredients to make sure they are well-combined.
Add the seltzer to the dry ingredients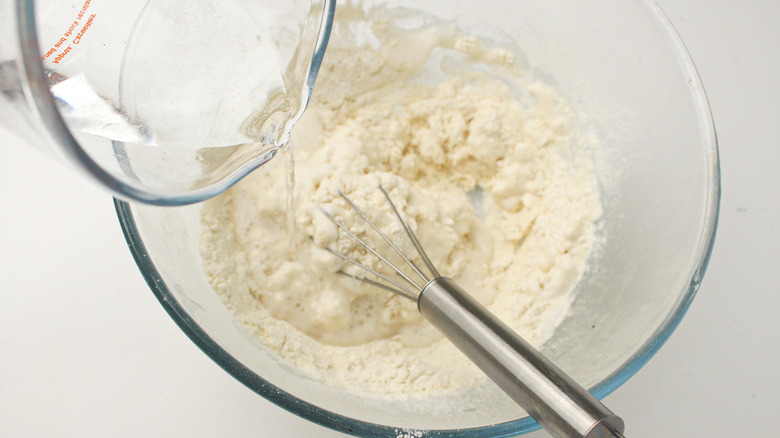 Susan Olayinka/Mashed
Pour the seltzer into the dry ingredients and stir until you have a smooth batter. It may work out best if you stir in just a little bit of liquid at a time to prevent lumps in the batter. 
Use the batter for fish or other ingredients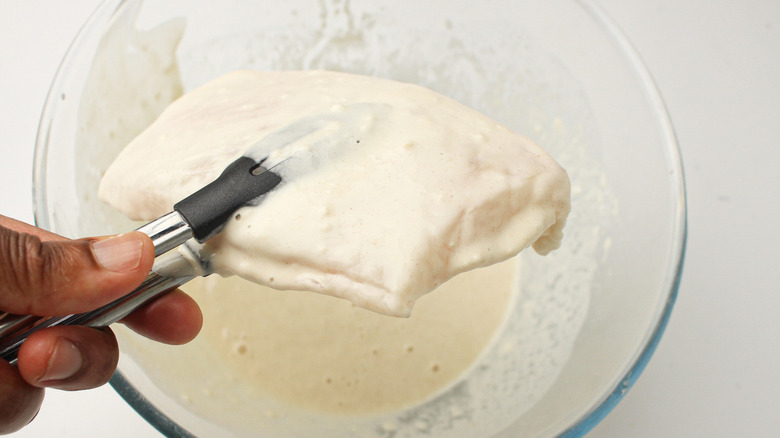 Susan Olayinka/Mashed
Dip your fish in the batter, making sure that each piece is entirely coated, then allow the excess to drip off. Assuming you have hot oil close at hand, you may now fry the fish.
Fish, however, isn't the only thing you can coat with this batter. Olayinka feels it could be "great for frying up chicken, shrimp, or vegetables" and adds "if you're feeling adventurous, you could even try making some tempura." Whatever you do with it, try to use it all within 24 hours. After that, Olayinka says that it won't fry up quite as crisp as it would on the first day.
Light And Crispy Fish Batter Recipe
There's something about freshly fried fish that is indescribable. And with this versatile light and crispy fish batter, it's worth every hot oil splatter.
Servings
4
x 4-ounce fish fillets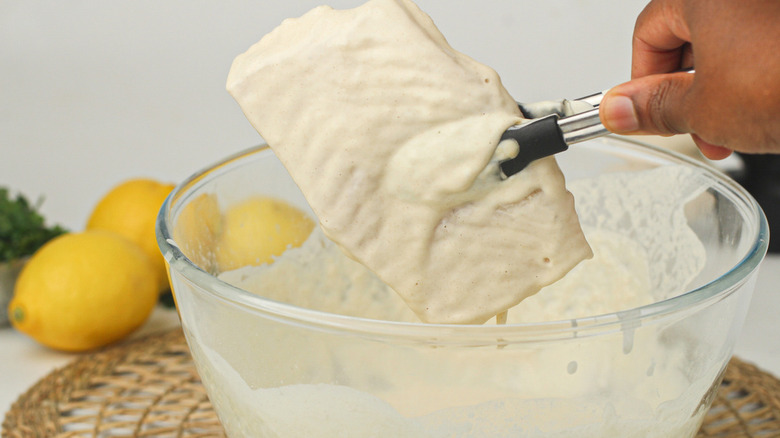 Ingredients
1 cup all-purpose flour
1 teaspoon baking powder
1 tablespoon cornstarch
1 cup plain seltzer
Directions
Sift the flour with the baking powder and cornstarch.
Mix the seltzer with the dry ingredients until well-combined.
Dip the fish into the batter, making sure it 's well-coated.
Nutrition
| | |
| --- | --- |
| Calories per Serving | 122 |
| Total Fat | 0.3 g |
| Saturated Fat | 0.0 g |
| Trans Fat | 0.0 |
| Cholesterol | 0.0 mg |
| | |
| --- | --- |
| Total Carbohydrates | 25.9 g |
| Dietary Fiber | 0.9 g |
| Total Sugars | 0.1 g |
| Sodium | 104.0 mg |
| Protein | 3.2 g |