Here's What Happened To Momma Pearl's Cajun Kitchen After Restaurant: Impossible
Robert Irvine and his "Restaurant: Impossible" crew once had quite the remodel that looked, dare we say, impossible.
Marriage is hard work, but owning and running a restaurant with your partner adds another layer of complexity. During the episode "Big Ego, Big Trouble," we meet chef and owner Robert "BB" Brunet, a southern Louisiana native, per The Gazette. He and his wife, Becky, opened Momma Pear's Cajun Kitchen in Colorado Springs, Colorado in 2013. At the time of filming, the restaurant was losing $4,000 a month, their home had been foreclosed on, and they owed back taxes. Brunet and his wife, who has a background in the hospitality industry, are often at odds over how best to run the restaurant.
First impressions count, and Irvine is not impressed. The concrete floor is chipped and dirty, and the place is full of tchotchkes. During service, the kitchen staff seems efficient, and Becky holds down the front of the house. However, Brunet seems clueless about his own kitchen and is combative with chef Irvine. A taste test leaves the Cajun food little to be desired. And in a bombshell moment, Irvine confesses to Brunet, "I don't like you." He characterizes Brunet's "BB" alter ego as "egotistical and arrogant." The remodel was tough — so much so that Irvine nearly walked out, unsure if the owner would listen to him. 
How is Momma Pearl's Cajun Kitchen doing now?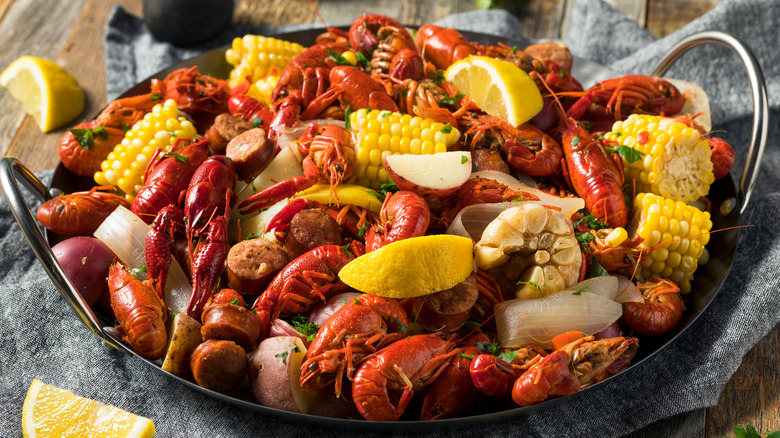 Brent Hofacker/Shutterstock
After Momma Pearl's Cajun Kitchen's remodel, reviewers are split down the middle with the food. Some find it great, but others, especially those who are from the south, say that it's missing the spice they associate with Creole and Cajun food. One Google reviewer said, "The spice level was not up to par with what I'm used to with Cajun food, but it was still good." Other reviewers are more forgiving about the restaurant, given it's located in Colorado, which isn't exactly known for Cajun food. One five-star reviewer said, "it's really hard to directly compete with those places if you know them, but that doesn't mean it's not super tasty."
Disappointed reviewers mention the quality of the food and service, with some patrons being ignored or forgotten by wait staff. A Yelp reviewer said, "Order came out about 45 [minutes] after taken, and was cold ... I saw our beer order sitting at the bar for about 10 mins before it came to the table, and a side order was even forgotten."
Reviews aside, though, the restaurant is still standing after that 2021 "Restaurant: Impossible" episode, so it looks like the owners took Robert Irvine's suggestions to heart.