Costco Fans Are Divided On Its Nashville Style Hot Chicken Seasoning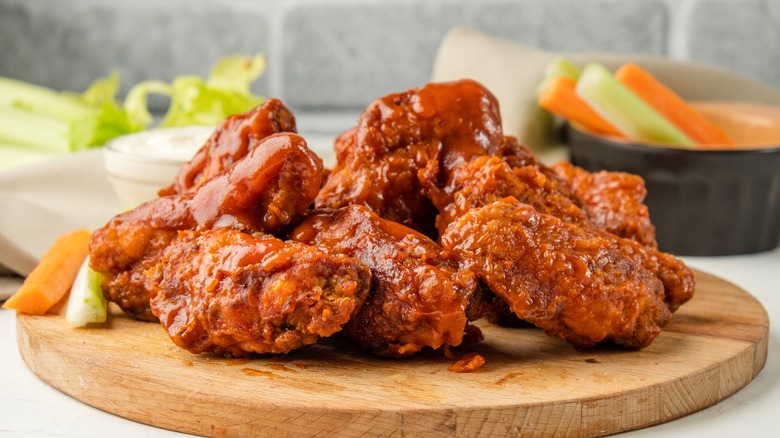 Axel Mel/Shutterstock
Nearly every part of the world has food for which it's famous. Wisconsin has cheese, Louisiana has gumbo, and New England is famous for its clam chowder. For Nashville, the one item that generally comes to mind is hot chicken. The spicy bird is a standby that can be found in nearly every street vendor or Southern kitchen in Music City, U.S.A. Cook it correctly, and you're a hero. Do it wrong, and you might as well move to Vermont.
It's unclear why hot chicken became so popular in Nashville. Looking at the history of the food, the picture doesn't get any more comprehensible. NPR claims that hot chicken started as a punishment for a womanizer named Thornton Prince. So the lore goes, his wife covered his chicken in hot pepper one day, after he'd been in the arms of another. Except, the punishment ended up backfiring, and the rest, as they say, is history.
Whether this story has any truth to it is irrelevant. What matters is that hot chicken certainly isn't going anywhere anytime soon. It's also not likely that fans of the hot fowl are going to accept anything claiming it's "Nashville-style hot chicken seasoning" unless it can prove itself worthy of being associated with the dish. Sadly, a new Costco spice that is trying to bring hot chicken home for everyone doesn't seem to have what it takes.
Costco's hot chicken seasoning garners mixed results
When considering an authentic Nashville hot chicken recipe, there are a few things to keep an eye on. One of these is naturally the pepper. Cayenne pepper is the traditional spice used to add heat to the chicken, according to JuleeHo Media. The legend says that when the woman was trying to punish Thornton Prince with spiciness, she used her homegrown cayenne peppers (via NPR). Cut down on the Cayenne, and the hot seasoning isn't quite the same.
An Instagram post shows that Costco is now stocking a seasoning mix from the spice masters at McCormick that has the name "Nashville Style Hot Chicken Seasoning. But fans don't believe the seasoning has the chops to make that claim. Though the original poster says, "This has an explosive flavor," about the seasoning, the ingredients tell a slightly different tale. Looking at the seasoning on the Walmart website shows sugar as the first ingredient, and the Cayenne that is supposed to make the chicken kick isn't even itemized on the list. 
This failure may be what led one Instagram commenter to point out, "It's not hard to make it at home," implying you might be better off mixing up your own than giving this a shot. Other commenters weren't quite so cynical, saying things like, "Can't wait to try!" and "It's soooo good." Thus, it might be just the seasoning you're seeking or a sweet disaster.