Here's How To Bring Pumpkin Spice To Your Diwali Celebration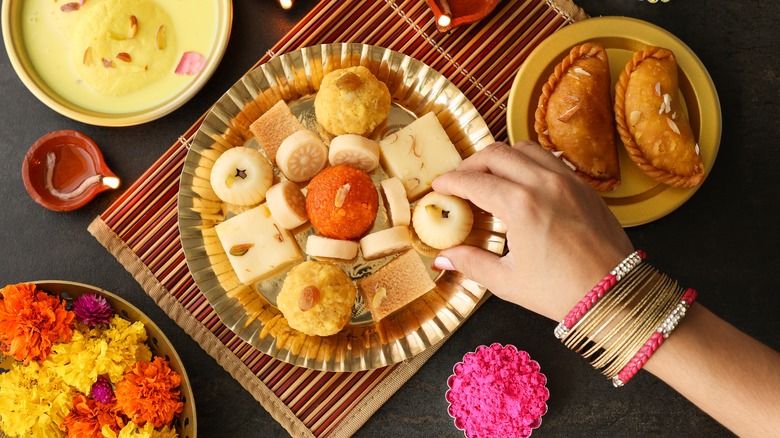 Santhosh Varghese/Shutterstock
New York City is celebrating Diwali this year with a major announcement. As NY Daily News reports, the city's mayor has declared that Diwali will be an official New York City school holiday in 2023. According to the outlet, that school holiday will be observed beginning next year on the third and main celebration day of the festival of lights, a five-day celebration honored by Hindus, Sikhs, Jains, and some Buddhists.
Diwali is observed far beyond the borders of the five boroughs, though, and a common theme is eating sweets. Republic World explains that Indian sweets known as Mithai are thought to be "pure" and even suitable as an "offering to the gods." Today, those sweets are gifted and eaten in celebration of Diwali. While traditional Mithai may be made with spices like saffron, milk, and expensive nuts (via Forbes), there's no reason you can't incorporate some of your own favorite flavors into your Diwali celebration. And, if you happen to have a pumpkin spice craving this time of year, there's one dessert that might just be the perfect fit for your festivities.
Kalakand could scratch your pumpkin spice itch
One traditional sweet served during Diwali is kalakand, which per The Hindu, has roots that go as far back as 1947. According to Spice Cravings, kalakand is a dessert made from "solidified, sweetened milk." My Heart Beets puts the texture of this dessert as a "mix between a cake and soft fudge," describing it as something like an "Indian tres leches." While the most traditional flavor for kalakand is likely cardamom, Signature Concoctions says that mango and rose varieties also exist, as well as the outlets' very own "fusion mithai" creation that incorporates a beloved American fall flavoring — pumpkin spice.
Taking kalakand on an American jaunt for Diwali, Signature Concoctions uses pumpkin purée and pumpkin spice in its recipe. The result is a dessert with a "beautiful golden orange-yellow color that comes from the pumpkin purée and looks very festive." The pumpkin spice also brings a "delightful warmth" to the dessert's flavor, according to the outlet. It goes without saying that new recipe inspiration is always a much-appreciated benefit of the unique opportunities holidays provide to blend traditions. Perhaps around this time next year, NYC students will use their new school holiday to create their own Diwali fusion recipes.