The State With The Cheapest Pepperoni Pizza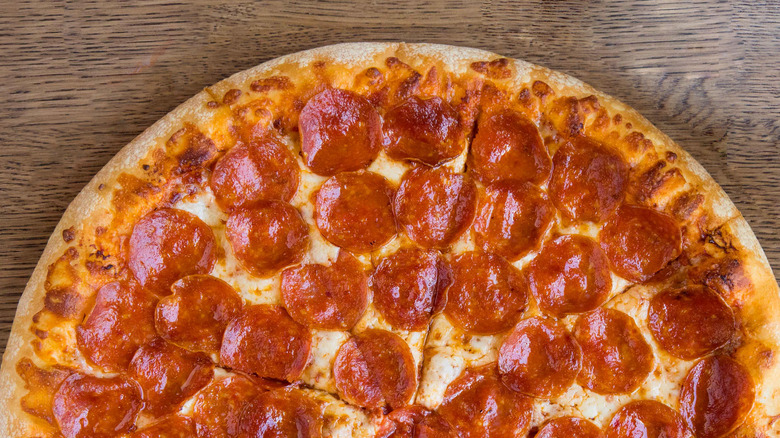 Shannon O'hara/Getty Images
I scream, you scream, we all scream for...pizza?! I mean c'mon, have you never screamed for pizza before? How can you not with its perfect cheesy, doughy consistency? The United States alone is home to millions of pizza lovers. According to the Washington Post, over 100 acres worth of pizza is consumed every day in the United States, equating to three billion pizzas for every single person in the country, every year.
No matter how you prefer your pizza, it brings people together for the variety of toppings on its classic dough, sauce, and cheese base. With pepperoni and cheese being the classic staple, we won't judge you if you prefer pineapple (or maybe we will). With all of the pizza craze throughout the country, we've found ourselves sorting through pizzerias in every state trying to find the best of the best. And we did. We found the best pizza places in America, and even the best pizza place in every state. But what about price? Where can you find the cheapest pizza in the country?
Beehive State is buzzing for pizza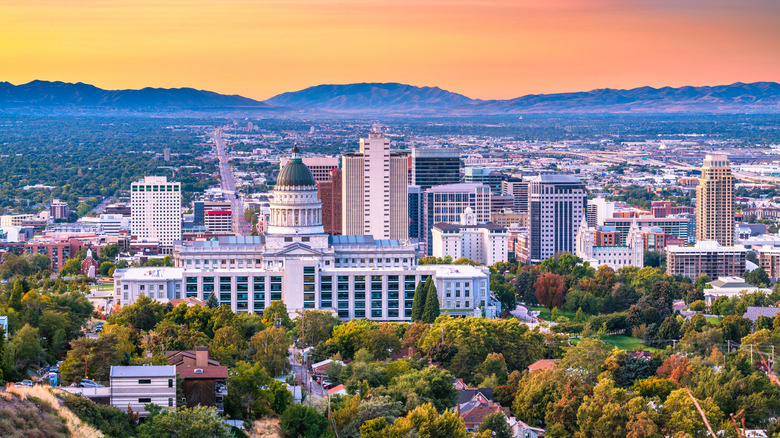 Sean Pavone/Shutterstock
If you're trekking throughout the United States on the hunt for the cheapest slice of pepperoni pizza, we have your answer. Next time you decide to take a grand road trip throughout Utah's five national parks, make sure to hit up some pizza places around the state. According to The Takeout, Utah clocks in as the No.1 state with the cheapest pepperoni pizza. 
While you're expected to pay an average of $15.56 for a single pepperoni pizza pie in Oklahoma, Utah comes to an average total of $6.49 per pepperoni pie. With a price like that, we'll splurge and get double pepperoni. If pepperoni doesn't swing in your diet, North Dakota comes in on top for the cheapest cheese pizzas in the United States, averaging $6.64 for a cheesy pie (via The Takeout).
Want to get your own slice of cheap pepperoni pizza heaven in Utah? Make your way to Rusted Sun Pizzeria in the state's capitol of Salt Lake City. You'll find the restaurant boasts high reviews for a reason. Although, you won't be paying that cheap price at Rusted Sun. According to its menu, the average pizza at the famed pizza joint is double that, ringing in at around $12.