Here's What Happened To Deno's I-76 After Restaurant: Impossible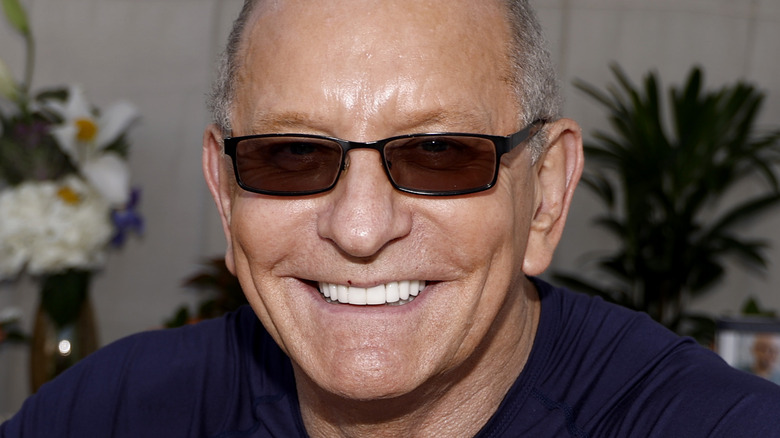 John Lamparski/Getty Images
Take exit 39 just off of Interstate 76, and you'll find Deno's I-76, a family restaurant in Keenesburg, Colorado. The diner claims to whip up everything from a "hearty breakfast and lunch to savory dinners and scrumptious desserts" that encompass both American food and Mexican cuisine (per Deno's I-76).
But when celebrity chef Robert Irvine of "Restaurant: Impossible" pulls off the highway to the diner, what he finds is the stark opposite of a supportive, familial environment. The restaurant's employees have abandoned Darlene, the owner, leaving her and her business on the brink of collapse. In the show, Darlene says she was motivated to buy Deno's I-76 to save people's jobs. But when Irvine and his crew arrived, only one of her original employees still remained by her side. In Season 19, Episode 9, "Not So Peachy Keen," Irvine embarks on a journey to rapidly help Darlene "find staff and inspiration to turn this nondescript truck stop into a must-see destination" (per Food Network).
How is Deno's I-76 doing now?
Following Irvine's transformation of the family diner, customers have shared their thoughts about its atmosphere, staff, and food. The highest reviews praise Deno's I-76 for great food, exceptional service, and reserved parking and discounts for truckers, with one Google reviewer writing that the diner provides "old-school quality on a young man's schedule." Another review expressed that the diner had a "friendly, clean, wonderful atmosphere," and the "chicken fried steak dinner was comforting."
Darlene's diner, however, has received mixed feedback since the episode's release. One Google reviewer recounts how "the burger was over cooked no flavor [sic], the salad was iceberg lettuce with 5 slices of cucumber and a couple 'ice cold' chicken nuggets sliced over the top," while "the macaroni was soup and tasted like Kraft." Several customers still complain of slow service, so it seems as though Darlene's restaurant remains understaffed, despite Irvine's attempt to improve the diner and help Darlene find more support. According to one dissatisfied reviewer, the "staff is friendly, but service is very slow," also commenting that staff should have a more uniform dress code because "sadly, everyone looked like they had just rolled out of bed."
Currently, Google and Yelp both label the diner as "permanently closed." Some reviews argue this is a mistake. In a Yelp review, someone says "they were indeed open!" but several other reviews state otherwise. This uncertainty does not look promising, but maybe there is still hope for Darlene and her diner.