Here's What Happened To Jalisco Cafe After Restaurant Impossible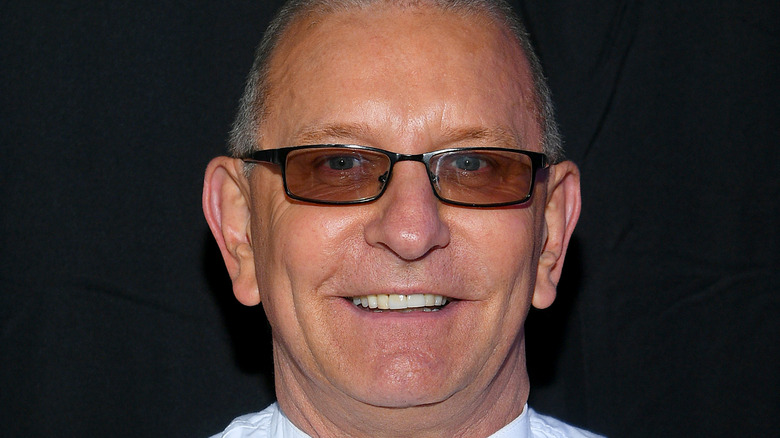 Dave Kotinsky/Getty Images
It's one thing for Robert Irvine to head to a restaurant sorely in need of a reboot. It's another thing for Irvine and his makeover team to take on a restaurant in need of a reboot and a floor-to-ceiling cleanse in every nook and cranny. Such was the case when "Restaurant Impossible" descended on Jalisco Cafe in San Diego, California (Season 19, Episode 4). "Dirtiest. Kitchen. Ever." according to the Food Network promo for the episode. "I've seen some bad places, but this is my worst nightmare," Irvine told restaurant owner, Maria, in a teaser for the episode (per Twitter). "I've never seen a kitchen as bad as that in 30 years of being in this business."
Yikes. The restaurant's owner, a longtime server with children and grandchildren to provide for, told Irvine she had no experience in business when she bought the Mexican restaurant. It showed, Irvine told her, as he and his crew removed grease, power-washed walls, and dumped unlabeled and undated food in the kitchen.
Jalisco Cafe is a landmark in San Diego's South Bay community, and it appears to be moving forward under its current owner and in the wake of Irvine's visit and harsh words (per the Imperial Beach Eagle & Times).
How is Jalisco Cafe doing today?
Jalisco Cafe owner, Maria Ozuna, admitted on "Restaurant Impossible" that she had challenges to overcome and "a lot to do." A writer for the Imperial Beach Eagle & Times visited Jalisco a month after the "Restaurant Impossible" episode aired in January 2022 and dubbed it "a nice surprise in Imperial Beach." The writer noted that physical changes gave the restaurant a fresh, vibrant, and contemporary look and that the restaurant was busy at lunch. She ordered chicken taquitos and stated the refried beans served on the side were "excellent, not what you normally get at a Mexican restaurant, and not as heavy."
Google reviewers give the original Jalisco Cafe location almost five stars, and complimented its traditional Mexican offerings, like menudo, a Mexican tripe soup, and pozole, a comforting stew made with pork and hominy. "The chile con carne burrito was the bomb!," raves one Google reviewer. Jalisco Cafe gets mixed reviews on Yelp. "Machaca con huevos with flour tortillas is a must-order! Delicious!," says one reviewer. Adds another: "Jalisco was my favorite Mexican restaurant in the South Bay for years. It was a family go-to since I was a kid. But over the years, the quality has been going down gradually."
The restaurant has a sister eatery in Bonita, California (per the website), and both restaurants are open for breakfast, lunch, and dinner seven days a week.