The Kitchen Design Trend Bringing Downton Abbey Back To Life
Walk into almost any American home built in the last 75 years or so, and you're likely to notice an "open concept" floor plan featuring the kitchen, dining room, and living area all under a single stretch of ceiling. According to real estate development firm Castle & Cooke Arizona, the open floor plan has been around since the 1920s, when it was explored by famed architect Frank Lloyd Wright. 
"The popularity of the open floor plan stems from the desire to live in bigger spaces," the company notes in a blog post, pointing out that the style really took off in the mid-1900s. "In post WWII America, people were enjoying newfound wealth and growth, and they wanted their homes to reflect that." Moreover, the flexible design allowed multitasking adults to see what was going on in another room while they were busy in the kitchen.
Though it's still popular, there are some signs that the open floor plan is declining in popularity — perhaps due to the pandemic and its fallout, which saw more adults working from home in what now appears to be a lasting trend. A recent post on Martha Stewart's website wonders if the open floor plan is "on its way out," while Yahoo suspects that the pandemic has made it outright obsolete. Spending more time at home than ever, people may want more contained variety from one room to the next — and a recent "Downtown Abbey"-inspired kitchen trend accomplishes just that.
Modern-day back kitchens may remind you of 'Downtown Abbey'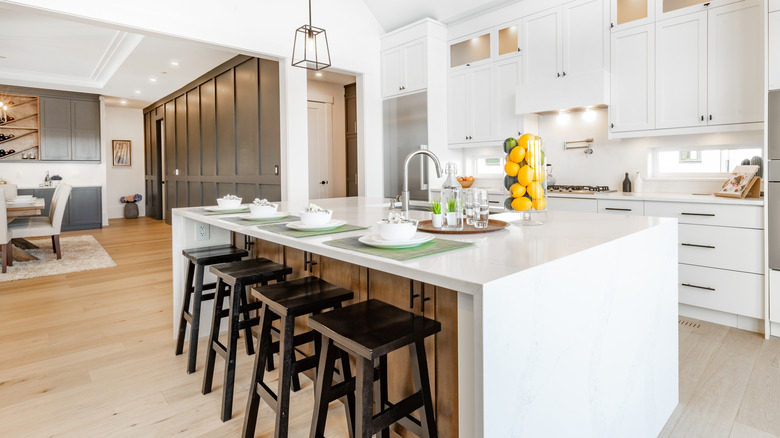 Sheila Say/Shutterstock
One recent trend in home design is signaling a move away from open floor plans: "back kitchens." The idea behind open-plan homes is that the host doesn't have to feel left out while their guests are in the living room. The downside to this, of course, is that meal preparation can involve a mess of dirty dishes, the intrusive whirring of a food processor, and smoke or steam, creating a distracting atmosphere for socializing.
A back kitchen — think the downstairs food prep and pantry area from "Downton Abbey" — alleviates the problems of an open-plan kitchen, albeit on a smaller scale than the TV series about 20th-century life on a vast English estate. A New York Times article reports the rising popularity of back kitchens among the "ultrarich," who shell out millions for homes with one kitchen for show and another for the real work. It includes comments from Cathy Purple Cherry, a Maryland architect, who told Mansion Global she's "seen a 30% increase in requests for back kitchens in the past two years or so, as folks are spending more time entertaining at home."
Unlike the completely unseen "Downton Abbey" food prep area, today's back kitchen is typically connected to the main kitchen and can include a pantry, stove, and even a dishwasher. That leaves the main kitchen as a squeaky clean venue for putting the finishing touches on a meal for guests, and it certainly means the host will get their step count in while entertaining.