The Shepherd's Pie Ramen Hack You Need To Check Out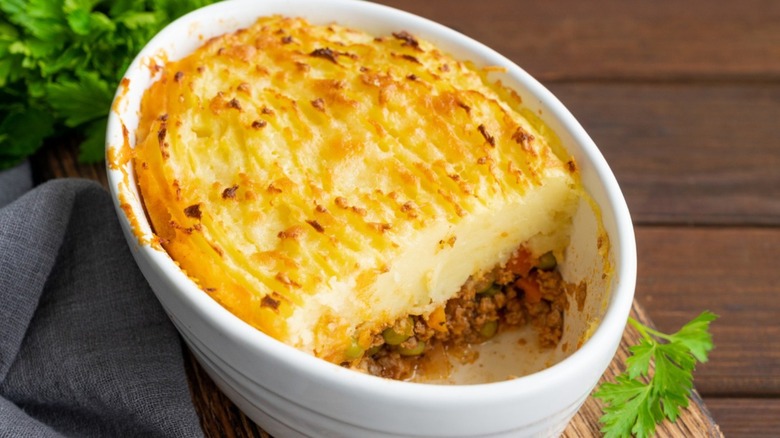 irina2511/Shutterstock
Shepherd's pie and ramen are two very different dishes with one important thing in common: They're both incredibly delicious. Interestingly, both dishes — which have been around for a long time — have been enjoying a resurgence in popularity in recent years.
Ramen restaurants, for one, have seen a major uptick in the 2000s, while the world's overall enthusiasm for the noodle dish has grown — thanks, in part, to world-renowned chefs like David Chang and his restaurant group, Momofuku. Shepherd's pie, on the other hand, has been experiencing a home-cooked resurgence of its own thanks to social media — specifically a video of Gordon Ramsey highly praising one home cook's take on the classic dish.
There are few things in this world more comforting than a big bowl of warm, hearty shepherd's pie. The classic dish is made with ground lamb or beef, veggies, and a creamy mashed potato topping. But what if we told you that there was a variation on the casserole that was equally delicious and satisfying, but actually took a fraction of the time to make?
Top your shepherd's pie ramen with ramen instead of potatoes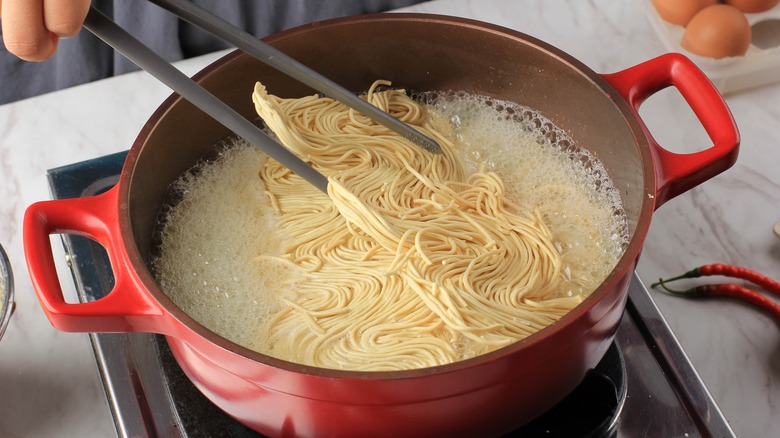 Ika Rahma H/Shutterstock
Instead of topping your shepherd's pie with mashed potatoes, which can take a long time to make, top it with cooked ramen noodles! The suggestion by Serious Eats may sound strange, but the publication assures a "uniquely delicious textural contrast" that just might change the way you make both dishes for good. You'll start by cooking your meaty shepherd's pie filling as usual, pouring it into a baking dish once it's nice and thick. Next, boil your ramen noodles using the package instructions, drain them, and spread them evenly over the shepherd's pie filling. After a stint in the oven, the noodles will be crispy on top, soft in the middle, and provide the ideal accompaniment to the hearty filling beneath.
More than one person swears by the ramen and shepherd's pie hybrid. One cook from Brit + Co likes to combine their shepherd's pie noodle topping with the provided ramen seasonings and a sprinkling of grated mozzarella for extra flavor. The Food in My Beard, meanwhile, flips the script with a bowl of beef and veggie ramen containing the flavors of shepherd's pie — including little pucks of crispy mashed potatoes on top. The next time you're in the mood for comfort food, give these fusion dishes a try!