The Best Wine Decanters You Can Buy In 2022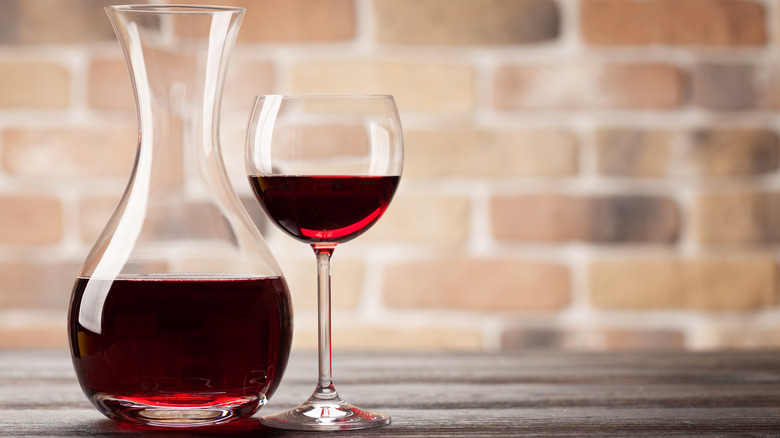 Evgeny Karandaev/Shutterstock
We may receive a commission on purchases made from links.
Wine is a billion-dollar industry, valued at almost $300 billion in the U.S. alone (via Wine Industry Advisor). Per Forbes, around one-third of American adults drink wine, and Statista counts over 11,000 national wineries. That's a lot of wine.
There are several different categories in the world of wine, and everyone has an opinion on how it should be consumed. Some prefer their wine with ice cubes while others see this as an insult to the beverage. Some like it sweet while other people won't even consider taking a sip unless it causes their mouth to pucker. What many people agree on though, is that various wines taste better after being decanted.
MasterClass explains that decanting can be used to separate the wine from any sediment that's gathered in the bottle, as well as to oxygenate it to improve its taste and aromas. In order to decant a bottle, you need a vessel in which to pour your wine. And if you're going to buy a decanter, you might as well buy one of the best models available. To help you in your search, here are the best wine decanters you can buy in 2022.
How we chose these wine decanters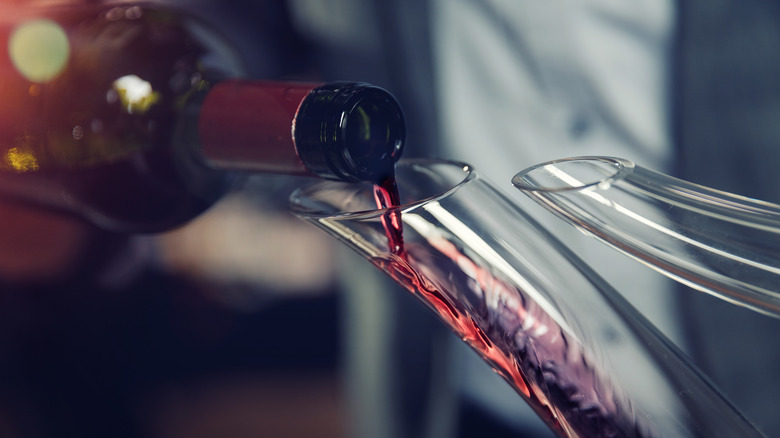 Parilov/Shutterstock
We wanted to give you the absolute best recommendations for wine decanters. After all, it's an important item that should not be purchased in haste. To make our selection, we followed a step-by-step process to weed out any inferior products, leaving us with only the top options remaining.
We started by reflecting on our own wine-drinking experiences and used this to guide our choices for categories. Once determined, we sorted various options where they best fit and weighed the pros and cons of each design until we had just a couple left.
From there, we looked at public opinion. We want these decanters to work for everyone, so we paid close attention to the reviews by consumers who already own them. After some comparisons, we landed on a final model for each category, which we can assure are the best wine decanters of the year. Grab a bottle and get ready to pour.
Best overall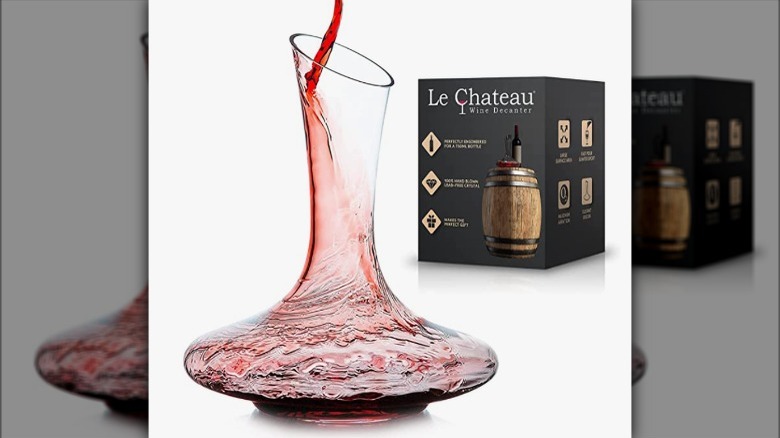 Le Chateau
The best model you'll find this year is Le Chateau's red wine decanter aerator. This decanter features a classic design that'll oxygenate any red wine no matter how bold. Handblown from crystal glass, this carafe will enhance the flavor of your favorite bottle, and it's created with convenience in mind. The wide base, narrow neck, and slanted spout make pouring glasses of wine that much easier.
The majority of customers who have purchased this decanter are satisfied with it. As one Walmart reviewer described, "Beautiful product, high quality at a great price." And while many people like it for its function and ease of use, others simply appreciate the aesthetics. "Not only does this elegant wine decanter help my red wine taste better, it's also a beautiful accent piece in our home bar," an Amazon customer shared. You might only use this decanter once a year, but it makes a great decor for the remaining 364 days.
You can purchase Le Chateau's red wine decanter aerator on Amazon for $49.99 as of October 2022.
Best splurge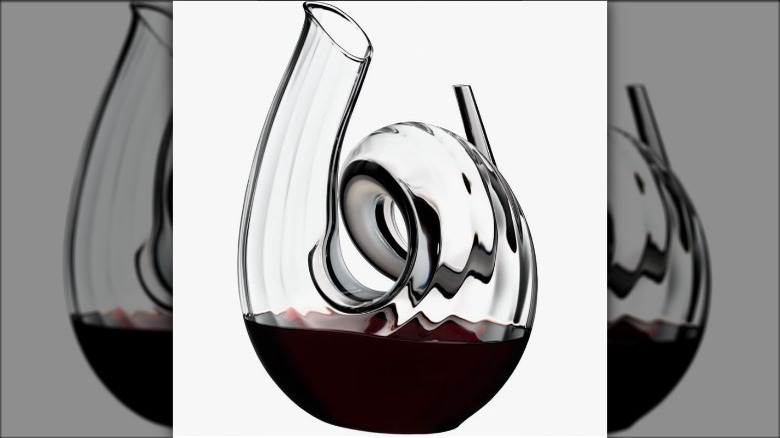 Riedel
Wine decanters can be expensive. They're typically made with high-quality material like crystal or glass, with pricier models boasting a sleek allure. You may have to budget and save a bit to purchase a really fabulous wine design, and that is likely the case with the Riedel fatto a mano curly decanter.
This decanter is stunning, and its high retail price comes with quality features. The curly decanter is handmade with crystal and produced by a brand that has been making exceptional wine glasses and decanters for decades. Although this decanter may be difficult to clean due to its unique shape (hand washing is a must), it'll last beyond your lifetime if you care for it. Its capacity accommodates close to two bottles of wine, or simply allows space for more oxygen to flow through.
Those who have purchased the curly decanter love it despite its price tag. One Amazon reviewer commented that they were, "very pleased with this purchase," and added that it was an "authentic item and a great way to display and aerate wine." Another happy customer shared, "[It] was a Christmas present for my husband and he loves it! Says it aerates the wine wonderfully."
Riedel's fatto a mano curly decanter is available on Amazon for $408.65 as of October 2022.
Best budget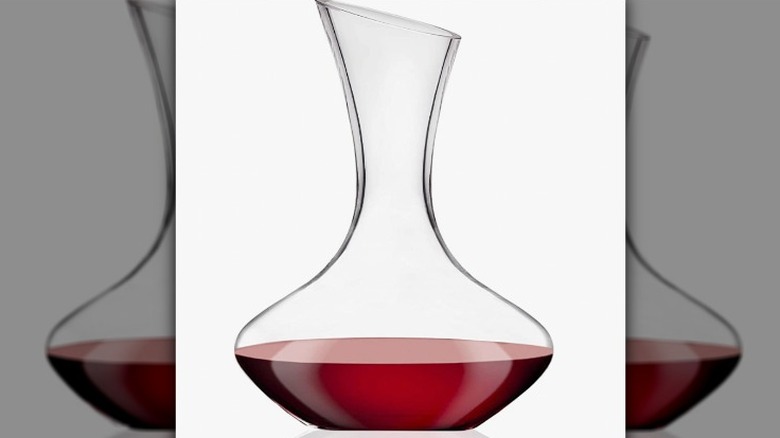 Godinger
Thankfully, there is still a good selection of decanters you can purchase while on a budget, like the Godinger wine decanter carafe. This handblown model is also made from crystal, and at $22.95, it's a much more affordable price than many of its competitors.
Godinger has scored great reviews too, so you can trust it's not a product purchased solely because of the price. This decanter will actually do what it says it's going to do. "Anyone who drinks red wines should try this carafe. It allows the wine to breathe so the taste is improved," one Amazon reviewer wrote.
This carafe is shaped to allow the wine to effectively aerate, and it has an ergonomic stem and a slanted spout to make pouring easy. It's wide enough to avoid spillage when you empty a bottle of wine into it, and its shape makes it relatively simple to clean compared to other models. This is perfect for any red wine, and its lovely aesthetic makes it a decorative piece too.
You can purchase Godinger's wine decanter carafe on Amazon for $22.95 as of October 2022.
Best for full-bodied wines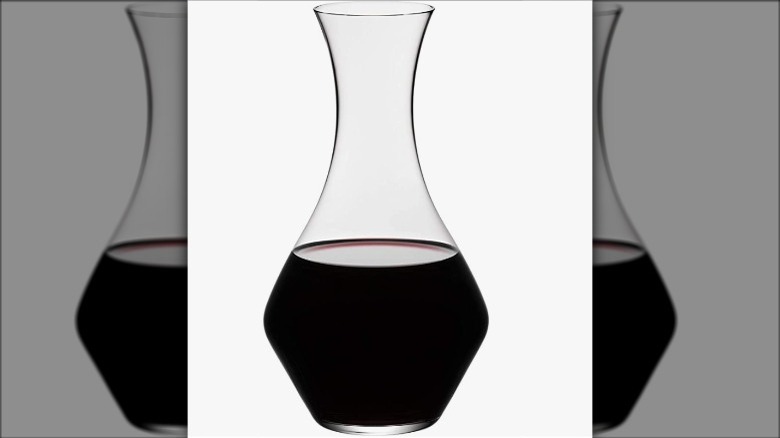 Riedel
If you are purchasing a decanter for the first time, it's best to get one that will work for any type of red wine. But if you start collecting them or happen to exclusively drink a certain type of red wine, you'll want to start looking into decanters with specific features.
If full-bodied reds like cabernet or syrah are your favorite, consider purchasing the Riedel cabernet decanter, which was designed with these styles of wines in mind. Wines open up and display their aromas when they are exposed to oxygen, and full-bodied reds take a little bit longer than their medium- and light-bodied counterparts (via Wine Folly). It's recommended that you decant a full-bodied red in a vessel that allows considerable contact with oxygen. This will speed up the process so you can drink your wine sooner.
The Riedel cabernet decanter offers plenty of surface area, making it great for decanting full-bodied reds. That being said, it's not so wide that it's cumbersome to store or pour. You'll also like that this decanter is dishwasher-safe and reasonably priced. One Amazon reviewer summed it up perfectly by writing, "This is simple and pretty. I didn't need something too fancy. It's certainly nice quality."
You can purchase the Riedel cabernet decanter on Amazon for $36.38 as of October 2022.
Best for medium and light-bodied wines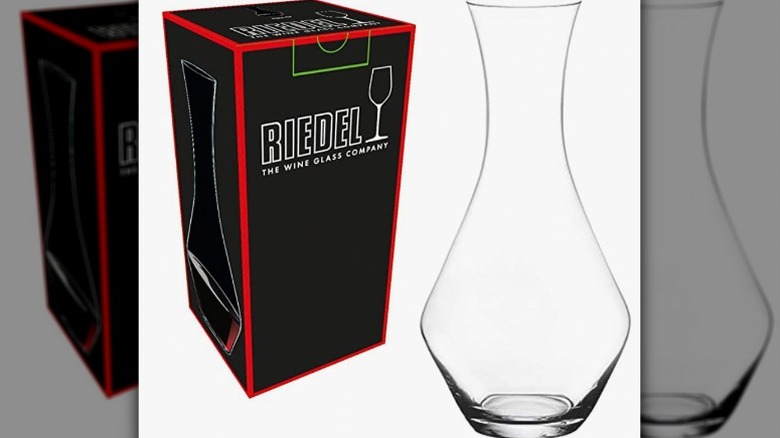 Riedel
If you enjoy medium- or light-bodied red wines like merlot or pinot noir, you'll want to purchase the Riedel merlot decanter. Medium- and light-bodied wines only need around an hour of decanting to fully open up and taste their best (via Wine Folly). Because they don't need quite as much exposure to oxygen, you can get away with a smaller decanter.
Riedel's merlot decanter offers everything we love about Riedel decanters, just in a smaller package. It's made from high-quality material, it's easy to clean, and it leaves you with a wine that's reached its fullest potential. It also comes at an affordable price, and its narrow frame makes it no problem to store.
Now, you could put a light- or medium-bodied wine in a decanter for a full-bodied wine and it certainly won't hurt it, but having a decanter that's made specifically for your favorite malbec or zinfandel will enhance your overall drinking experience, as this decanter will undoubtedly do. As one Amazon reviewer wrote, "Wonderful and good looking decanter. Works very well."
The Riedel merlot decanter can be purchased on Amazon for $47.98 as of October 2022.
Best for magnums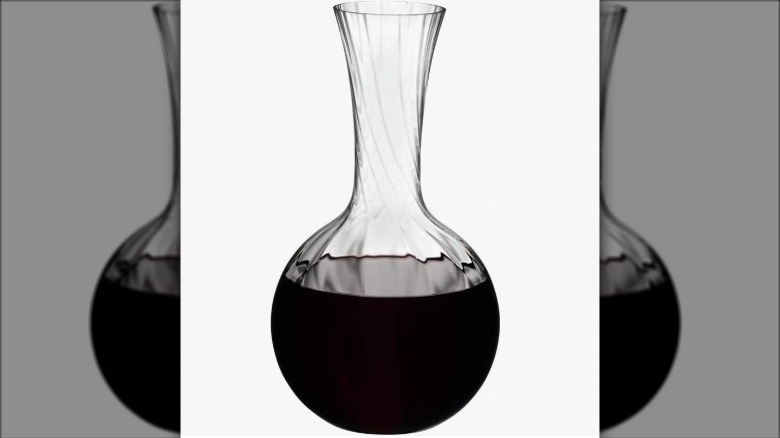 Riedel
Sometimes 750 mL of wine just isn't enough. If you're hosting a party or have a very large family, it's far more convenient and potentially economical to decant a magnum bottle of wine instead of a standard size (we don't suggest drinking a magnum bottle of wine alone). Magnums are two bottles in one, so you're getting 1.5 liters or just over 50 fluid ounces.
Most decanters are only manufactured to hold one bottle of wine, and even if you can fit more inside, it's often not recommended as it takes up space needed for the wine to oxygenate. To properly decant a magnum bottle of wine, you need the right decanter, and the best one on the market is the Riedel Performance magnum.
We've mentioned how much we admire Riedel, and this decanter is no different than others from the brand in terms of quality, style, and performance. Most importantly, it holds 80 fluid ounces, so your magnum will have plenty of space to aerate.
The Riedel Performance magnum has solid reviews. As one Amazon customer noted, "It's a great decanter and looks good on my table." And as another satisfied consumer simply put, "It's Riedel. What else do you need to know?" We couldn't agree more.
You can purchase Riedel's Performance magnum decanter for $79.00 on Amazon as of October 2022.
Best unique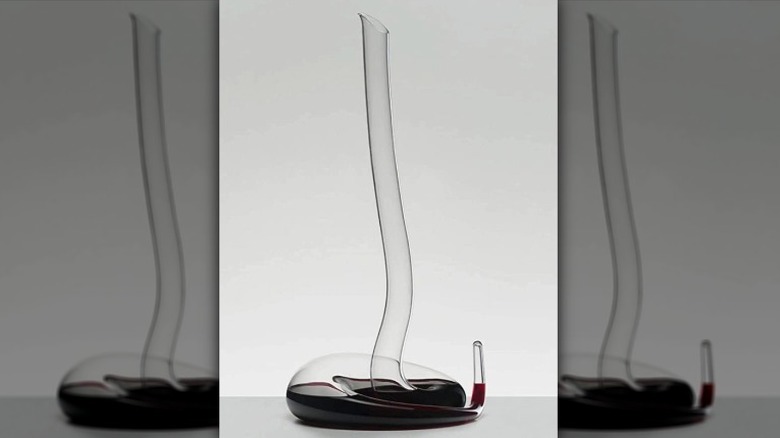 Le Sens
If you've never purchased a wine decanter before, you may not want to run straight for the most unique design you can find. But if you're a seasoned collector who's looking for something that stands out from the crowd, purchase the Le Sens Cobra wine decanter.
This decanter is aptly named as it's shaped like a snake, which lends itself to its functionality. The Cobra has a wide base that works well for aerating and features an exaggeratedly long stem, making it 20 inches high in total. You may have to adjust the positioning of your hands as you pour, but once you've mastered the technique, it'll be second nature.
Now, you may be worried about how you're going to clean this special crystal craft, and that is certainly a legitimate concern. Thankfully Le Sens includes cleaning beads with the decanter which keeps it sparkling and aids its longevity. No need to look for the world's longest sponge to wipe down your Cobra.
This decanter has wonderful ratings from satisfied customers. As one reviewer wrote, "The novel design does not detract from its functionality." Another Amazon consumer shared, "I have purchased several wine decanters and have been disappointed in their quality. This one is not only beautiful, but it feels like it was built to last. It looks so good it works as a decoration as well."
Visit Amazon to purchase the Le Sens Cobra decanter for $128.67 as of October 2022.
Best with a handle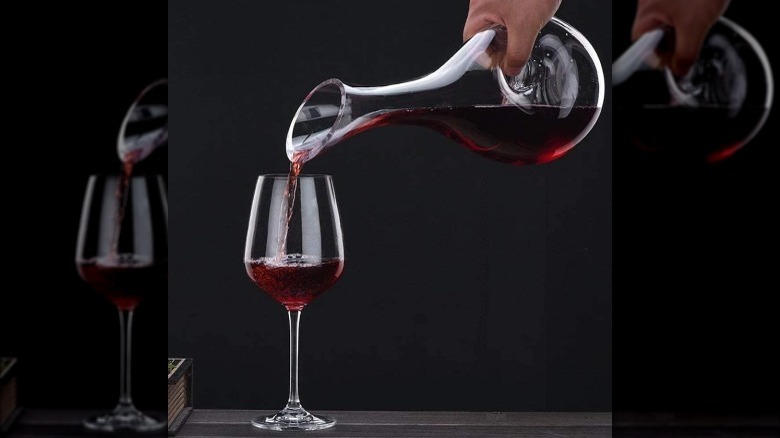 Simplified By Jess
Wine decanters can be hard to hold and pour, which is why we love it when a manufacturer creates one with functionality in mind. Simplified By Jess figured it out with its crystal glass red wine decanter. The carafe is designed with a built-in handle that does not detract from the aesthetic but becomes a part of it. To make pouring even easier, the decanter has a slanted spout. Say goodbye to spillage with this sleek accessory.
You can use this decanter to aerate any bottle of wine you'd like. It's got a wide base, so it'll even open up fuller-bodied styles. It can hold an entire 750 mL bottle with plenty of space to spare. Don't let the hole for the handle fool you; there's lots of room for liquids in this decanter.
As one reviewer raved, "Perfect aerator. Fun shape and really opens up the flavor of the wine." Meanwhile, another satisfied customer shared, "This decanter is made of high-quality glass and comes with a convenient stand, making it easy to use," (via Flight Wine Bar)
Purchase Simplified by Jess' decanter on Amazon for $25.88 as of October 2022.
Best dishwasher safe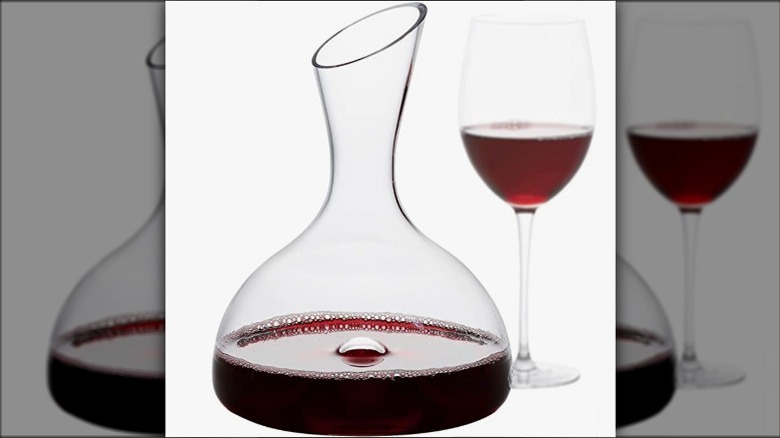 Good Glassware
Wine decanters are attractive and useful, but one of their downfalls is that they can be difficult to wash. Due to their narrow neck, it's hard to get a hand in to thoroughly clean them. If you don't have a spray spout on your sink tap, it's tough to get water everywhere.
Keeping your wine decanter clean is vital not only to its longevity, but also to ensure you are removing all traces of the wines you previously drank. To remedy this, a dishwasher-safe option is fundamental. Good Glassware's wine decanter is our favorite option for this category.
This decanter is made of crystal glass and has a wide base so you can aerate any bottle of wine. It also has a slanted spout that's perfect for pouring. You may want to put it on the bottom rack of your dishwasher for the best fit (it's close to 9 inches in height), but fear not, the sturdy material won't break.
There are other reasons to love this decanter, as customers note: "This is the perfect decanter. It's stylish and sleek but not over the top. It pours well, it's not awkward to hold, and it stores in smaller spots. I've owned several decanters and this is by far the best."
Buy this Good Glassware wine decanter on Amazon for $20.99 as of October 2022.
Best crystal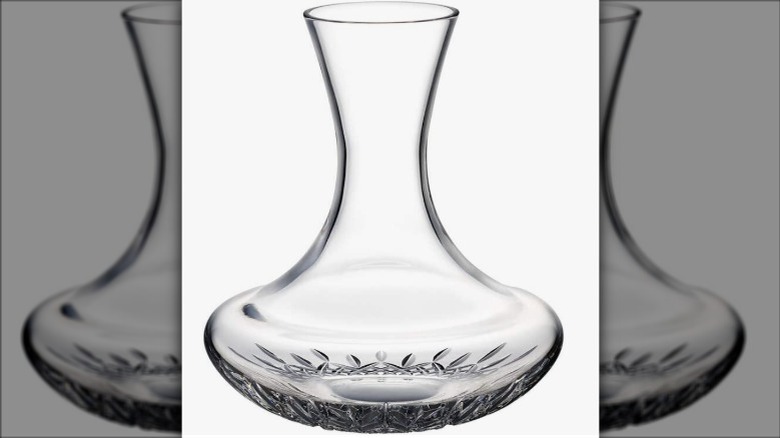 Waterford
Many decanters are made out of crystal glass, but some are made entirely of crystal. This typically entails a higher price, but it also means a sturdier material and a thinner pane. If those qualities appeal to you, check out the Waterford Lismore Nouveau decanting carafe.
Waterford has long been known for its quality crystal, and this decanter fits the bill. It has a wide base that's perfect for aerating full-bodied wines, and the underside of the base is decorated with a stunning design that completely elevates its elegance. It'll look perfect on your holiday table or sitting out on your bar cart.
The design also matches with other Waterford items, like wine glasses, highball glasses, and goblets. If you already have some of the collection, this carafe will make the perfect addition to your set. If not, the design stands out on its own. Either way, it's a great purchase.
This decanter is a little pricey, but it's a timeless piece that will last a lifetime. As one reviewer commented, "Beautifully made, sturdy. Wife was quite impressed and loved it as an anniversary gift!"
You can buy the Waterford Lismore Nouveau decanting carafe for $294.10 on Amazon as of October 2022.
Best complete set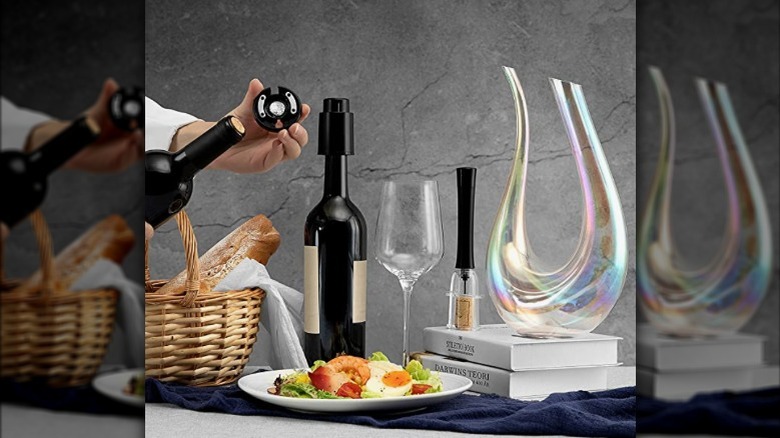 Chateau La Derive
People get into wine for various reasons and in different ways. While some collect bottles and accessories over years, others like to go in head first after their first sip and buy everything they need to become a wine aficionado at once. 
If the latter sounds like you, pick up Chateau La Derive's wine decanter set. This comes with just about everything you'll need for decanting and drinking wine. It includes a foil cutter, a bottle pourer, cleaning beads, a cork popper, a small sieve, and more. The only items left to purchase will be glasses and a bottle.
The decanter has a unique U shape featuring a wide base for aeration and a long stem so your wine naturally hits the sides of the decanter as you pour it in for further oxygenation. It's built to make wine taste its best, and thanks to the iridescent glass, it's totally stunning and different from most decanters on the market.
One reviewer summed up what it's like to purchase this decanter by writing, "The decanter itself was elegant, practical, and affordable. The packaging was a deal for shipping. All of the items that came with that were great. This is possibly the best gift I have ever purchased online." What are you waiting for?
By a wine decanter set by Chateau La Derive on Amazon for $33.99 as of October 2022.