What To Order At El Pollo Loco For Thanksgiving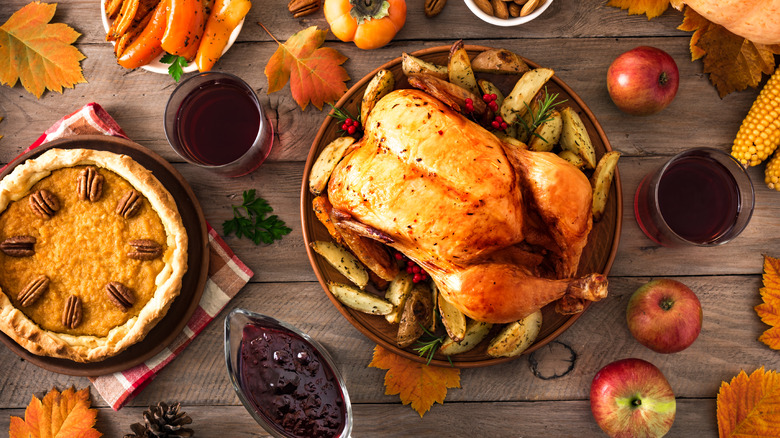 Oksana Mizina/Shutterstock
Thanksgiving is viewed as a time to spend with family around a homemade feast of turkey and side dishes. With the rising cost of turkey which was "$1.79 per pound in October ... 40 cents higher than last year's peak price," (via Money), you might question if it's even worth cooking this year. Or, if you're simply tired of turkey, EveryDay Health suggests several healthy alternatives like salmon, tofurkey, or whole roasted chicken. However, turkey isn't the only thing that'll cost more this year. According to the Bureau of Labor Statistics, Labor Department, costs will rise for "staples" like butter and canned fruit (via USA Today). 
If this is enough to keep you out of the kitchen, you'll be happy to know that going out to eat is an option. For the restaurant industry, Thanksgiving is the "start of the busiest season of the year" with about 30% of restaurants open on the holiday (per Toast).
One of those restaurants is El Pollo Loco, which first opened in Los Angeles in 1980. Per its Instagram account, the restaurant is "known for its "fire-grilled chicken and Mexican entrees," and the chain has released its seasonal offerings just in time for Thanksgiving.
Why not enjoy a tamale on Thanksgivng?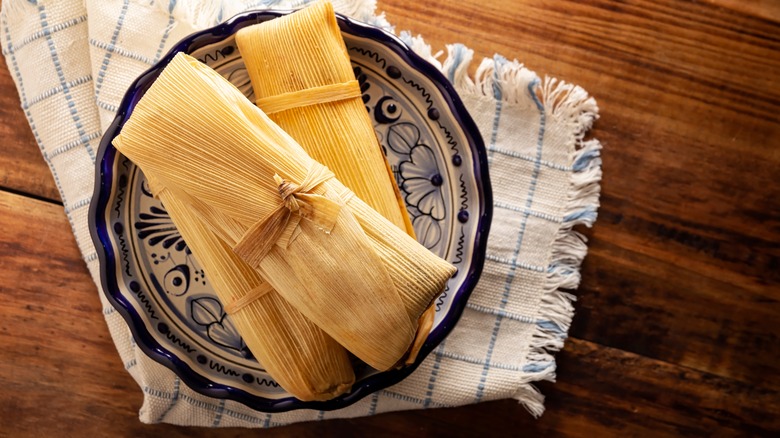 Sergio Hayashi/Shutterstock
El Pollo Loco defines its L.A. Mex-style cuisine as "SoCal lifestyle meets Mexican heritage," and has updated its holiday menu to include tamale bowls. A worthy substitute for a big Thanksgiving dinner given that tamales, which are steamed corn cakes filled with meat and/or cheese, are versatile enough to serve "as breakfast or as the main course at dinner," per America's Test Kitchen. 
El Pollo Loco's version of the ubiquitous food bowl, a trend started by the fast casual dining industry (via Blue Zones), is a complete meal served with rice and enchilada sauce. Available now through December 26, it's a bit early for the item to hit menus as tamales are traditionally seen later in the holiday season. According to News4SA, "making tamales during the Christmas holidays is a tradition for Mexican, Mexican-Texan, and Mexican American families." 
Per Menu and Price, the holiday bowls are accompanied by the return of other traditional Mexican dishes like chicken Pozole Verde and Mexican hot chocolate to warm you up during the colder season.