Why You Should Always Make Friendsgiving A Potluck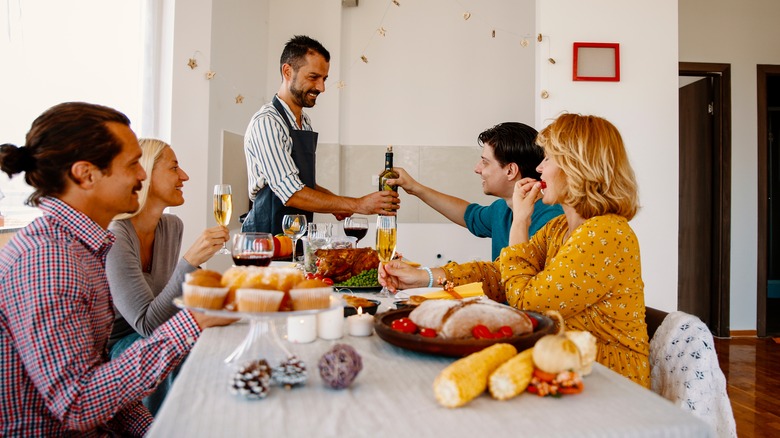 Pearl PhotoPix/Shutterstock
Friendsgiving may be widely celebrated today, but it isn't a practice that older generations of Americans are likely to be familiar with. Merriam-Webster added it to the dictionary in 2020, pointing out that the word dates back to some time around 2007. Friendsgiving started as a casual holiday-season affair and remains so to this day.
The Atlantic highlights some of the differences between Thanksgiving and Friendsgiving. While the former is all about going home and celebrating the day with family, the latter is about getting together with friends for a casual prelude a week or two before the main event. Whether your friend group holds Friendsgiving as an anti-Thanksgiving feast or simply for an excuse to eat extra stuffing, chances are you or someone you know has found the tradition to be a fun a way to ease into the holiday mindset a little earlier. 
How does Friendsgiving work? The Emily Post Institute, the country's gatekeepers for all things related to etiquette, has recommendations on how the dinner should be organized and thrown: "potluck-style, with dishes and supplies assigned via a Google spreadsheet." The institute may be onto something with that potluck advice — here's why.
Potlucks and Friendsgiving are a natural pairing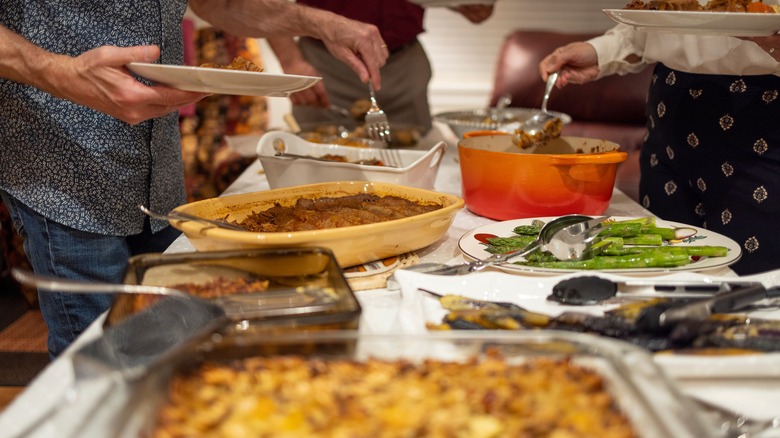 Cabeca de Marmore/Shutterstock
Why have a potluck-style Friendsgiving? Since Friendsgiving dinners aren't shackled to any sort of long-standing traditions, all guests can feel free to introduce their friends to their family's special Thanksgiving dishes, per The Pioneer Woman. A potluck can also allow guests to have fun by shaking up the typical Thanksgiving menu, cooking dishes they normally wouldn't prepare for a more formal, traditional meal.
Most importantly, Make It Grateful says a potluck means the host doesn't have to spend a whole day (or more) in the kitchen. It also makes the meal choices more egalitarian, because every guest gets to have a say in what's being served.
Still, just because it's a potluck doesn't mean your Friendsgiving can't be organized and cohesive. Make it Grateful suggests deciding on a food theme to ensure that everyone's contribution pairs together well, while also assigning dishes from apps to desserts and drinks to cover all the bases.