How To 'Save A Fortune' On Brown Sugar, According To GBBO's Nancy
In 2014, baker and chef Nancy Birtwhistle blew judges away with her final showstopper bake combining sponge cake, caramel, and choux pastry into the shape of a towering windmill on Season 5 of "The Great British Bake Off" (via BBC). Hailing from Lincolnshire, England, Nancy became the oldest winner of the series to date. According to her official website, the champion has continued her journey as an educator, baker, and creative thinker, engaging in public speaking events, writing hundreds of recipes, and publishing a cookbook, as well as two other books sharing tips and tricks for living a more economically sustainable and eco-friendly life.
Along with her books, website, and public speaking, Birtwhistle has taken to imparting her culinary wisdom on her Facebook page. Recently, she showed her audience how to repurpose old, wrinkly red bell peppers into a perfect seasonal soup. In another video, Birtwhistle whipped up lime curd in the microwave, which she claims saves energy, time, and money. And as the season for hearty mince meat pies, toffee, and Yorkshire Parkins approaches, one of her most recent tutorials shows viewers how to save money by creating their own brown sugar.
How to make Nancy's homemade brown sugar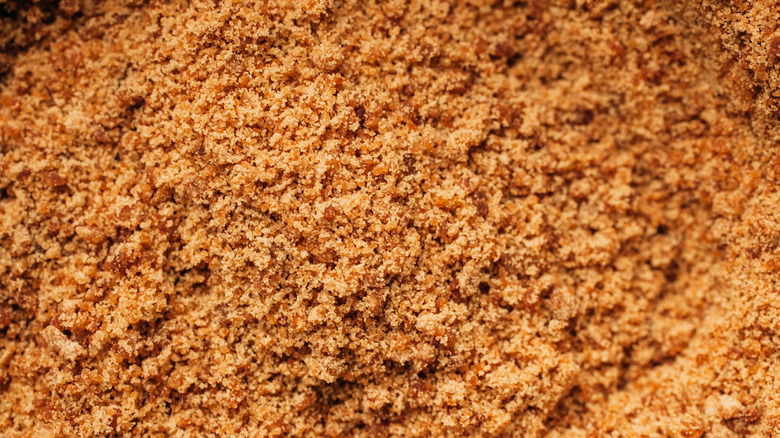 Nacho Mena/Shutterstock
In her recent Facebook video, Birtwhistle points out that brown sugar is four times the cost of granulated sugar. Though she's speaking from the U.K., brown sugar is more expensive than white sugar throughout the world. According to celebrity baker and cookbook author Alice Medrich, brown sugar used to just be white sugar that was only partially refined, so its molasses remained on the individual grains (via The Washington Post). Now, though, manufacturers usually add molasses back to fully refined white sugar. Considering that molasses is typically double the price of white sugar, per The Spruce Eats, this process may be what's behind brown sugar's higher price tag.
In her wallet-friendly, homemade brown sugar, Birtwhistle pours some white granulated sugar into a bowl and adds a swirl of black treacle — known in the U.S. as molasses. After a brief stint in the microwave, the combination is magically pinched and mixed together to form brown sugar that looks just like the kind from the store. 
If you try Birtwhistle's trick, you can use your inaugural scoop of brown sugar for her gooey, gingerbread-like Yorkshire Parkin made of oats and warming spices. If you're in the mood for something savory, there are plenty of unexpected ways to use brown sugar in cooking, from pickling veggies to glazing vegan bacon.