Instagram Is Having A Keto Party With Aldi's Cauliflower Meals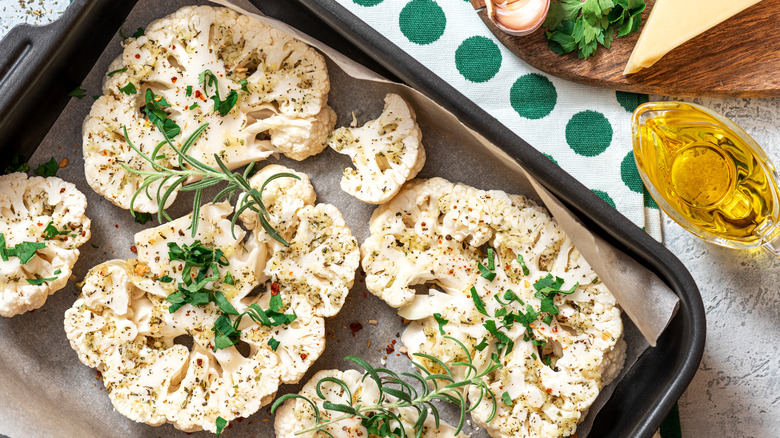 Svetlana Monyakova/Shutterstock
Ever since the vegetable's massive rise in popularity in the mid-2010s, people have fully gotten on board with the versatility of cauliflower. Popping up as a secret ingredient in everything from pizza crust to fettuccine alfredo (and a not-so-secret ingredient in Trader Joes' famous cauliflower gnocchi), this vegetable can be employed as a sneaky replacement for grains, meat, and even dairy in countless gourmet recipes.
Perhaps one reason why cauliflower is so celebrated in cooking is due to its subtle flavor. While some people may consider this aspect of the cruciferous vegetable boring, others know that this trait allows it to adopt the taste of any dish it is used in, such as Mexican-style cauliflower rice or cauliflower buffalo "wings." Not to mention, cauliflower has a variety of health benefits, including generous amounts of fiber and B vitamins (via Medical News Today). Naturally, though the cauliflower trend may have peaked, people still get excited to see the vegetable pop up in new grocery items. This was certainly the case when two recently launched cauliflower products were spotted at Aldi, causing fans of the supermarket to add another item to their shopping list.
Shoppers love these low-carb options
This fall, popular Aldi fan Instagram account @adventuresinaldi posted a picture of mashed cauliflower and cauliflower mac and cheese that they had recently found at their local Aldi store. The brand behind the cauliflower duo, Kevin's Natural Foods, is known for its assortment of keto versions of popular foods, such as stir-fries, pasta dishes, and tons of meat entrees spanning international cuisines.
In the caption of their post, @adventuresinaldi asked their followers if they tried either cauliflower product yet. One user enthusiastically responded, "The mash is everything," and another said it tastes "amazing" when topped with taco meat for a quick bowl-style meal. A different user, meanwhile stated that they preferred the "really good" mac and cheese option. 
Both side dishes go for $6.99, are thickened with cream and cheddar cheese, and have positive reviews on the Kevin's website for their creamy consistency and versatility for weeknight dinners. The mac and cheese consists of sous-vide cauliflower in place of noodles, making the dish low-carb and suitable for those on the keto diet.