Here's What Happened To MealEnders After Shark Tank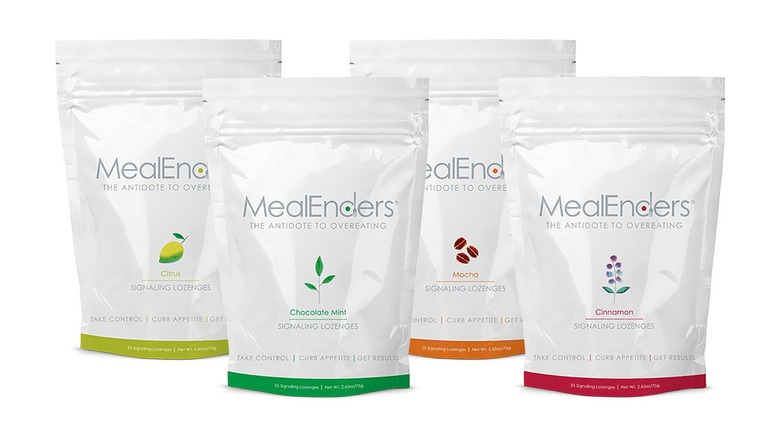 MealEnders
"Shark Tank" gives business owners the chance of a lifetime; they can present their idea to a team of investors and potentially earn enough of the investors' trust to receive money from that investor in exchange for a piece of the company. The show has been running for more than a decade, and plenty of "Shark Tank" products have turned into household names.
When Mark Bernstein appeared on the show in 2017, he had a product that was unlike any other. Bernstein had developed a lozenge that helps naturally curb the appetite, which allowed people to ingest it and reduce the desire to consume more food. Upon presenting it to the sharks, they loved the concept. And according to Shark Tank Tales, Kevin O'Leary even praised Bernstein for discussing a weight-loss product without making false claims. 
However, the sharks didn't bite. Whether it was that they didn't like the flavor or simply thought too much money was needed to get involved, they all had various reasons for saying no. So, what happened to MealEnders after the show?
MealEnders still has a full website
Despite not securing a deal from the "Shark Tank" investors, Bernstein did not give up on his product. Five years later, MealEnders' website is still in full swing, with various tabs about the science behind the lozenge, how it works, and how to order it.
These lozenges are only 15 calories, and they're meant to "break the behavioral cycle" that happens with eating too much, plus provide a "sensory cue" that tells your body that the meal is ending, per the website. Targeting behavioral habits, the lozenge works with very little effort on the consumers' end — just eat it, and your hunger will (supposedly) subside.
MealEnders has gained some major publicity since appearing on the show. HuffPost covered the episode back in 2017, and the MealEnders website says the product has been featured in Forbes, Men's Fitness, and Weight Watchers Magazine.
MealEnders generally has good reviews
Consumers who have tested the product for themselves have generally been pleased with the results. MealEnders only has five Google reviews, but the majority of users did rate it five stars. Most of the Google reviews praised the flavor and said that the product actually does work to curb the appetite and help with losing weight. The only major critique was the price, which YouTube account Food Review UK also noted, arguing that the lozenges were on the pricier side.
Something to note is that, while MealEnders does not appear to have closed up shop, it does look like they were dealt some supply chain issues that many other businesses have been dealing with. According to the company's Facebook page, MealEnders were out of stock as of November 2021, and there has not been a new update to announce when (or if) new products are coming in. 
One customer asked a question on Facebook in October 2022 about whether the lozenges would return, and as of press time, the brand had not publicly responded to that comment.