TikTok's Hand Mixer Pumpkin Hack Is Jennifer Garner Approved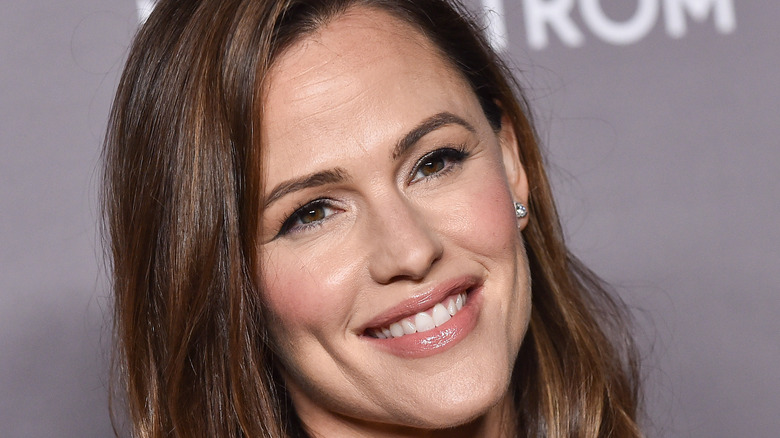 DFree/Shutterstock
Fall is pumpkin season, and even when Halloween is over and done, many people are still invested in making pumpkins and other winter squash a part of their lives. There are so many different types of pumpkin, and those that aren't used for Jack-o-Lanterns can be turned into some of the best pumpkin recipes for fall a person could dream of. But there's one nasty task that stands before any chef and their pumpkin masterpiece: all of the stringy goo and seeds inside the pumpkin need to be removed.
Not only is cleaning out a pumpkin a messy, sticky task, and one that's sure to leave seeds and ropes of orange slime all over your counter, but winter squashes can even cause contact dermatitis, a skin reaction that can make your hands and arms itchy and red (via Bon Appétit). So when celebrity Jennifer Garner — you know, Ina Garten's bestie — decided to put a popular TikTok pumpkin cleaning hack to the test, her fans on Instagram watched with rapt attention to see if the hack was too good to be true, or if it's the solution we've all been waiting for.
Garner showed how easy it is
When social media star @brunchwithbabs shared a video of pumpkin carving tips, the thing that seemed to catch everyone's eye was how she used an electric hand mixer to clean out the inside of her pumpkin. Even actor Jennifer Garner was inspired to give the tip a try, and according to her, "the hand mixer hack works!" In her Instagram video, Garner shows how she used a hand mixer to mix up the pumpkin innards, before easily scooping the insides into a bowl, rinsing off the pumpkin goo, and displaying her bounty: clean pumpkin seeds for roasting and a hollow pumpkin ready to be carved for Jack-o-Lanterns or peeled, chopped, and used in your favorite mouthwatering squash recipes.
The original video had more than 800,000 likes, and Garner's video received almost as much love, with more than 740,000 people liking her video. She even had some famous people chime in to compliment her skills. "Thank you Chef!" said former "Top Chef" star Bryan Voltaggio, adding, "you made cleaning pumpkins so easy now."