Why A Vegan TikToker Got Emotional Over Dollar Tree Groceries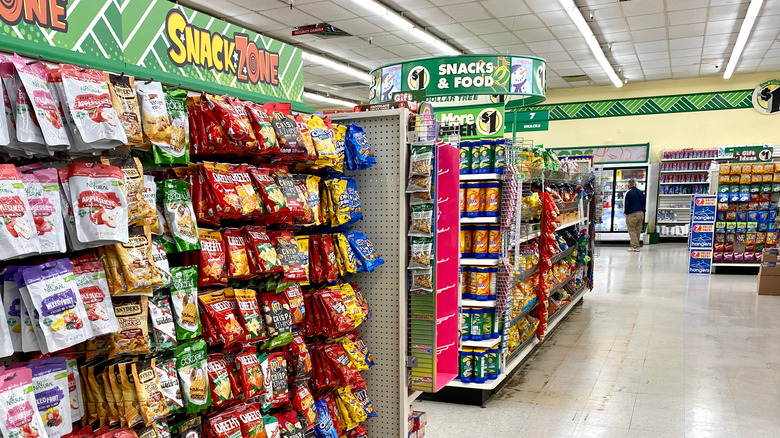 ZikG/Shutterstock
Whether you're an animal lover, concerned about the environment, or have a body that just doesn't jive with animal products, you might be practicing a vegan diet. And if you're not there yet, maybe you're curious about how accessible it is and are integrating more plant-based foods into your diet. With approximately 16.5 million people adhering to a vegan or vegetarian diet in the United States, based on a survey conducted by Cornell University, it has never been a more convenient time to be curious about eating plant-based.
One factor that might deter a lot of people from eating more vegan foods is the cost. Plant-based meat is certainly more expensive than conventional options, with meat alternatives averaging out to $9.87 a pound versus traditional beef at $4.82 a pound (via Vox). Fortunately for your budget, many vegan recipes come together without packaged meat substitutes, relying on affordable ingredients like beans and grains instead.
If you're inching your way toward cooking even just a couple of vegan meals a week but are worried about your grocery bill, vegan TikToker Chef Joya is here to give you a major life hack. The cook has set out to show fans that buying vegan groceries can be as cheap as a few dollars — and your social class doesn't have to dictate what you eat. Where does she shop? Dollar Tree.
From $1 groceries to vegan feast
Chef Joya posted her "affordable vegan Sunday dinner" on TikTok to prove that eating vegan doesn't have to be all bougie. Turning $1 packages of brown rice, frozen veggies, beans, and more into a vegan comfort food feast, she explained, "Being vegan doesn't have to be expensive and you have many different options to shop," adding that her Dollar Tree run "took her back" to the time when she lacked a car or any grocery stores in her neighborhood. "Everyone deserves the opportunity to create a vegan meal and no one should be discouraged by their class or their environment," she said.
Chef Joya's video has racked up over 34,000 likes and started a conversation about equal access to nutritious foods. Per Eater, dollar stores are mostly concentrated in food deserts and low-income areas with more residents of color. Some politicians have resisted the expansion of these stores in favor of independent grocers selling a wider variety of healthy foods. But while food deserts continue to rely on dollar stores, Chef Joya told followers, "Having access to food is a right and until it's everywhere, I'll show what you can do with what you have."
Viewers resonated with her message. "Thank you for checking dietary classism," one fan commented, while another related, "We lived in a shelter with nowhere to keep or cook food. As a vegan family with only a 99 cent store close, we did what we had to do."