Melissa McCarthy Sticks Her 'Nose' Into The Wild-West Whiskey Business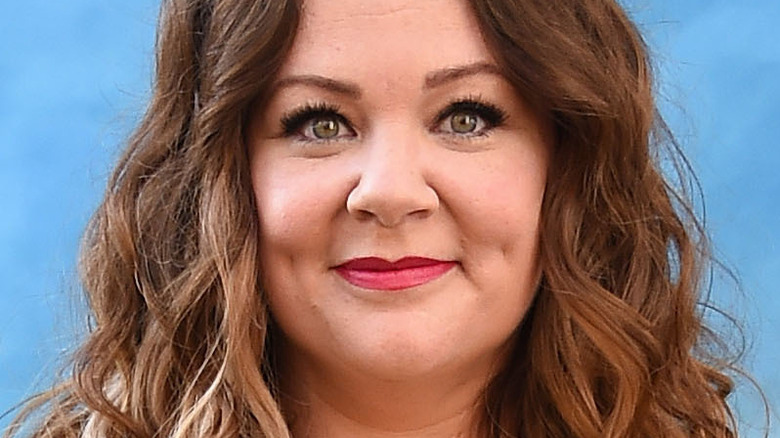 DFree/Shutterstock
Melissa McCarthy is about to be known for more than her brashly hilarious comedic chops. The multi-hyphenate actor/comedian/fashion designer/writer/producer is adding "whiskey investor" to her résumé, as she and her husband, Ben Falcone, have thrown their collective know-how (and dollars) behind the brand Big Nose Kate.
McCarthy is far from the first celebrity to invest in a liquor brand. Kendall Jenner spent years working with the experts to develop 818 Tequila, a spirit made at a family-run distillery in Jalisco, Mexico, per Cask Cartel Premium Spirits. Ryan Reynolds is the co-owner of Aviation American Gin, and former pro quarterback Peyton Manning backs Sweetens Cove Tennessee Bourbon, which the liquor connoisseurs at Esquire give a 9 out of 10 for taste. Clearly, McCarthy is keeping good company within the spirit game.
McCarthy told People that Big Nose Kate whiskey is "damn good juice." As she and Falcone are both longtime whiskey aficionados, we're inclined to take their word for it.
All about Big Nose Kate whiskey
Having starred in some pretty successful TV and movie ventures, Melissa McCarthy and Ben Falcone know a good story when they hear it. The pair were "immediately drawn" to the story of Big Nose Kate, a larger-than-life, totally real woman who People describes as a "towering figure of the wild west." But while the story of Big Nose Kate (real name Maria Izabella Magdolna Horony) drew them into discussions with the brand, the taste cemented the deal. McCarthy calls the whiskey "delicious," and Falcone refers to it as "a real yummy factory."
For the whiskey lovers out there who need a slightly more industry-specific description, the brand describes the 90-proof spirit as "fully bodied with a rich mouthfeel," with hints of biscuits, bitter chocolate, coffee, dried fruit, orange peel, and a "wisp of mint." Fittingly, Big Nose Kate whiskey is "batch-blended and bottled" in Santa Fe, New Mexico, which the company notes was "an important station in Kate's incredible life."
McCarthy and Falcone made their love of Big Nose Kate public recently with a "WhiskeyO'Clock" video posted to Instagram. "I'll just say this ... the minute @benjyfalcone and I heard Kate's story it was a partnership made in western heaven," McCarthy captioned the video. With more than 60,000 likes in less than a day, the comments are rolling in to support both the whiskey and the couple. Perhaps one commenter said it best: "Their combined energy is palpable through SCREENS!!"