Schlotzsky's Deli Is Giving Away Free Chips And A Drink To Veterans
Schlotzsky's Deli is acknowledging and thanking veterans in a way that extends well past Veteran's Day this year. This is a pretty big deal to the estimated 19 million U.S. veterans, according to Pew Research.
Schlotzsky's forthcoming deal is but one of a number of perks that veterans can cash in on when Veterans Day (November 11) hits. Military.com has a full list of ways for veterans to save on everything from food to automotive needs to travel and recreation costs. To take advantage of the vast majority of these deals, the veteran or active duty military member needs only to flash some legitimate identification. Most current members or military retirees can simply show a military ID card, but veterans with a VA benefits photo ID card can opt for that if they prefer. Any veteran who doesn't have a card can apply for a free ID via the U.S. Department of Veterans Affairs. All newly issued ones are digital, so if you act fast you might have it in time to enjoy the Schlotzsky's deal!
Every last detail on the Veterans Day perks from Schlotzsky's Deli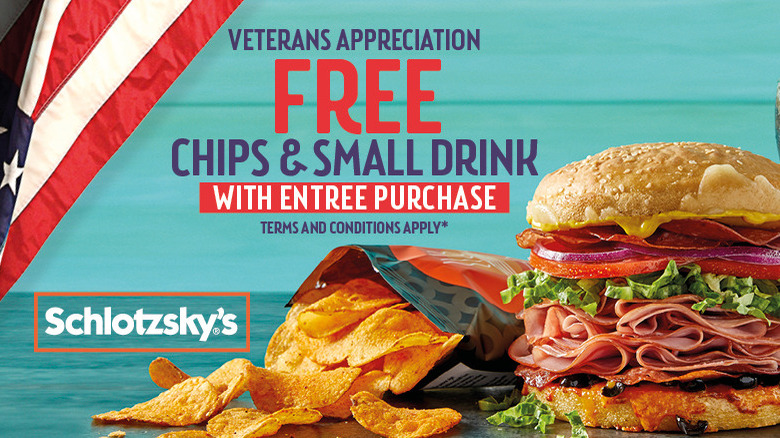 Schlotzsky's Deli
Starting on Veterans Day (Friday, November 11) and running all the way through the end of the month, veterans with a valid military ID can claim a free small drink and chips with the purchase of any entrée at Schlotzsky's Deli. This is good for both active-duty service members and veterans, according to a company press release provided to Mashed.
There are a few caveats to the deal, however. It's only available at locations that are participating in the promotions, and can only be redeemed in stores. So, don't try to get it via their app or online or Uber Eats. The drink and chips come with any entree, which includes a sandwich, pizza, flatbread, calzone, salad, or pick 2 combo.
Any civilian who wants to thank a military member can also opt to send an e-gift card via Schlotzsky's. The military-themed card is $25, and for each one the buyer will receive $5 in eRewards that they can use themselves or gift to someone else. This is a great way to spare the veteran the cost of the entrée, while also reaping the rewards via the drink and chips.