Jollibee And Dunkin' Are Breaking Up Their Partnership Overseas
In the event you live under a rock and don't know just how popular Dunkin' is, well, you've come to the right place. Per Restaurant Business, Dunkin' is the second highest-grossing coffee chain in the United States, bested only by –- you guessed it -– Starbucks.
According to the Dunkin' website, the chain boasts more than 11,300 locations around the world. Around 8,500 of those locations are in the United States, with the remainder spread across 36 other countries. As you might expect, Dunkin' gained a good amount of popularity in southeast Asia, and in 2015, a partnership was born.
This partnership, between Dunkin' and Jollibee Food Corp., planned to expand the donut empire within southeast Asia, with a focus on China. Jollibee hoped to open more than 1,500 Dunkin' locations, per The Philippine Star, but unfortunately, this expansion proved to be more difficult than anyone expected. In early November 2022, Jollibee and Dunkin' announced that they would be ending their partnership.
Why is Jollibee ending its Dunkin' partnership?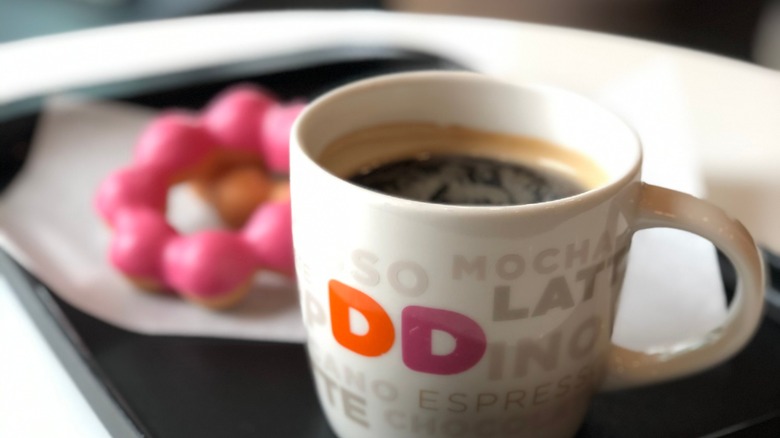 pancha.me/Shutterstock
At the end of the day, most corporate partnerships boil down to money. In the case of the partnership between Jollibee and Dunkin', there just wasn't enough money being made to make the expansion worthwhile. According to World Coffee Portal, despite planning to open more than 1,500 new Dunkin' locations across southeast Asia, Jollibee only successfully opened seven, all in Beijing, China.
In an interview with Nikkei Asia, Jollibee's chief financial officer said it was in the company's best interests to "reallocate our resources." He also suggested that part of the reason Dunkin' struggled in the region was due to the market's preference of tea over coffee. While Dunkin' does offer tea, the chain is, after all, best known for its coffee drinks.
With the partnership terminated, Jollibee will be closing its Dunkin' locations and instead focus on its other franchises (per World Coffee Portal), like The Coffee Bean & Tea Leaf, Tim Ho Wan, and Yonghe King (via Jollibee Group). It's sad, but business is business.