The Best Lunch Boxes In 2022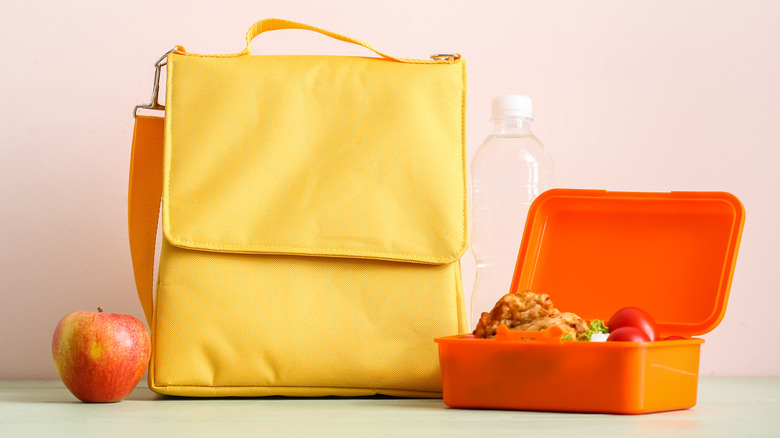 Pixel-Shot/Shutterstock
We may receive a commission on purchases made from links.
Lunch boxes may seem like an item only children need, but since over half of Americans in the workforce eat lunch at their desk, there's a huge market for lunch boxes for adults. Granted some of those employees are likely just eating a snack or some take-out, but there are still plenty of people who bring lunch from home — for good reason. 
There are a variety of benefits to eating a home-packed lunch. Studies show that eating food you cooked at home is often healthier than food you'd get if you ate out. Additionally, per Money Crashers, you can potentially save up to $2,400 a year by eating a home lunch instead of eating out. So even if you're just bringing your leftovers to work, you're still reaping the benefits.
And to take those leftovers to work, you need a lunch box. Not all lunch boxes are created equally, so we rounded up a list of the best ones you can find this year. Let's get into it.
How we selected products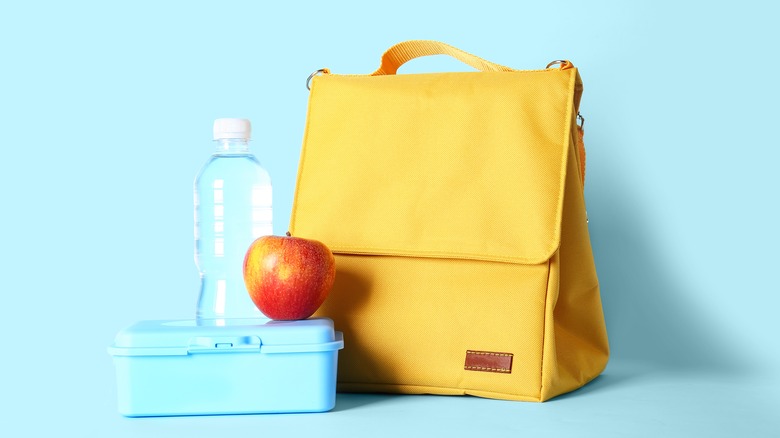 Pixel-Shot/Shutterstock
To choose our lunch boxes for this list, we followed our tried-and-true process that ensures we make the best selections for our readers. We started by considering what customers might want. Are you after a standard lunch box? Are you on a budget? What kind of material do you like best? Then we created a variety categories to meet several user needs.
Once we settled on categories, we started looking at lunch boxes. We examined different lunch boxes and immediately removed some from consideration due to low quality, poor performance, and bad reviews. Once we weeded out the losers, we looked more closely at the ones we knew were great.
From the best ones, we categorized them, and from there, we looked at reviews to see which ones are actually meeting customer needs. After that, we made our decisions and finalized our list of 2022's top lunch boxes.
Best overall lunch box
Out of all the lunch boxes you can find this year, the best is the Tiblue Insulated Lunch Box. This item is everything you could want in a lunch box. It's spacious enough to hold large amounts of foods or beverages without being too bulky and cumbersome to transport. It has side pockets to hold your extra food items, and it has both a top handle and an adjustable shoulder strap — with padding for comfort — so you can choose which way to carry it.
Though it's made from fabric, this lunch box is sturdy. The fabric, which comes in a variety of patterns and colors, is waterproof, so it won't lose its shape if you get caught in the rain or if something leaks from the inside. And while we're discussing it, the inside is made with insulated fabric that's easy to wipe up should anything spill inside.
Users have already expressed their pleasure with this lunch box. One reviewer said, "Love everything about this lunch box! The compartments, the size, the color, and the price! A must-have for sure!"
You can purchase the Tiblue Insulated Lunch Box on Amazon for $18.99.
Best splurge lunch box
Modern Picnic's The Luncher is sleek and stylish, and it's undoubtedly the chicest lunch box you'll find this year. Made from leather, The Luncher closely resembles a purse. It has both a top handle and an adjustable strap, and it features an ultra-modern label near the bottom that screams designer bag.
Aside from being good-looking, The Luncher is very functional. It's insulated and structured, making it easy to pack both beverages and foods, all at different temperatures you want to preserve. It's easy to clean and transport, and inside there are separate pockets and compartments for other necessary items like your keys and wallet, making it the only bag you need to carry if you so choose.
If Modern Picnic is a new brand to you, trust the reviews from those who've already purchased The Luncher. As Bustle noted, "While the Luncher might look like a chic handbag on the outside, it acts like a functioning lunch box on the inside. The bag has an insulated interior, protecting the bag from any accidental spills. It also has elastic silverware slots, helping you maximize on organization."
You can get Modern Picnic's The Luncher on Amazon for $159.00.
Best affordable lunch box
If dropping $150 on a lunch box doesn't appeal to you, perhaps you'd like the Tellumo Insulated Lunch Bag. This item costs less than $10, but you'd never know by its quality and functionality. Tellumo uses an eco-friendly cloth to construct its bag, and inside is insulating aluminum foil that keeps your hot food hot and your cold food cold for hours. It's perfect to take to work or on a road trip. It also comes in a variety of colors for you to choose from, all for an affordable price.
Tellumo's Insulated Lunch Bag has great reviews. As one customer summed up, "It's a great lunch bag especially for the price! Easy to clean and small." Another reviewer noted, "It keeps things cold enough, it's easy to use, and quick to grab. No complaints."
This lunch box is spacious yet compact, pliable yet durable, and it comes at a price you can't beat. Overall it holds its own with higher-priced competitors.
Purchase the Tellumo Insulated Lunch Bag for $6.88 on Amazon.
Best lunch box with compartments
If you're averse to your food touching, don't want to wash several containers each night, or just prefer a lunch box with compartments over one with a singular cavity, you're going to want to purchase the MISS BIG Bento Box. This lunch box has space for your sandwich, salad, and fruits or vegetables, as it has three separate sections to keep everything at peak freshness.
The Bento Box has a few neat features. For one, it's leakproof. Its lid seals seamlessly onto the bottom, and it latches on for even more protection. It's also made with natural materials, won't break if you drop it, and is both microwave and dishwasher safe, so you don't have to clean out each compartment one by one. The MISS BIG Bento Box comes in multiple colors and is available in two different sizes, making it versatile and likely to meet your needs.
Reviewers love this product, and one noted, "I have gone through many different bento boxes in the last couple [of] years. This one by far is the best. Super easy to clean, lightweight, clasps close tight, and interior sections are very generous."
Get your own MISS BIG bento box on Amazon starting at $16.19.
Best plastic lunch box
We all have different preferences when it comes to lunch boxes, and if yours is to carry something plastic, check out the Bentgo Classic lunch box. Just as the name suggests, this plastic bento box is meant to be taken on the go. Each purchase comes with a set of two stackable plastic containers, one with an open cavity and another with a center divider that offers two sections, as well as a set of plastic silverware. Should you take great care of this, you won't need another lunch box for years to come.
The Bentgo Classic is made of eco-friendly material that's microwave, dishwasher, and freezer safe (aside from the center divider), making it ultra-versatile in what it can store and how you care for it. The sets come in different colors, and some of the proceeds go toward feeding hungry families, as Bentgo supports Feed the Children.
Customers who've purchased the Bentgo Classic lunch box are very happy with it. One said, "The bottom compartment holds a good amount of food, and the top compartment is just right for sliced fruit or other snacks. The boxes look good and are easy to clean." Another noted, "I have bought so many lunch boxes and they just are never this good! I love the section sizes, I can fit my lunch in [it] perfectly."
You can get a Bentgo Classic bento lunch box container on Amazon for $14.99.
Best soft lunch box
Sometimes a soft lunch box is preferred, like the Adidas Santiago. This lunch bag is small yet spacious, and its soft material makes it easy to carry around or pack into a larger bag if necessary. 
The Santiago's soft material is really quite something. It's made from recycled material, and it's very durable. Since it's soft, it won't break if it's dropped, and if something inside it breaks, it's easy to clean simply by wiping it down with soap and water. The lunch box is a great size, and it has a mesh liner on the back for even more storage. 
Nearly everyone who's purchased this item loves it. One customer said, "Easy to clean. Durable. Good size for everything & the opening is perfect to get everything into it!" Another customer liked it for different reasons, saying, "Love the handle and insulation. Easy to pack. Buy it. You will not regret the purchase. Not bulky and very stylish."
This lunch bag comes in several different colors, and it's affordable and useful. 
Get the Adidas Santiago insulated lunch bag on Amazon for $18.75.
Best metal lunch box
For a more traditional style, look to the Stanley Classic lunch box, a metal lunch box that'll have you reminiscing about your childhood in the very best way. Made from stainless steel, the Stanley Classic lunch box is marketed as a lunch box to take with you anywhere, particularly outside. It's great for anybody who requires durability in their lunch box, and with its large capacity (it can hold up to 10 quarts worth of food), you won't have to worry about fitting everything you need to pack inside. Whether you're hiking for the day or heading to work, the Stanley Classic lunch box will meet your needs.
There's a lot to love about a metal lunch box. They're durable and are easy to clean. They're lightweight and can be used for storage beyond food if necessary. The Stanley Classic lunch box is dishwasher safe, and although it can fit your food and a thermos, it's also small enough to be put inside a backpack. It's well worth the money.
One buyer said of the Stanley Classic lunch box, "I have found this to be the most convenient way to carry my lunch, snacks, and thermos, to and from my workplace, as well as to and from my excursions. I highly recommend this durable, easy-to-clean, lunch box!" Another said, "I've been using my lunch box for years and it still looks new. Thermos keeps soup hot for eight hours."
Buy the Stanley Classic lunch box on Amazon for $39.98.
Best lunch box with a handle
We all have a lot to carry, and lightening the load is easier when our lunch box has a handle. The best one out there is the BALORAY Lunch Bag Tote. This item has everything you want in a lunch bag. It's insulated, well-made from quality materials, lightweight, and spacious. It also comes in dozens patterns and colors.
Now, let's discuss the handle. We like the BALORAY handle for multiple reasons. First, it's sturdy, both in its construction and in its attachment to the bag. Even if you're carrying a heavy meal, the handle won't detach. Next, it's a large handle. Many lunch box handles are big enough to fit your hand in, but can't go much past your wrist. The BALORAY handle has room for your to carry the bag on your arm, making it much more convenient to transport when you've got lots of items to hold.
Trust the customers who've purchased this lunch bag before. One said, "This lunchbox is super cute and it holds a lot. When I say a lot, I mean not only does it have a lot of room, it also holds the weight of it all really well." Another added, "This lunch bag is perfect for literally anyone."
Purchase the BALORAY Lunch Bag Tote on Amazon for $10.99.
Best large capacity lunch box
In need of a super spacious lunch box? Look to the Lifewit Large Lunch Bag. This affordable bag has 15 liters of space while maintaining a sleek exterior and a light weight. Made from soft fabric, the Lifewit Lunch Bag is perfect for family picnics or a potluck at work. Its insulation makes it great for transporting cold beverages, and its leakproof design is perfect for when spills inevitably happen.
Lifewit equipped its lunch bag with two separate carrying options, a top handle and a shoulder strap, both of which have padding to make the lunch box more comfortable to transport. And although it has plenty of space, this item isn't bulky, so you can easily carry other bags and accessories while you've got your lunch bag.
As one customer put it, this bag is a "good alternative to a big cooler when there's only a few of you for a quick trip to the beach or picnic," adding, "Doesn't leak and folds flat when not in use (for easy storage)." A second reviewer said, "I love this thing and the side pockets ... Haven't ripped or given me any problem, and it's easy to clean. 10 stars!" You'll give it 10 stars, too.
Get the Lifewit Lunch Bag for $19.99 on Amazon.
Best small capacity lunch box
Now, if you don't need much room in your lunch box, we recommend the Gloppie Small Lunch Bag. This little box only holds 3.5 liters, but if you don't often carry much for food and drink, you know that's a great size. Whether you're just bringing a snack or using your Gloppie to store medicine, makeup, or another non-food item, there's plenty of space inside.
The Gloppie is well made, and it's insulated and easy to clean. It's also durable and easy to carry. Because of its small size, it's easy to store at home, at work, or inside another bag. Gloppie makes transporting items a breeze, and it's available in multiple colors, including black, blue, yellow, and orange.
Plenty of users have already expressed their happiness with this product. One reviewer commented, "I needed a small, sturdy, insulated lunch container to take to work ... Incredibly happy with my purchase."
Many users purchase the Gloppie for others, particularly school-aged children. One customer said, "I bought this product for my grandson, he liked that it was big enough to hold a sandwich, fruit, drink and a snack and it was able to fit comfortably in his backpack. It's also sturdy enough so his lunch doesn't get squished together." It's hard to argue with a lunch box that prevents flattened food.
Get the Gloppie Small Lunch Bag on Amazon for $12.59.
Best insulated lunch box
We know we've mentioned that nearly every lunch box on this list is insulated, but if insulation is truly your main concern, get the Hydro Flask Insulated Lunch Box. Best known for its water bottles, Hydro Flask has reinvented insulation. If you've used one of the brand's water bottles, you know how well its products work, and you can expect the same performance from this lunch box.
If you need more proof about its insulation, look to users who've already purchased this item. One said, "Love this lunchbox. I got it for my son after he complained that his lunch was no longer cold by lunchtime. Problem solved!" Another commented, "It is insulated very well and keeps everything cool for hours."
Aside from its stellar insulation Hydro Flask's lunch box is spacious, easy to transport, and easy to store. It also comes in multiple sizes, as well as multiple colors like pink, blue, and red, and its material is easy to clean. It's a great product from a company that's proved itself time and again.
You can purchase the Hydro Flask Insulated Lunch Box on Amazon for $44.95.
Best electric lunch box
If you've completely lost faith in insulated lunch boxes as a whole, or if you want hot food without using a microwave, try an electric lunch box. The best one you can find? The FORABEST Electric Lunch Box Food Heater. This product is awesome. All you need to do is plug it in and you've got a hot meal ready in no time. 
To work this electric lunch box, you simply need to plug it in. And to make it even more convenient, it comes with a cord to plug into your car so you can heat food on the go. Do note that it does not cook food — it just warms food up, so don't leave the house with raw meat expecting it to cook through during your commute. That being said, it's perfect for anyone who's busy and hates eating sandwiches and salads day after day. 
The FORABEST lunch box comes with a convenient carrying case, silverware, and a small plastic container. It also comes with the cords needed to operate it, so it's fully functional upon opening. 
As one reviewer put it, "This is the best thing I have gotten ... I plug it in about an hour before my lunch and my food is heated up perfectly. I have done, pasta, pizza, frozen meals, you name it and I am obsessed." 
Purchase the FORABEST Electric Lunch Box Food Heater on Amazon for $39.99.