Hell's Kitchen's Alumni Wedding Was Almost More Sickness Than Health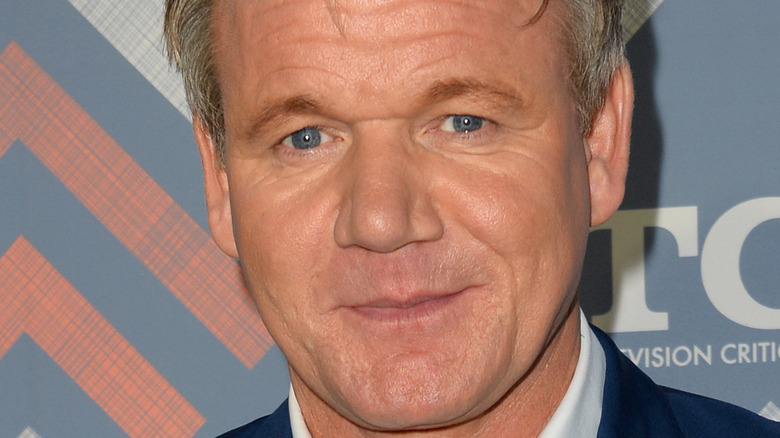 Featureflash Photo Agency/Shutterstock
Chef Trenton Garvey, the Season 20 winner of "Hell's Kitchen," who went on to become the head chef at Gordon Ramsay Steak (per Las Vegas Magazine) is back in the studio kitchen. Fans of the show will recall Garvey proposed to his then-girlfriend Macee after "he was chosen as the winner," according to Fox4. In Season 21, Episode 6, the couple returned for another surprise, this time to get married! HexClad Cookware, which has been featured on the show (via Forbes) teased a clip of a smiling Garvey and his bride-to-be walking down the aisle in a Twitter post, with the caption, "Never thought I'd see a #HellsKitchen wedding."
The couple enlists the current season's competitors in putting together a wedding menu, requesting "Southern comfort dishes with good seasonings" (via GoldDerby). Although weddings are considered one of the happiest days in the life of a couple, this one would not be complete without its share of drama.
Gordon Ramsay averts a wedding disaster
In an earlier episode, competitors on the red team are put in charge of the proteins like halibut and salmon. Competitors plead "to please work together" without "arguing" but chef Alyssa was not getting the cooperation needed. The chef values the old adage fitting for any marriage, that being, "Communication is key." She observed her kitchen partner Ileana had, however, instead "shut down," causing problems down the line for a teammate at the garnish station, according to a YouTube clip from the Food Club.
The red team, once again, finds itself in hot water, this time during the dinner service for Garvey's wedding. In a video posted to Twitter, Chef Ramsay is seen cutting into a piece of raw chicken yelling, "In sickness and in health, they won't even last a f***ing week married." We agree it would certainly be a terrible thing to come down with food poisoning from raw chicken at your own wedding. Ramsay quickly tells them to get the rare bird "back in the pan," before he kicks the entire Red Team out of the kitchen (per GoldDerby). It seems the chef saves the dinner and manages to avoid a crisis, thankfully, for the lovebirds.
With the potential health scare averted, we hope the newly married couple enjoys years of good health, rather than sickness, together.