The Dinner Roll Hack You Need This Thanksgiving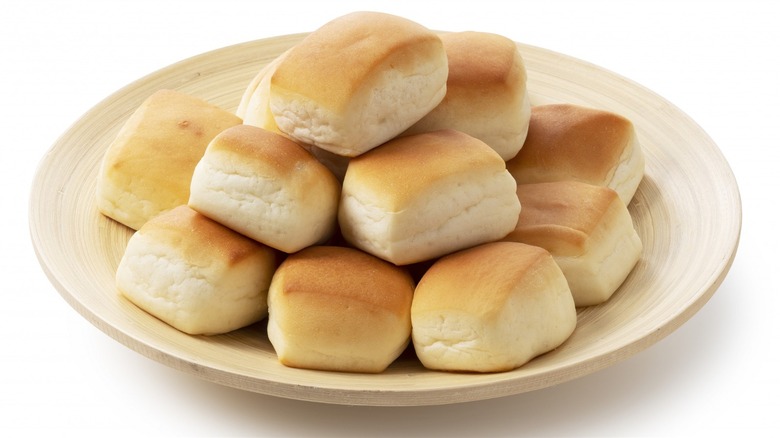 Masa44/Getty
On Thanksgiving, the turkey is usually the star of the show. But let's be honest, everyone knows that the real stars of the meal are usually the side dishes for Thanksgiving. What's Thanksgiving without the stuffing, mashed potatoes, cranberry sauce, green beans ... the list goes on and on. And, of course, no Thanksgiving feast would be complete without a basket of warm, fluffy dinner rolls.
But here's the thing: As any experienced home cook knows, making all of these dishes can be a bit of a juggling act. There's only so much room in your oven, and preparing multiple dishes at once can be challenging. That's why time management is key on Thanksgiving day.
For instance, certain dishes like cranberry sauce and pies can be made days in advance and stored in the fridge until you're ready to use them. However, other things, like dinner rolls, are best made closer to when you plan on serving them. But even then, there's a way to make things easier on yourself by using the following dinner roll hack.
Use your slow cooker to make dinner rolls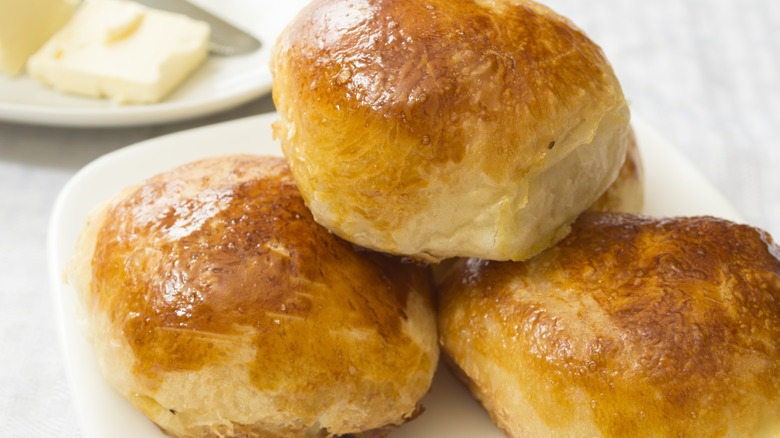 Iamthatiam/Getty Images
Save your time, effort, and oven space by using your slow cooker to make dinner rolls. It may sound a bit strange, but trust us, it works like a charm. A traditional dinner roll recipe calls for proofing the dough, which can take hours. But with this slow-cooker method, you can skip the step of proofing altogether. Slow cookers work really well for poofing bread dough. All you need to do is simply mix the dough, portion it out, and put it straight in the slow cooker. The gentle heat of the slow cooker is perfectly suited for rising dough, so there's no risk of over-proofing or burning the rolls. And because they cook directly in the slow cooker, there's no need to worry about your dinner rolls taking up valuable oven space.
If you really want to save on counter space, you can certainly do so with the slow cooker method. And, if need be, you can set the slow cooker in a totally different room away from the kitchen to cook your rolls while you're busy preparing the rest of the meal. Then, as you and your guests eat your delicious Thanksgiving spread, the slow cooker can double as a bread warmer to keep your rolls nice and toasty until you're ready for seconds ... or thirds.