Popeyes Just Revealed The Blackened Chicken Sandwich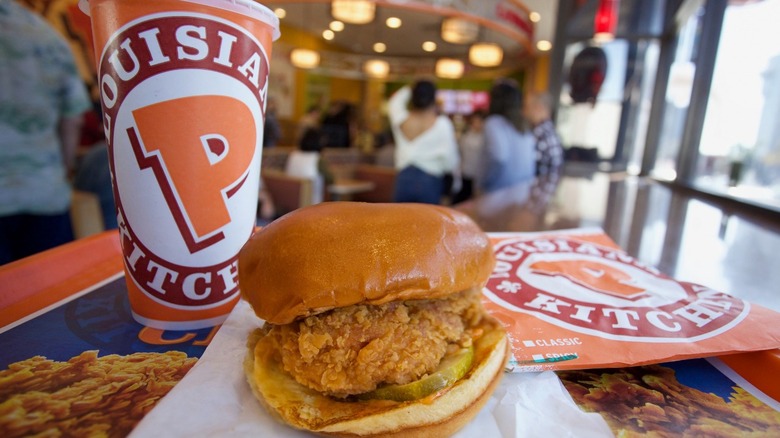 Elliott Cowand Jr/Shutterstock
Few sandwiches bear the iconic status of the Popeyes fried chicken sandwich, according to Thrillist, which reported that the popular chain birthed this creation in 2019, sparking a quickly-growing competition among fast food restaurants to perfect the chicken sandwich. Forbes called the Popeyes Louisiana Kitchen creation a "fast food phenomenon," noting that the sandwich was the catalyst to the restaurant achieving a marketing value of $65 million.
The Popeyes sandwich also served as a magnet for a new group of customers. According to a Forbes dive into what demographics purchased this menu item, this southern favorite attracted younger customers who typically earned more money than the average Popeyes loyalist. In fact, younger customers made up two-thirds of all people who purchased the famous sandwich. That's a 12.6% increase from the 54% of Gen Xers and Millennials who frequented Popeyes regularly before the sandwich dropped, which proves just how much influence the crispy new release had.
Popeyes' fried chicken sandwich made our list of the absolute best chicken sandwiches in the U.S. this year, and today, the Louisiana-inspired chain debuted a new menu item that has been in the works for years (via People).
This chicken cooking technique has Louisiana roots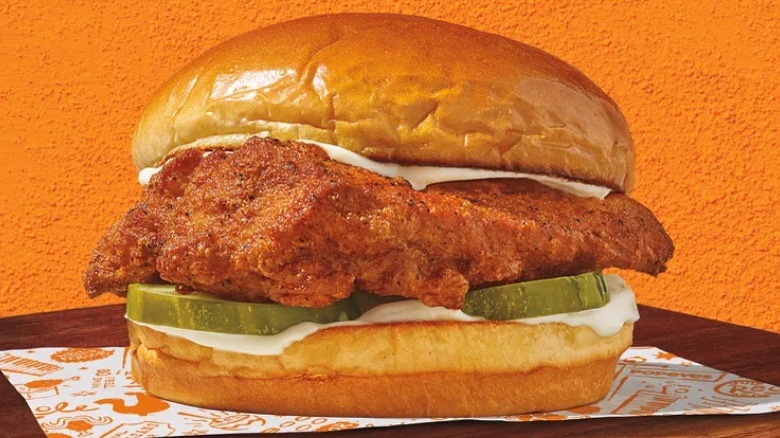 Popeyes
Popeyes Louisiana Kitchen just released a new chicken sandwich that its team of experts have developed over a period of four years, according to People. The fast food chain made popular for its fried chicken sandwich will now be serving a blackened chicken sandwich as well. While this new option is unique in that it doesn't include a breaded exterior, it does feature chicken that bathes in a marinade of Cajun and Creole-inspired flavors for 12 hours. Nestled in the middle of a brioche bun with accompanying pickles, the blackened Popeyes chicken draws on a Louisiana cooking technique that's known to lock in flavor. And customers can choose between "spicy mayo" and "classic house mayo."
Thrillist reported that the blackened chicken sandwich is now available at Popeyes for $4.99 and a free order of fries with your next purchase. Well, technically members of the Popeyes rewards program will receive 200 points instantly when they purchase the new sandwich, which conveniently can be redeemed for the aforementioned free fries.