When Does Costco Stop Serving Food?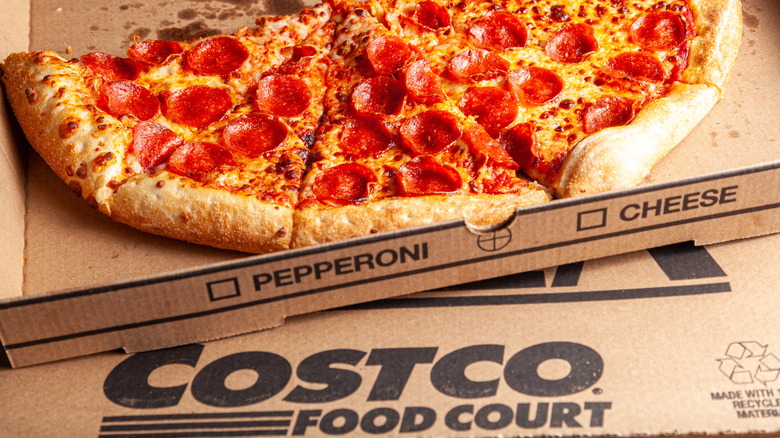 grandbrothers/Shutterstock
Costco has grown a cult-like membership customer base for a reason. Aside from offering thousands of specialty food and household products in bulk, Costco has poised itself as a prime grocery store for never letting customers down, especially after beating Amazon in overall customer satisfaction when it comes to online shopping (via Forbes).
Another factor that helps bring customers back for more? The food court. If you've ever grocery shopped when hungry, then you know how provoking this could be. Costco instead allows customers to freely eat amid their grocery shopping experience, offering inexpensive yet tasty menu offerings to help satisfy those cravings. From its twisted churros, various coffee drinks, ice cream sundaes, 20-ounce refillable sodas, pizzas, and of course the well-known ¼ pound all-beef hot dogs, there's just about something for everyone at the food court. But just like all businesses, the fun must come to an end at a certain point in the day to avoid making too much-prepared food and it going to waste. So when exactly does Costco stop serving food in its food court before it closes the store for the evening?
Up until the last minute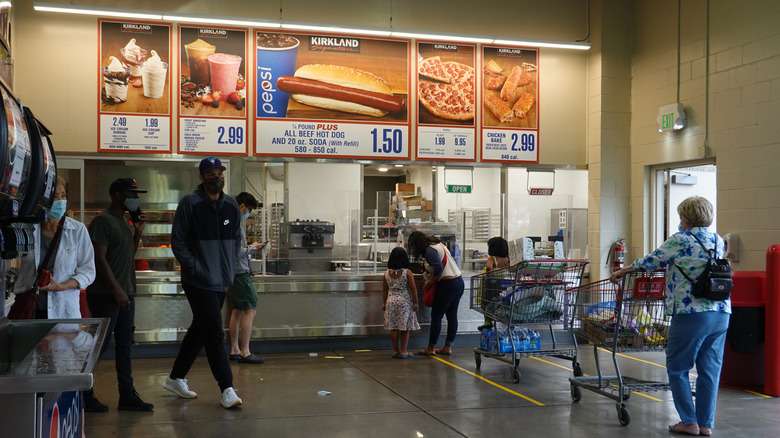 LifeisticAC/Shutterstock
Perhaps you're one of those customers who sprint to the store because you only have a few minutes left until it closes. So you run inside trying to grab all your necessities. Looks like you may have something in common with Costco's food court. The famed wholesale grocery mogul actually keeps its food court open up until the very last minute (via Reddit). While a lot of restaurants will set boundaries and a cut-off time for making food to allow kitchen employees enough time to clean up equipment and literally close it all down, Costco likes to keep its customers fed with food up until it locks its doors for the evening. "Food is made until the last member leaves the building, then either thrown away or donated depending on the building," one Redditor explained.
This seems to reign true for most, if not all, Costco stores around the United States. According to The Meal Hours, Costco's food court opens at 10 a.m. and closes at 8:30 p.m. Monday through Friday, but on Saturdays, they open at 9:30 a.m. and close at 7 p.m. Then Sundays are a bit of a shorter day, with them opening at 10 a.m. and closing at 6 p.m. This aligns with Costco's usual business hours. So, even if you find yourself rushing at the last minute, you'll still be able to go home with an evening snack from the food court.