Tyson Is Recalling 93,000 Pounds Of Beef Because Of A 'Mirror-Like Material'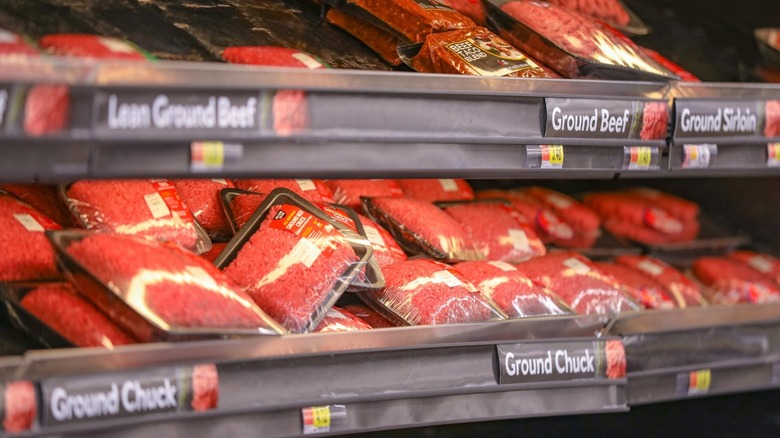 RYO Alexandre/Shutterstock
According to the United States Department of Agriculture's Food Safety and Inspection Service (FSIS), Tyson Fresh Meats, Inc. issued a huge Class I — High-Risk recall on November 16, 2022, for an estimated 93,697 pounds of ground beef after customers supposedly found "extraneous materials, specifically reflective mirror-like material" in various packs of raw meat. The contaminated packages were produced on November 2, 2022, in Amarillo, Texas, and include 10-pound packages of Hill Country Fare 73% lean/27% fat ground beef, 5-pound packages of Hill Country Fare 73% lean/27% fat ground beef, and 5-pound packages of H-E-B 80% lean/20% fat ground chuck ground beef.
All three products were printed with a freeze by/best by date of November 25, 2022 and have UPC codes 3477980010, 3477980000, and 4122017213, per Tyson Foods. The contaminated packages of ground beef also have an "establishment number EST. 245E" and were delivered to various grocery stores in Texas, per FSIS. Here's what you should do if you purchased a pack of contaminated ground beef.
Customers who purchased contaminated ground beef should dispose of them immediately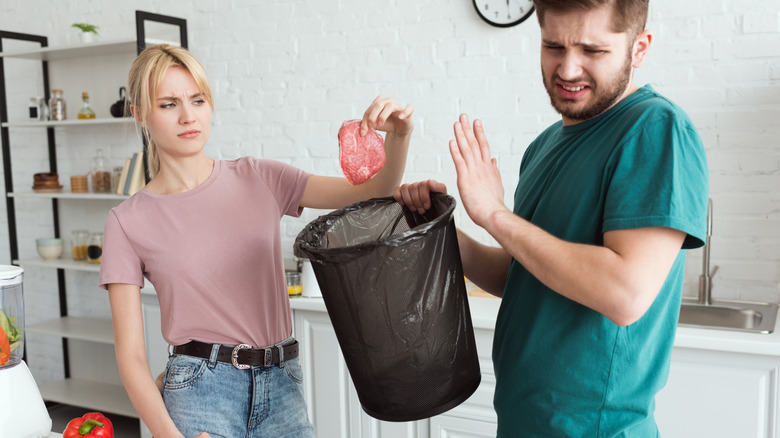 LightField Studios/Shutterstock
Since the recall was issued, FSIS hasn't received or known of any accounts of illness or injury due to the contaminated products; however, it's highly recommended that consumers who think they purchased the contaminated ground beef check their fridges and freezers and either throw the packages away or get a refund by returning the meat to where it was purchased. Anyone with questions, concerns, or comments regarding the recall can call 1-855-382-3101 and speak with the Tyson Fresh Meats Consumer Hotline.
FSIS is working with Tyson Fresh Meats to make sure its customers are aware of the recall and that the contaminated products are removed from grocery stores as soon as possible. Interestingly, the presence of extraneous materials was the second-leading cause of food recalls in 2021, causing nine recalls to be issued and an estimated 984,554 pounds of food to be recalled, according to FSIS. Import violations were also the second-leading cause for food recalls in 2021, with undeclared allergens being the first-leading cause. Here are some other foods that were recalled for scary reasons.