Del Taco Is Ready To Celebrate The Holidays With The Return Of Tamales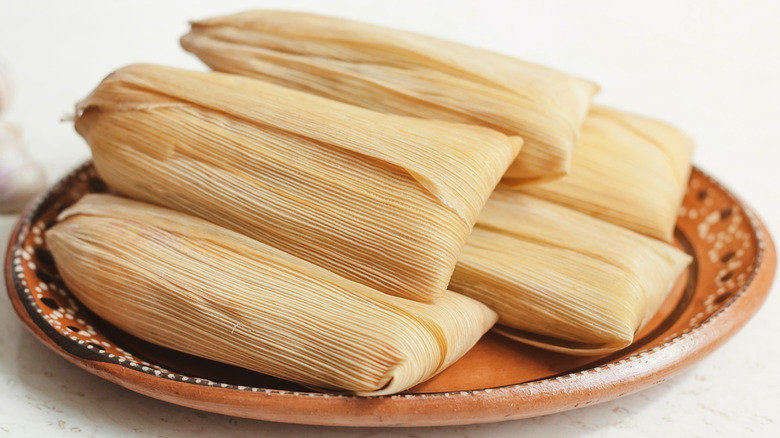 Marcos Castillo/Shutterstock
In less than a week, the home kitchen assembly lines will be in full force while the aroma of tamales wafts through the air, all in preparation for Thanksgiving dinner. And there's always the go-to tamale recipe to get the season started — even if the holiday tradition has a surprisingly dark backstory. But for everyone who doesn't have the luxury of homemade tamales, there's Del Taco. GlobeNewswire recently announced that the fast food chain has brought back its signature tamales, along with an added bonus, just in time for the holiday season.
"Del Taco fans wait all year long for our seasonal tamales, and this year the return is sweeter with more special offers like our two for $5 Tamales and double points for our Del Yeah! Rewards members," said Del Taco's Chief Marketing Officer Tim Hackbardt. As the name implies, Del Yeah! Rewards is the restaurant's app that allows you to earn points that can be redeemed for free items. Here's what to know about Del Taco's holiday deals.
Delicious tamales and other holiday deals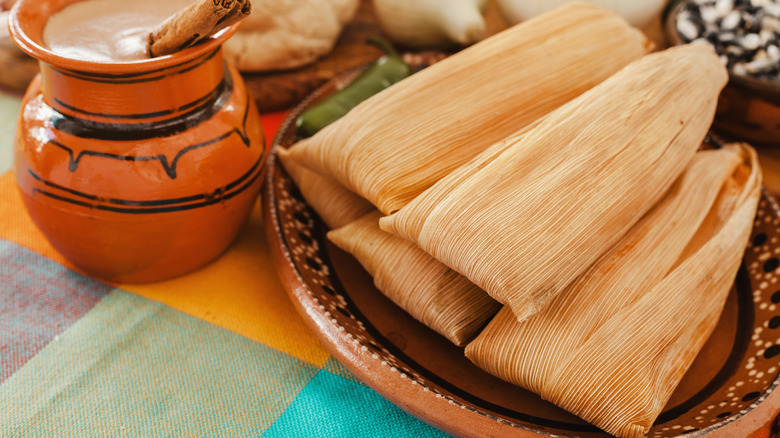 Marcos Castillo/Shutterstock
According to Del Taco, the tamales are "filled with seasoned shredded pork, fire roasted salsa, stone ground corn masa and individually hand wrapped the authentic way with real corn husk." You can choose the 2-for-$5 option, a four-pack for $10, or the Smothered Tamales for $5.79. Tamale prices and restaurant participation may vary by location (per GlobeNewswire).
The Smothered Tamales option includes the choice of Red and Green Smothered Tamales (red and green sauce, sour cream, and cilantro) or you can get Chili Cheese Smothered Tamales (pork tamales with beef chili, cheddar cheese, and "cool" sour cream). You can also purchase the Smothered Tamales Meal, which includes fries and a drink or milkshake.
If you want to give the gift of tamales this season, there are also several deals on Del Taco gift cards purchased online and in-person (via GlobeNewswire). With each special, you can receive free food with the purchase of a $20 or $30 gift card in store, or a $30 or $100 gift card online. Either way, it looks like tamales are on the table this Thanksgiving!