The Devastating 2009 Death Of 'The Original Celebrity Chef,' Keith Floyd
Keith Floyd was a beloved British chef who found fame across the pond for his eccentric and relatable cooking style. A prolific restaurateur, writer, and television host, Floyd started out as a journalist, then entered the army, where he oversaw the kitchens and meals in the officers' mess. He left the army and, with some acquired skills and a lot of natural talent, opened and closed several restaurants before finding his way to television in the 1980s with "Floyd on Fish," where he promptly turned the television cooking show genre on its head.
He fumbled a lot and fretted over his final dishes, which made him relatable to average home cooks. His cooking and presenting style, described as "cheerful mayhem" by The Guardian, was refreshing at a time when television cooking shows featured on the BBC were staid and stuffy or presented by a French chef with indecipherable English. While his boozy cooking demonstrations were off the wall – more wine was drunk by Floyd than what made it into the food – viewers were still able to gain an understanding of flavor and technique. 
Floyd created 19 television series and 25 books, all about cooking and his travels from Scotland to far-flung Thailand and Southeast Asia.
'A natural cook of great skill and restaurateur of effervescent charm'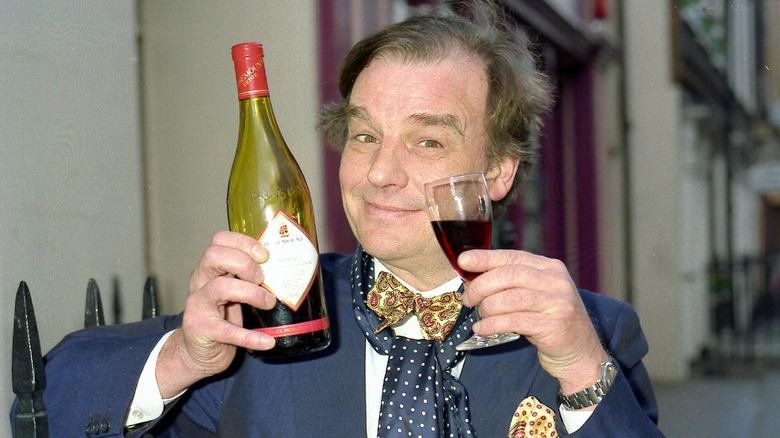 Avalon/Getty Images
Floyd died of a heart attack on September 14, 2009, but had also been diagnosed with bowel cancer earlier in the year and suffered from other health problems. Coincidentally, he passed away the same night a Channel 4 documentary about Floyd's life by Keith Allen, called "Keith on Keith," aired. He never saw the documentary (via Independent.ie).
After news of his passing was made public, tributes from admirers and fellow chefs poured in. Considered the grandfather of celebrity chefs, Jamie Oliver called him "an inspiration to me and to so many others." Chef Michel Roux Jr. said, "He was a man who lived for the great pleasure of food and wine; he got so much pleasure out of cooking and eating." Gordon Ramsay remembered Floyd as "a true original. A natural performer and a superb cook, he broke new ground with his programs, and his contribution to television cookery was immense" (via The Guardian). 
Floyd will be best remembered for pioneering television and travel cooking programs, his exuberant presenting style, and his passion for cooking.