The Most Underappreciated Recipes Of All Time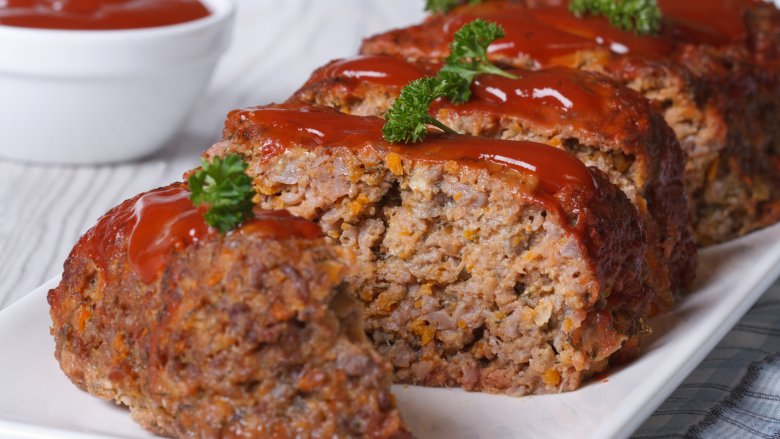 Shutterstock
Whether you prefer spicy food, healthy food, comfort food, or junk food, we all have our own favorites that are a constant at the dinner table. What's probably not a constant on the table are foods that have become underappreciated over a period of time. Foods that may have once been the centerpiece of the family meal, but have taken a back burner to new recipe trends. These underappreciated staples should not be forgotten, but rather embraced. Utilizing scraps, filling bellies, and warming hearts, these are the most underappreciated foods that should be returned to your regular dinner rotation. 
Roasted Brussels sprouts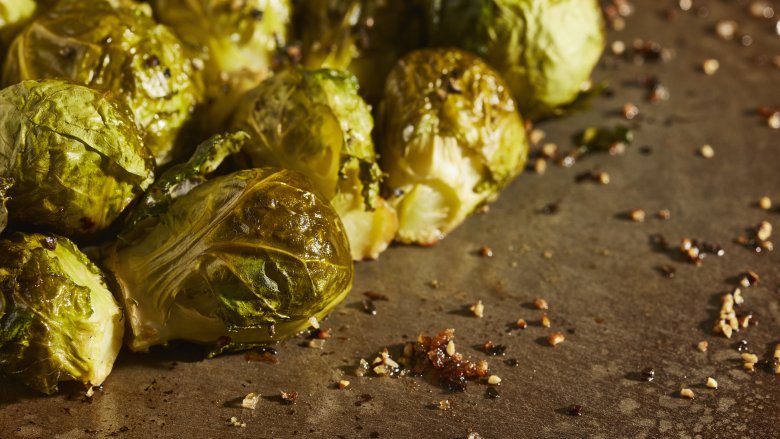 Shutterstock
Roasted Brussels sprouts is a versatile dish that doesn't get as much attention as it should. Some may claim they despise Brussels sprouts, but when done right, this tiny vegetable can easily become a new dinner favorite. When roasted in the oven with a drizzle of olive oil, Brussels sprouts become a savory vegetable that will fill you up and keep you satisfied.
To make the most of this veggie, start by cutting of the stems and trimming any outer layers that have browned. Cut each one lengthwise, toss in olive oil until well-coated, then add salt and pepper to taste. Spread out on a parchment paper-lined baking sheet, making sure they're not over-crowded, then bake at 425 degrees Fahrenheit for about 20 minutes, or until they're golden brown. Once the roasted Brussels sprouts are done, you can top with a variety of ingredients. Dried cranberries and goat cheese, bacon and blue cheese, a fried egg and Sriracha, or even a simple balsamic glaze are an easy way to doctor up this recipe into a new delicious dinner staple.
Ratatouille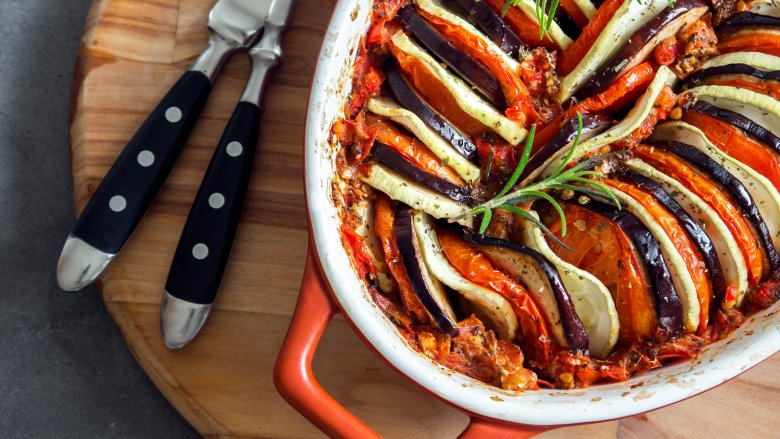 Shutterstock
People can harp on veggies all they want, but ratatouille has proven time and time again that vegetables can taste amazing. Associated with being a French dish, ratatouille typically consists of tomato, eggplant, peppers, and zucchini. As the dish bakes, the veggies soften and become infused with a tomato sauce turning it into a mouthwatering comforting dish.
While ratatouille may sound fancy and complicated, it's really easy to make. To begin, saute garlic, onion, and herbs de provence in a skillet. In a bowl, add the mixture to a can of tomato sauce, or diced tomatoes. Once mixed, add a layer of the sauce to a baking dish. Then, layer vertically with evenly sliced eggplant, zucchini, tomato, and bell pepper. Brush the veggies with olive oil, then pour on the rest of the tomato sauce mixture and bake at 350 degrees for an hour or until the vegetables soften. Serve with a warm crusty baguette or eat as-is. Either way, you'll be raving about your veggies.
Meatloaf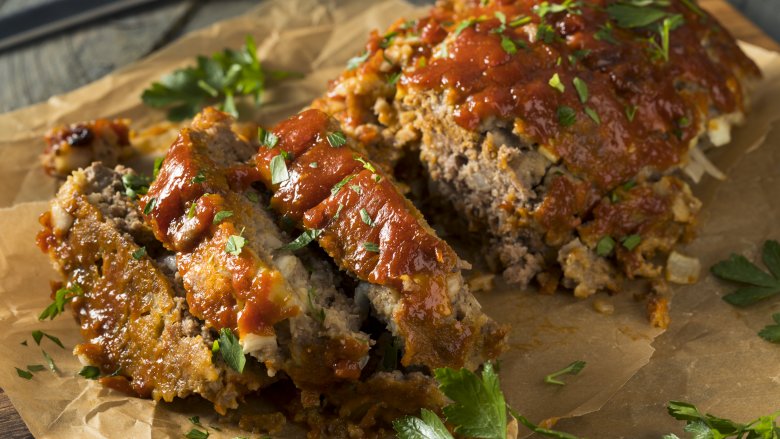 Shutterstock
When it comes to underappreciated recipes, meatloaf tops the list. This iconic American dish has been around since the 1800s and gained popularity during the Depression. 
While some may think of it as dry and flavorless, when done right meatloaf can be a delicious meal that's comforting for the soul. To make a stellar homemade meatloaf, you'll want to use quality ground beef, a handful of spices, and the best tomato sauce you can find. Mix the ground beef with panko breadcrumbs, and spices like onion, garlic, cumin, salt, and pepper. Shape the meat into a loaf and top with tomato sauce. Bake at 350 for about an hour until the meat is cooked, then serve. Want to spice things up a bit? Swap out the tomato sauce for your favorite barbecue sauce — you can thank us later. 
Spaghetti and meatballs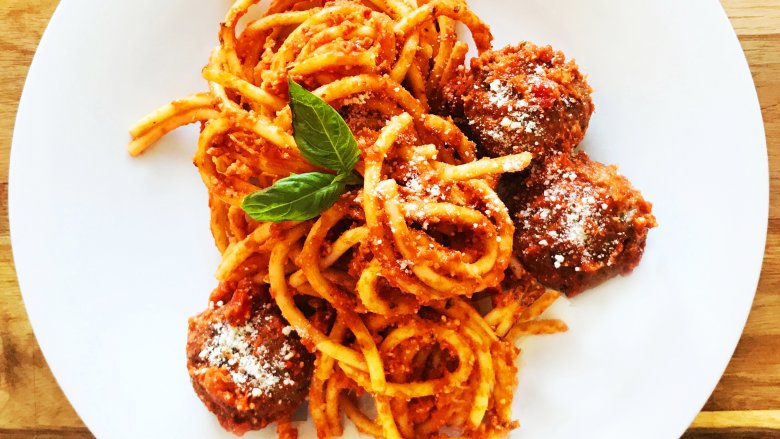 Shutterstock
Sometimes the simplicity of a dish is what makes it so great, like spaghetti and meatballs. Hearty, tasty, and downright satisfying, you can't go wrong with a classic like spaghetti and meatballs.
Cooking the ultimate meatballs is key in making this dish. Flavor ground beef and pork with onion powder, garlic powder, salt, pepper, Italian seasoning, panko bread crumbs, Parmesan cheese, and an egg for binding. From there, brown the meatballs for a few minutes in a Dutch oven or skillet then finish them in the oven. Once the meatballs are thoroughly cooked, plop them onto a plate of spaghetti and top with your favorite marinara sauce and cheese. If you're feeling fancy, pair with a thick slice of garlic bread and glass of red wine.
Sloppy Joes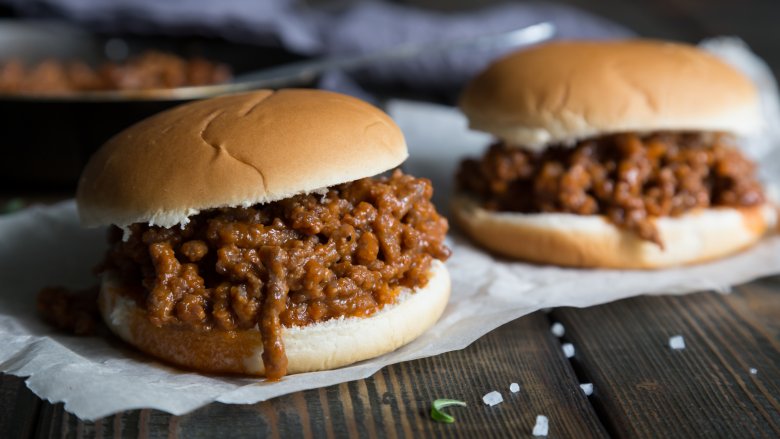 Shutterstock
Once you reached adulthood, you probably stopped eating Sloppy Joes. To many memories of bad cafeteria food and cheap home dinners may have turned you against this food. Try it again as an adult — like this — and you may rethink this underappreciated dish.
To do Sloppy Joes right, you'll need to take your time. In a Dutch oven, saute yellow onion, chopped bell peppers, and garlic. Add in ground beef, paprika, chili powder, garlic powder, Worcestershire sauce, a touch of brown sugar, tomato paste, and a splash of apple cider vinegar. Cook it for about an hour on low so all the flavors can meld, then serve on a toasty bun brushed with olive oil.
Frittata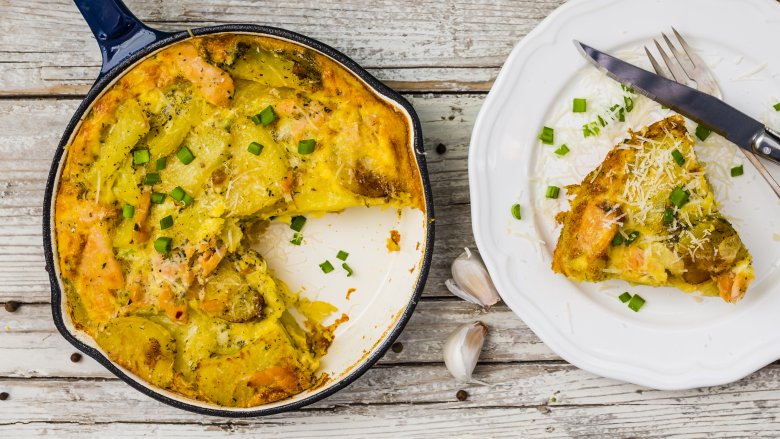 Shutterstock
Breakfast, lunch, or dinner, the frittata is a cheap, quick-fix recipe that is completely underrated. A traditional Italian egg dish, the word frittata is Italian for "fried" which describes how this dish is made. Frittatas are first cooked on the stove then placed in the oven to allow the eggs to set. While there are a variety of variations in ingredients, it's basically an "everything but the kitchen sink" recipe that utilizes whatever veggies and herbs you have on-hand.
If you're in the mood to whip up an easy, cheap bite, grab a cast iron skillet or oven- safe pan and let's get started. Look around your kitchen and see what veggies you need to use up. You can't go wrong with foolproof combinations like tomatoes, spinach, and yellow onions or mushrooms, goat cheese, and garlic. Saute your additional ingredients then add in six to eight large eggs — it depends how hungry you are — and cook in the pan for about seven minutes. It's important to resist the urge to mix too much, otherwise you wind up with a scramble. Once the eggs start to pull away from the edges, place foil on top of the skillet then bake at 350 degrees for ten minutes. Remove the foil and bake another five minutes or until the eggs set.
Chicken pot pie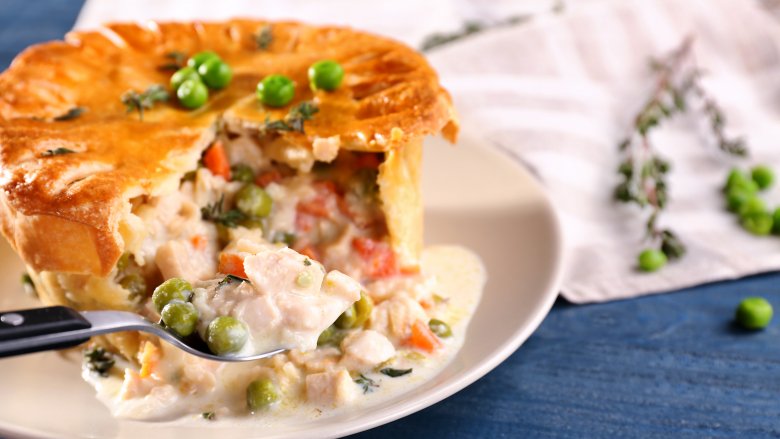 Shutterstock
Finding a quality chicken pot pie can be rough. Most often they're enjoyed out of a frozen food package or at an old timey restaurant that your grandparents frequent (and that one was probably frozen, too). It's these methods of serving that have often caused the chicken pot pie to fall out of favor. Yet, with the right recipe and quality ingredients, you can fall back in love with the chicken pot pie.
Homemade chicken pot pie may take a bit of time to make, but it's well worth it. In a pan, saute onion, carrots, celery, peas (or whatever veggies you choose), then add cooked chicken, spices, and a roux made of chicken broth and milk. While that cooks, line a pie dish with a layer of pie dough. Once the veggie mixture is thickened, pour it over the dough, then place a second layer of dough on top and seal in all that goodness. You'll want to put a couple slits on top to vent, then bake at 425 degrees Fahrenheit for about a half an hour, or until the top is golden brown. With a flaky crust and warm center, you'll be excited all over again about this savory dish.
Broccoli and cheddar soup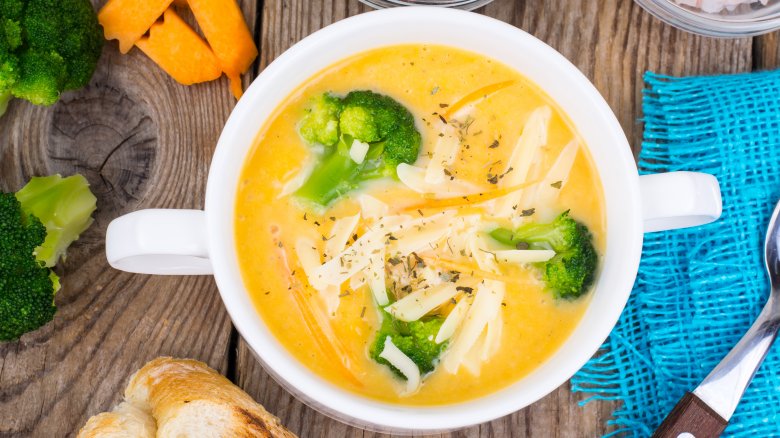 Shutterstock
When it comes to hearty soups, broccoli and cheddar is totally underappreciated. It's a delicious soup that takes little time to make and provides you with a serving of veggies in the best way — topped with cheese.
If you want to make one of the best broccoli and cheddar soups, you'll have to use quality cheddar cheese. It's bold flavor will add a bite to the creaminess of the soup. To begin, saute garlic, onion, carrots, and flour in butter to make a thick base. Add in veggie or chicken stock, milk, broccoli, salt, and pepper. Simmer until the broccoli is cooked then add a heaping pile of cheese. As the cheese melts, all the flavors begin to meld making for a warming bowl of scrumptious soup.
Tuna salad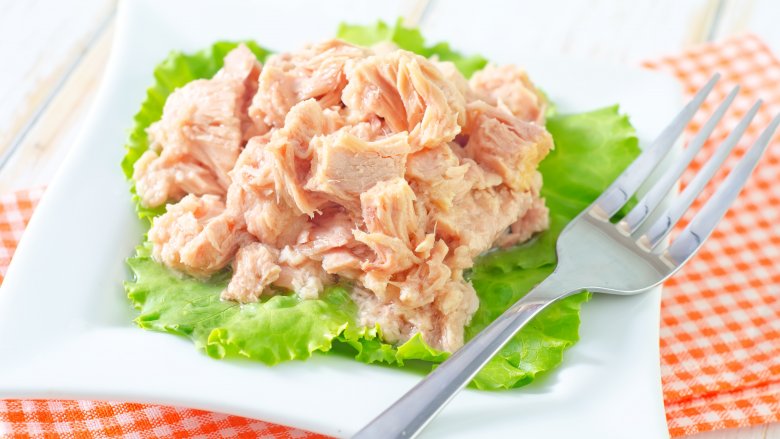 Shutterstock
The beauty of tuna salad is that it's a cheap, easy meal that you can fix in a snap. While it may not be the most glamorous of recipes, it is still one that should be praised for its simplicity and taste — not to mention the fact that just about anyone can make it.
To whip up a classic tuna salad, mix a can of tuna with mayo, chopped celery, red onion, lemon juice, salt, and pepper. You can even get creative with that basic recipe. Omit the mayo and use avocado, tomato, and bell pepper. Or, do it Mediterranean style and add in olives, red onion, tomato, and cucumber. Tuna salad for lunch again? Yes please.
Baked potatoes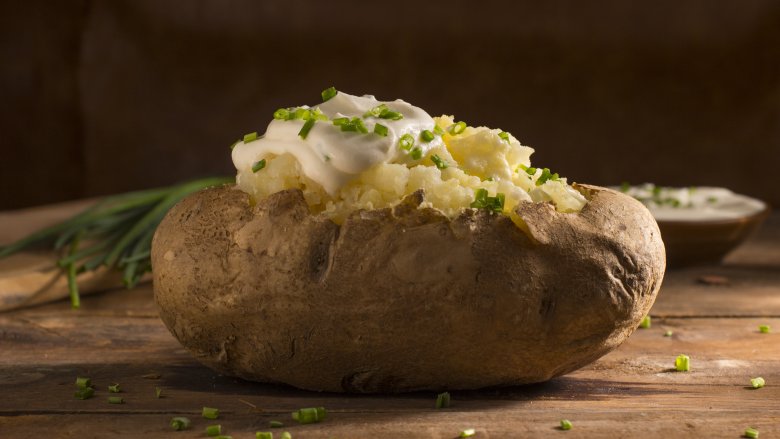 Shutterstock
The baked potato may sound like a poor man's meal, but don't be fooled by this root vegetable. It's more than just a cheap spud, it's a filling scrumptious dish. A simple concept that is pure genius, a potato is roasted until tender and topped with whatever ingredients you fancy.
To make a classic baked potato, poke a few holes in a russet potato using a fork. Rub it in olive oil and sprinkle on some salt, then roast at 425 degree Fahrenheit for about an hour or until it's crisp on the outside and soft on the inside. Top it with butter, sour cream, and chives. Or, go crazy and turn it into your favorite cuisine. Like tacos? Try ground beef, cheddar cheese, and salsa on your potato. In the mood for Mediterranean again? Add on olives, cherry tomatoes, feta cheese, and roasted chickpeas. The options are as endless as your imagination, which is what makes this recipe so great.
Red beans and rice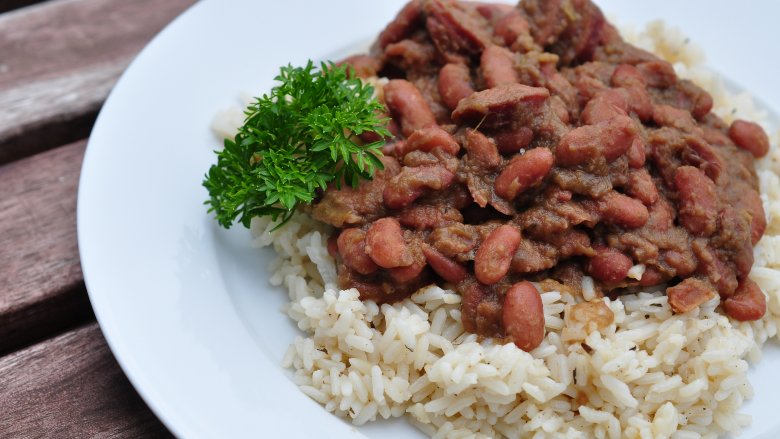 Shutterstock
Red beans and rice is more than a way to eat a complete protein, it's a regional dish that's emblematic of Louisiana's Creole cuisine. This dish which is thought to have been brought to Louisiana through the slave trade was a household staple. When women would do laundry, they would throw a pot of red beans and rice on the stove, using the same coals they needed to do the wash. This in turn became a Monday tradition known as "wash day".
While red beans and rice may have been a Monday tradition using coals on the stove, you can prepare it just as easy in the home using modern day cookware (and any day of the week). In a skillet, saute onion, garlic, and Creole seasoning. Add it to a slow cooker with red beans, Andouille sausage, Worcestershire sauce, hot sauce, and chicken stock. Cook it on high for about four hours or until beans are tender, then serve on top a bed of white rice. A bowl of this and you have your answer to beating those Monday blues.