Whole Foods Is Giving Away A Year Of Free Groceries With A Recipe Contest
In a recent post on Whole Foods' Instagram, the popular upscale grocery store announced a new recipe contest where the winner can receive $10,000 in free groceries from Whole Foods by submitting their holiday side dish recipe. The contest began on November 9, 2022 and is open until November 30, 2022, according to Whole Foods. Entrants must be at least 18 years old and live in the United States; however, the contest is not open to residents of West Virginia, Vermont, South Dakota, North Dakota, Maryland, Delaware, Colorado, and Alaska. The contest is also not open to anyone who is a professional chef, a recipe developer, a cook, or a current Whole Foods employee.
On Instagram, Whole Foods fans showed their excitement about the contest. "What a fun contest!! I think you're definitely missing some [G]erman food sides on your holiday hot bar!" one user wrote. Another user said, "Can't wait to share my vegan side dish recipe! Love the hot bar at Whole Foods." Here's how you can enter and what else you need to know about Whole Foods' Next Hot Bar Star contest.
Whole Foods is looking for its next hot bar star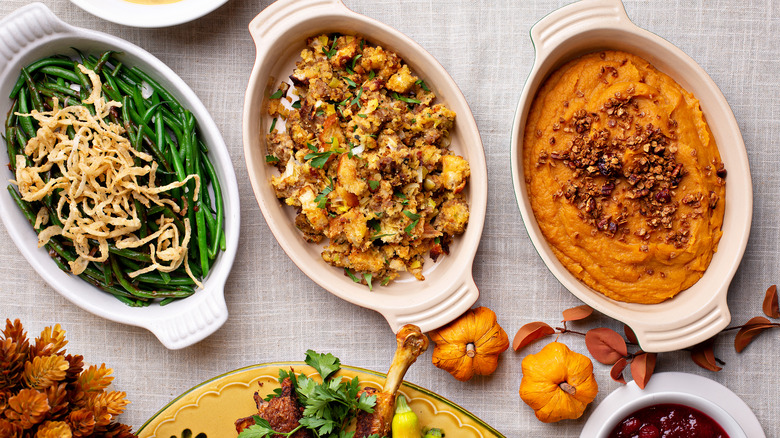 Elena Veselova/Shutterstock
Anyone wishing to enter Whole Foods' Next Hot Bar Star contest will have to record a 60-second video of themselves making their holiday side dish and show the finished product as well as the Whole Foods Market product(s) they used, according to Whole Foods. The contest can be entered via TikTok, Instagram, or Twitter, and the side dish recipe must feature at least one 365 by Whole Foods Market or Whole Foods Market branded item. When submitting an entry using any of the three social media platforms, users must have a public account, must follow Whole Foods Market on TikTok, Instagram, or Twitter, and use the hashtag #WFMHotBarStarContest and tag the corresponding Whole Foods social media account in the caption.
Dishes will be judged on various criteria, such as originality, customer appeal, quality, and how many Whole Foods products are used in the recipe, with more points awarded for more Whole Foods-branded items used. Per the Instagram post, a dish inspired by the winning side dish will be featured on Whole Foods' hot bar next holiday season. The winner will also get $10,000 in Whole Foods gift cards and a trip for two to visit the Whole Foods Market Test Kitchen in Austin, Texas, with airfare and lodging included. Three additional second-place winners will be awarded $1,000 in Whole Foods gift cards.