Instagram Is In Awe Of Martha Stewart's Thanksgiving Pies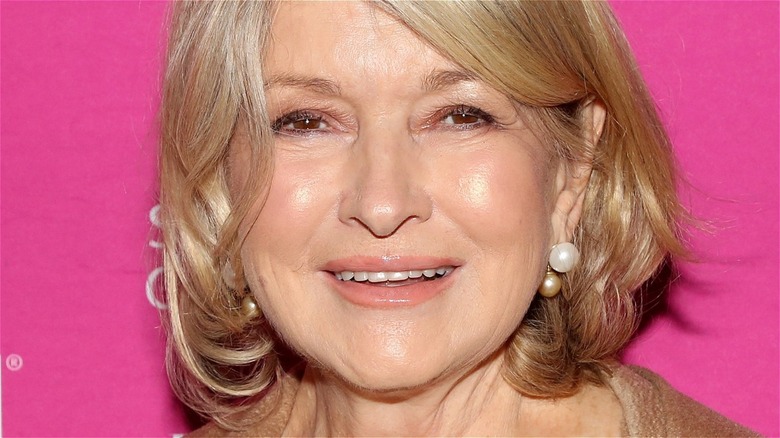 Bruce Glikas/Getty
The final countdown to the Thanksgiving feast has officially begun, and hosts and home chefs alike have kicked their cooking game into high gear. In true Thanksgiving Day fashion, kitchens are buzzing with activity. One set of hands is working on the pumpkin pie, while the other is prepping the sweet potato casserole recipe.
But if you've had a busy holiday season and have only just started your Thanksgiving shopping, don't fret. There's still plenty of time to get it all done. In the wise words of Alex Guarnaschelli, "Set the table down to the napkins, salt shakers, and trivets, vacuum the living room rug, straighten the pictures on the walls and get your whole joint ready. Then, and only then, begin cooking" (via People). Oh, and don't forget to take a few deep breaths every now and again. 
One person who, unsurprisingly, is ahead of the hosting game as per usual? Martha Stewart. The domestic goddess just posted a photo of her jaw-dropping Thanksgiving pie array, and it's truly a sight to be seen.
Stewart's Thanksgiving dessert table includes 22 pies
Stewart took to Instagram to share a progress report on her Thanksgiving dessert display, and all we have to say is, wow. "Just some of the twenty two pies I am baking this morning for everyone here in the farm," the 81-year-old businesswoman captioned the post. Twenty-two pies? No biggie.
The post included snapshots of various pies, including butternut squash, lemon curd, and chocolate pecan pie. Each one looks like a flawless work of art complete with perfect flowers and leaves cut out from pie crust — and we can imagine that they taste just as good. Stewart's followers took to the comments section to compliment the celebrity chef. One user wrote, "Always the best pies," while another commented, "Martha can I send you my address for a pie?" Another user expressed what we were all thinking, "I think I need to come live on the farm!" Even "Grey's Anatomy" alum Ellen Pompeo praised Stewart with a series of heart-eye emojis.
While you might not have time in your schedule to whip up 22 pies like Stewart, you can still recreate one of the many festive treats in her lineup. The New Jersey native has dozens of Thanksgiving-themed desserts on her official website, which are perfect for those searching for slightly less traditional pie recipes. Whichever dessert you choose, don't forget to learn Stewart's one step for for a perfectly golden brown Thanksgiving pie.