Here's Where You Can Find Bobby Flay's 'All-Time Favorite Dessert'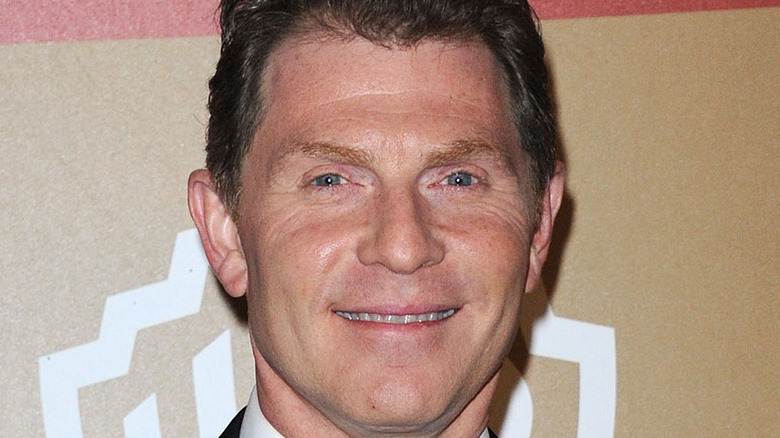 DFree/Shutterstock
Celebrity chef and restaurateur Bobby Flay had a unique entrance to the culinary world, first working in a restaurant at the age of 17, according to Food Network. He then went on to graduate from The French Culinary Institute and continued perfecting his skills. Flay opened his first restaurant in 1991 in New York City and called it Mesa Grill, per Bobby Flay's website. Since then, he has opened countless other restaurants, appeared on various TV shows, written cookbooks, and earned several awards.
With all of his culinary expertise, you'd think that Flay's favorite foods would be his own, but that's not the case at all. Flay's favorite dessert, for example, is an extravagant dish that he enjoys so much that he actually invited the creator of the dessert to challenge him on his show "Throwdown with Bobby Flay" (via Food Network). That same dessert has also been praised by Martha Stewart, Vogue, The New York Times, The Wall Street Journal, and more, per Peninsula Grill. Here's Flay's favorite dessert and where you can find it to enjoy for yourself.
Peninsula Grill's 12-layer coconut cake is Flay's favorite dessert
Flay's favorite dessert can be found in a casual-elegant restaurant called Peninsula Grill that's located in the Historic District of Charleston, South Carolina, according to Peninsula Grill. The famous restaurant opened on February 13, 1997 and has a courtyard with outdoor dining, an indoor bar with vintage liquors and wines, and an indoor dining area with oil paintings, walls lined with velvet, and chandeliers that were custom made. Peninsula Grill has received many awards and recognition including four stars from Forbes Travel Guide, an Award of Excellence from Wine Spectator, four diamonds from AAA, and named "America's Best New Restaurant" by Esquire Magazine.
So now you know where to get Flay's favorite dessert but what is it? Well, buckle up because it's a coconut cake with 12 layers that weighs 12 pounds, per Peninsula Grill. It was created by chef Robert Carter and was first added to the menu on February 14, 1997, which was only the restaurant's second day of being open (via Only In Your State). Peninsula Grill's 12-layer coconut cake is so popular that fans can actually order the cake on the restaurant's website, and it's delivered straight to customers' doors with overnight shipping. You can try it for yourself to decide if it is truly one of the absolute best cakes in the U.S.