McDonald's Holiday Pie Is Back For The 2022 Season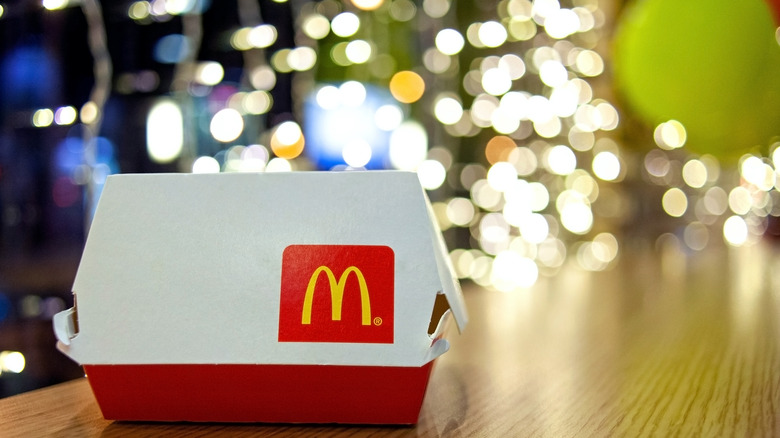 8th.creator/Shutterstock
'Tis the season ... for pie at McDonald's? Although the burger chain certainly likes to get into the holiday spirit with decor and heart-wrenching commercials, it's hardly the first brand that the typical person thinks about when pondering the upcoming holidays. Apparently, though, Mickey D's has once again revived a seasonal favorite. This continues the chain's year of domination, as the company has repeatedly made headlines thanks to the reemergence of nostalgic Happy Meal Halloween buckets, as well as the Adult Happy Meal, which sold out with record speed.
McDonald's generally keeps the dessert menu pretty simple, featuring beloved staples like several McFlurry flavors, milkshakes, a couple of sundaes, and of course, the vanilla cone. The warm chocolate chip cookie also makes the list, although the taste testers at Eat This, Not That! found it to be bland and lacking in chocolatey goodness.
One longtime fan favorite is the McDonald's baked apple pie, which is generally available seasonally. The handheld pie first showed up in the 1960s, according to Eater, and its perfect combination of lattice crust and American apples (per McDonald's) has helped it maintain a consistent presence within the McDonald's universe. So, it just makes good sense that the seasonal offering is a festive knockoff of this cold-weather treat.
The buzz on the McDonald's holiday pie
Anything can be made more festive with a few sprinkles, and the McDonald's holiday pie is no exception! Although it might resemble the chain's baked apple pie in theory, it's actually quite a different dessert. For starters, the filling is vanilla custard, described as "creamy and smooth" by Chew Boom. All that goodness is contained in a "flaky turnover-style buttery crust," which is made all that much sweeter by a sugary glaze and smattering of rainbow sprinkles. Although some locations already have the holiday pie in stock, it should hit locations in a more widespread fashion beginning in December.
That said, getting your hands on a holiday pie is sometimes easier said than done. Introduced in 2012, per Insider, occasionally consumers have a hard time finding stores that carry the product. Last year, an Instagrammer posted about its return, noting that "us NY folk spread like wildfire searching for this pie and it rarely turns up." He did update later on that the pie was found for sale in New York boroughs like Brooklyn, Queens, Manhattan, and the Bronx.
Although the holiday pie is becoming something of a wintry mainstay, it's hardly easy on the diet. At 260 calories per serving, it also contains 12 grams of fat, which is 16% of the suggested daily value, according to McDonald's. Sounds like the perfect sweet treat to leave out for Santa.