The Reason This Luxury Housing Complex Has A Chocolate Orange Fountain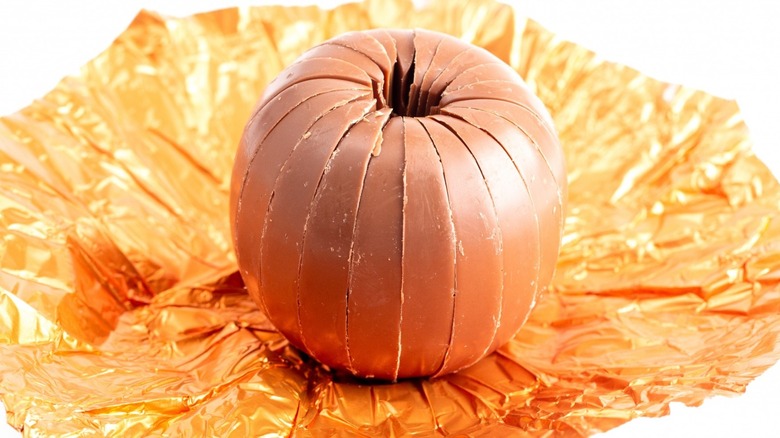 Pamela_d_mcadams/Getty
For chocolate lovers looking to indulge all of their senses in one of their favorite themes, there are a number of hotels that fit the bill. For example, the Hotel Fabrica do Chocolate in Minho, Portugal, offers rooms with candy bar-shaped headboards and a spa treatment referred to as "chocotherapy," and the Chocolate Box Hotel in Bournemouth, England, features a chocolate-themed room where guests can indulge in something sweet (via Booking.com). While hotel stays offer a getaway from the day-to-day, waking up to sweet surroundings has become routine for residents of one particular housing complex.
According to The Mirror, home-seekers looking for chocolate-themed luxury housing can now find it in York, England. As the outlet explains, the housing complex, known as The Chocolate Works, not only features buildings with chocolaty names but its landscape also includes a unique piece of architecture — a "properly segmented" chocolate orange fountain. As it turns out, the complex had a chocolate theme long before its latest residents moved in.
The chocolate-themed housing complex was once Terry's chocolate factory
After almost 80 years of rolling out chocolate oranges, the former Terry's chocolate factory in York closed its doors in 2005, reports The Mirror. According to Confectionary News, Terry's chocolate oranges were originally made in the former chocolate factory beginning in the 1930s, but today Terry's chocolate oranges are made by candy company Carambar & Co. in France. Terry's former chocolate factory's chocolate-soaked history wasn't forgotten, however, when it was time to give the buildings new life.
According to The Daily Mail, when converting the factory into a housing complex, in addition to creating the chocolate orange fountain focal point, the living quarters were also given the chocolate treatment with interior colors chosen to recall the inside of a chocolate box. According to developer PJ Livesey Group's website, 163 apartments now make up the main building of the complex, and the former clock tower (that looks like it still features the name Terry on its clock face) will eventually contain 23 more apartments. A retail unit was also included in the conversion, which may lead one to wonder if chocolate oranges might someday be sold there.