Popular Holiday Beers, Ranked From Worst To Best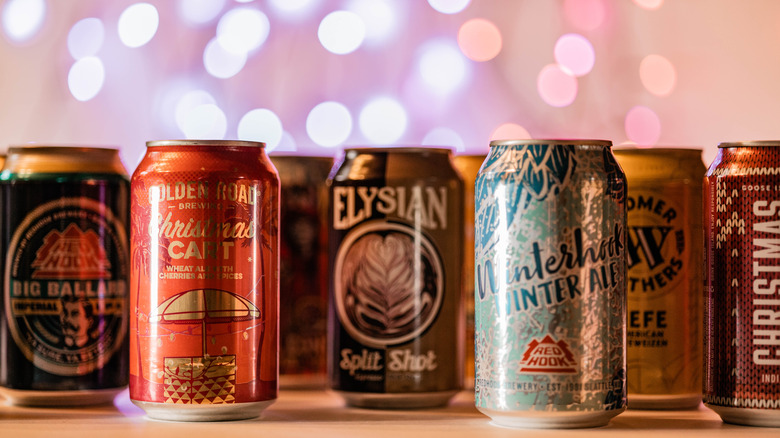 S.G. Howe/Mashed
Alcohol is an easy hallmark — low-hanging fruit, perhaps — in holiday movies. There's an abundance of tropes, so many that screenwriters may have their pick: There's the needing a buzz to cope with gatherings of relatives, there's the bumbling uncle with no filter after too many Nutty Irishmans who spills a Christmas-dinner-upending family secret, and there is, of course, the pouring liquor into your coffee when you think it's maple syrup — although that half-baked trope was rightfully reduced to the plot (loosely defined as such) of "Elf." No matter the on-screen spirits stereotype, can it really be denied that something hot and rummy does make meeting auntie's third husband just a touch easier? 
If we had to pick, our favorite Christmas movie drinking scene is hands-down Clark and Eddie tossing back spiked eggnog out of reindeer-antlered mugs in "National Lampoon's Christmas Vacation." But sometimes, you want something a bit more familiar, more easily accessible — like a can of beer. Sure, it seems a beverage better suited to the holidays that involve flip flops and grilled burgers, but there's a number of solid brews that do well to keep you rosy-cheeked in the cold. But because there's so many to try, you'd be KO'ed in Grandma's parlor room before you're able to find your favorite. We gallantly risked the hops overload in your stead to find the best holiday beer of 2022 — and employed the assistance of Beers of Cheer, an advent calendar of 24 unique craft beers, to locate it.
24. Goose Island Beer Company Neon Beer Hug IPA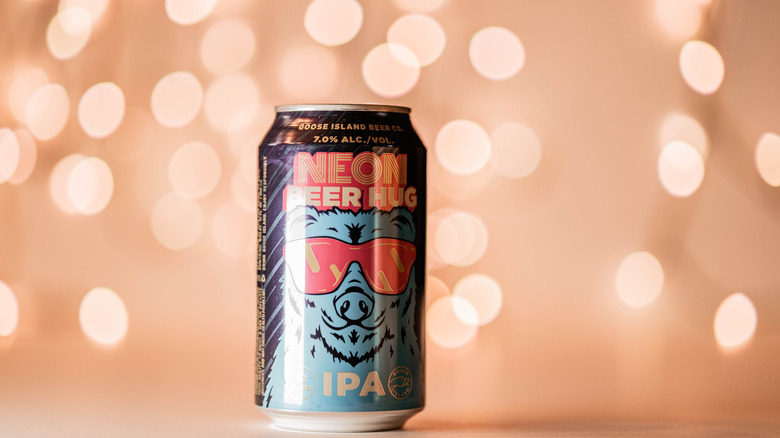 S.G. Howe/Mashed
The advent calendar states that Goose Island's Neon Beer Bug IPA (7.0% ABV) is best enjoyed "when you successfully finish (or skip) the holiday 5K." As much as we wanted to like this one, we'd have to say that it is in fact as sad as running a 5K on a holiday. The online drinking companion to the advent calendar states that tasting notes should include citrus and tropical. The pour was aromatic — with notes of pear, grapefruit, and very intense hops — but that was a garish drumroll to a flavor of ... nothing. Flavor-wise, there was hops and hops only, which certainly may be the goal for some people, but we need something in compliment of the hops if we are to enjoy an IPA.
For the Busch Lite that took on some extra hops and tried to disguise itself as a craft beer, we have no choice but to award last place. 
23. Kona Brewing Company Longboard Island Lager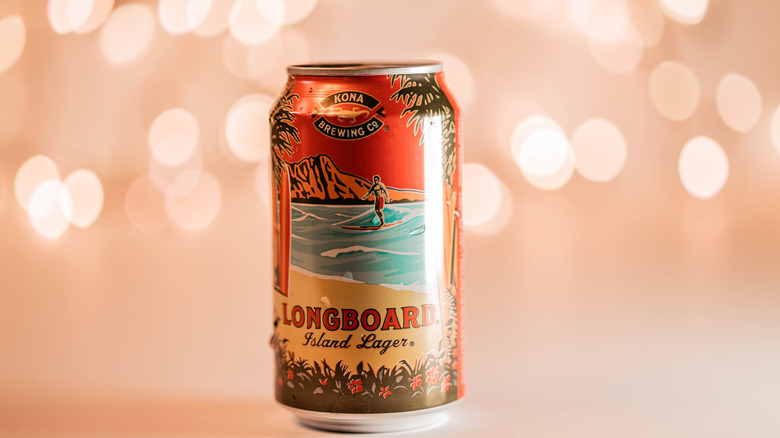 S.G. Howe/Mashed
The Kona Brewing Company Longboard Island Lager (4.6% ABV) is a failure-to-launch easy drinker that had the potential to steal a spot from the higher-scoring wheat ales in our lineup had there been more earnestness in its flavors. Should we have known that we were in for a flop when the drinking companion listed tasting notes as floral and ... bread crust? It wasn't that the beer was bad, but it also wasn't good — it was squarely in the net neutral territory that only a light beer with an underdeveloped flavor profile is capable of. When a drink was kept on the tongue, swished (an unpleasant enough thing to do with a beer), and really contemplated, we could muster up a faint sensation of peach and citrus. 
For Kona's unlovable stepchild, second-to-last place. Beers of Cheers' advent calendar suggests cracking this one open "when your holiday menu takes all day to prepare" — so in other words, desperate times calling for desperate measures. 
22. Redhook Brewery Big Ballard Imperial IPA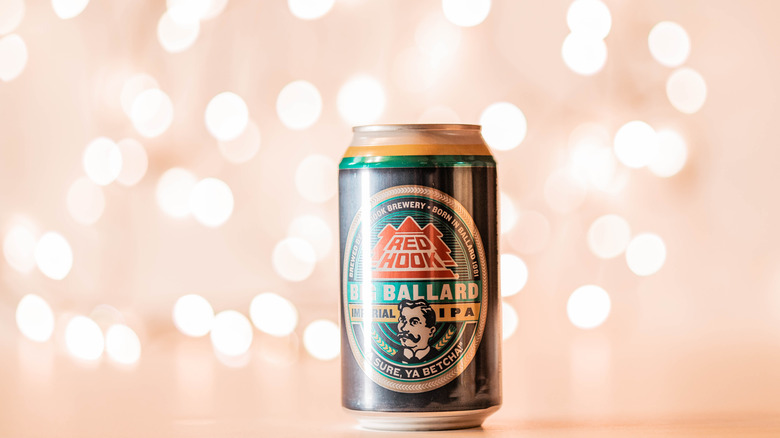 S.G. Howe/Mashed
Do you aspire to be the grandpa snoring in the La-Z-Boy before the first quarter of the football game is over? Then boy, do we have the IPA for you. Redhook Brewery says that their Big Ballard Imperial IPA (8.6% ABV) is a nod to the Ballard district of Seattle — are you doing okay, Ballard district of Seattle? Don't be mistaken, the taste of this one was fine, if you like classic IPAs. It sure packs an alcoholic wallop, and it was as bitter and hoppy as India Pale Ales come; even the drinking companion indicated that tasting notes are citrus and bitter — that's all. The aftertaste is a bit more time, and actually very pleasant, tasting faintly of lime and melon. You just have to go through that sip, shiver, grimace sequence that intense IPAs elicit to get there.
Overall, Redhook's Imperial IPA is just too much of a strong, hoppy donkey kick of beer for our personal taste. Funnily enough, the advent calendar recommends opening a Big Ballad "when you're scrambling to get your holiday cards out." Maybe being positively toasted makes hand-writing the addresses easier?
21. Golden Road Brewing Golden State Cerveza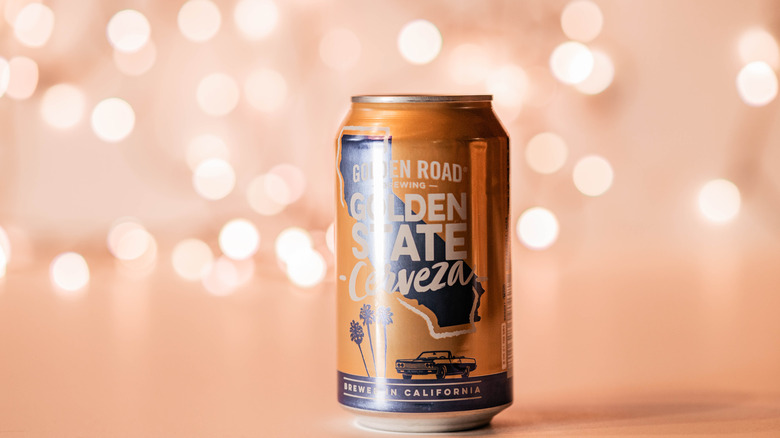 S.G. Howe/Mashed
According to the advent calendar, this is the brew of choice "when you realize there are leftovers for sandwiches." The implication does make sense; Golden Road Brewing's Golden State Cerveza (4.8% ABV) is the kind of easy-drinking you need when your hunger is high and your standards are low. That's not to say that the Golden State Cerveza is bad — but it is kind of like having boxed Kraft mac and cheese with Christmas ham instead of your mom's homemade mac and cheese. There were just far too many superior beers in the box to give this cerveza a higher ranking.
The drinking companion's tasting notes — bright, citrus — are on-the-nose, though. We tasted a lot of orange peel and a little bit of agave. It would be a great summer vacation, convincing-yourself-that-being-on-a-crowded-beach-is-fun beer, but the holiday season deserves more. Don't worry, Golden Road Brewing redeems itself later.
20. Widmer Brothers Brewing Hefe American Hefeweizen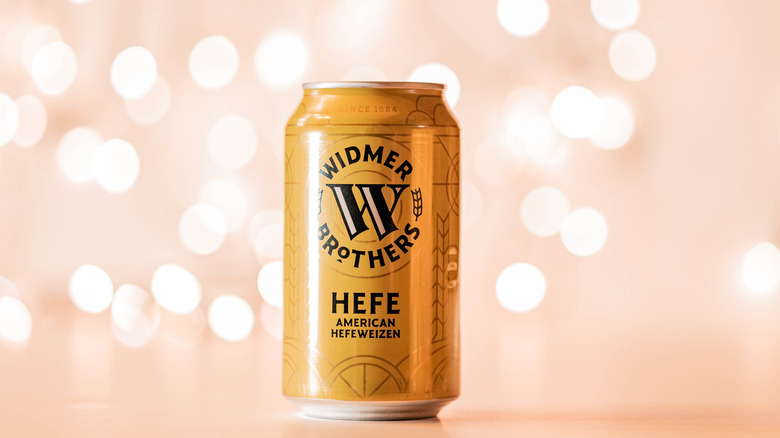 S.G. Howe/Mashed
If we were blindfolded when testing the Widmer Brothers Hefe American Hefeweizen (4.9% ABV), we could have been convinced that it was a very mild IPA despite it being a wheat ale, because of an unexpected hoppiness and faintly bitter aftertaste. It was still a tasty drink, though. Hefeweizens — hefe literally translating to yeast, and weizen to wheat — are a classically enjoyable beer. The pour was a bright gold, with a touch of cloudiness and a luscious head of foam. Outside of the slight bitterness, we picked up on oranges, florals, and toasted bread in the notes of this Widmer Brothers creation, which aligns with the calendar companion's tasting notes of citrus and biscuit.
We were told that the American hefeweizen is good "when you finally get to kick back in your pajamas all day." For a decently well-done classic that does everything domestic pours wish they could do, that seems fair enough. 
19. Widmer Brothers Brewing Green Skies Hazy IPA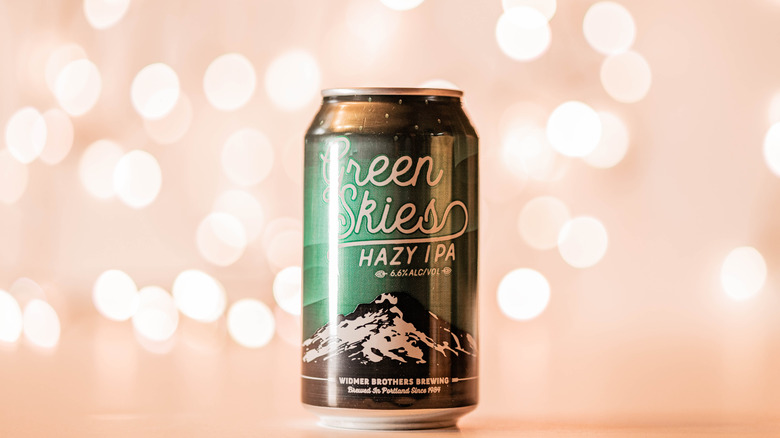 S.G. Howe/Mashed
If we were ranking the best holiday beers based on the aesthetic appeal of their cans, then the Widmer Brothers Brewing Green Skies Hazy IPA (6.6% ABV) would be an easy top fiver. But since it's what's on the inside that counts here, the flavor of Green Skies doesn't quite square up to the better-scoring IPAs on the ranking. There's still an oasis of tropical flavor — we got a lot of orange, grapefruit, and honeysuckle — tucked behind the bitter hops affront. Unfortunately, this IPA didn't really deliver on the "light malt backbone" promised in the tasting companion, but the tasting notes of juicy and tropical are accurately described. We did see a good haze in the pour, though.
Overall a solid mid-tier IPA: The hops aren't miserably intense, and there's enough flavor to add interest. The advent calendar suggests sipping on a Green Skies "when you finally rock your ugly sweater" — perhaps that pretty emerald can compliments the battery-operated blinking light in Rudolph's nose.
18. Elysian Contact Haze Hazy IPA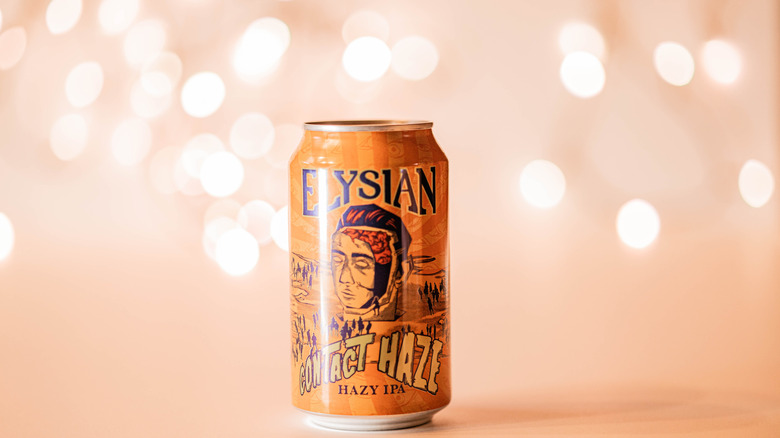 S.G. Howe/Mashed
Does it seem like we're drinking our way through a slog of IPAs? Well, that's pretty accurate. The more IPAs you drink, the more it seems like they're all a furtive attempt at being the outlier, the one that doesn't taste like sucking on a grapefruit. Here we have another attempt: the Elysian Contact Haze Hazy IPA (6.0% ABV). The drinking companion, unsurprisingly, describes the taste as tropical and citrus, but the Contact Haze did deliver beyond that. It almost seems to be the lovechild of an IPA and a sour. There was a distinctly sweet-tart taste of currant and raspberry, but the full-bodied flavor of haze and hops. The companion's notes say to expect guava and passionfruit, but those were more evident in the aroma than they were on the palate. Hops, after all, consumes all lesser flavors.
The advent calendar says you should bring an Elysian Contact Haze "when you're caught under the mistletoe" — but if we run into each other there and you're drinking one of these, please bring a mint.
17. Kona Brewing Company Big Wave Golden Ale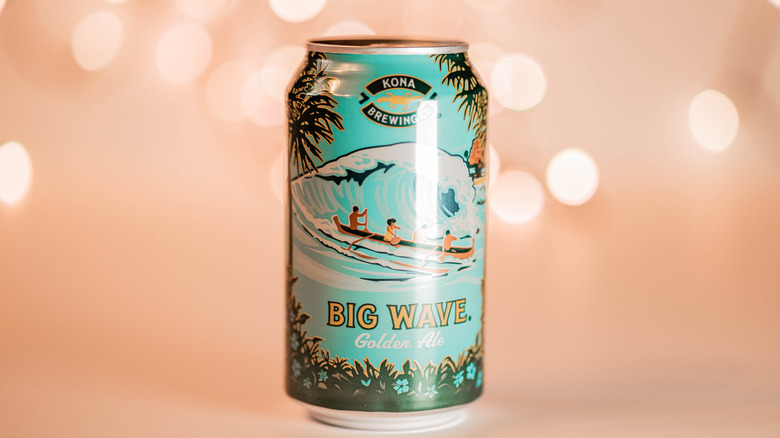 S.G. Howe/Mashed
Everything about the Kona Brewing Company Big Wave Golden Ale (4.4% ABV) feels like you should be drinking it someplace where the sand is white and hot, you're covered in a fine layer of ocean spray, and a gaggle of seagulls is after your funnel cake. Maybe that's why the advent calendar suggests reaching for this one "when your guests show up early" — it's a good beer for when you need to be transported to your happy place. The low ABV makes the Big Wave refreshing and easy to enjoy. The pour blooms into a thick white head, fragrant of orange, lime, and passionfruit.
The first drinks are intensely, overwhelmingly orangey, but after the sinuses clear and the tastebuds are adjusted, a whisper of tart passionfruit emerges on the tail end of the aftertaste. It's definitely one we'd deem worthy of a six-pack purchase — especially if you are pulling a "Christmas with the Kranks" this year and escaping the holidays on a boat. 
16. 10 Barrel Brewing Company Crush Raspberry Sour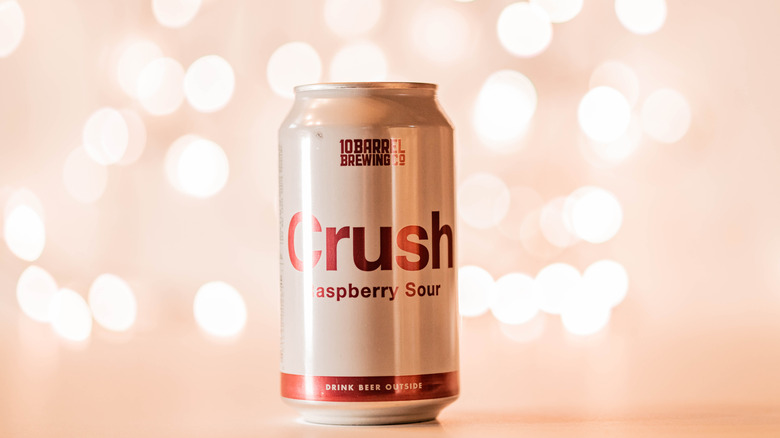 S.G. Howe/Mashed
If you can look past the "it is your birthday" vibes of the can — someone please find this graphic designer and give them a Christmas gift because they seem sad, down to the oddly bossy "drink beer outside" command — this is as good as a sour gets. Raspberry is a pretty standard sour flavor, and 10 Barrel Brewing Company does it well. The tartness is really quite in-your-face, but looking a little further uncovers a surprising floral complexity. We later found out in the drinking companion that that's an infusion of hibiscus, which does well to add intrigue to the sour's flavor. 
For us, sours are a bit too much for a full pint pour or even 6-ounce pours, so we'd recommend enjoying it as a flight or sipping on over some pub food appetizers. The advent calendar, though, says to reach for the 10 Barrel Brewing Company Crush Raspberry Sour (6.5% ABV) "when you need a break from last minute shopping." We won't judge you — for choosing the sour, that is, you procrastinator. 
15. Redhook Storm Surge Hazy IPA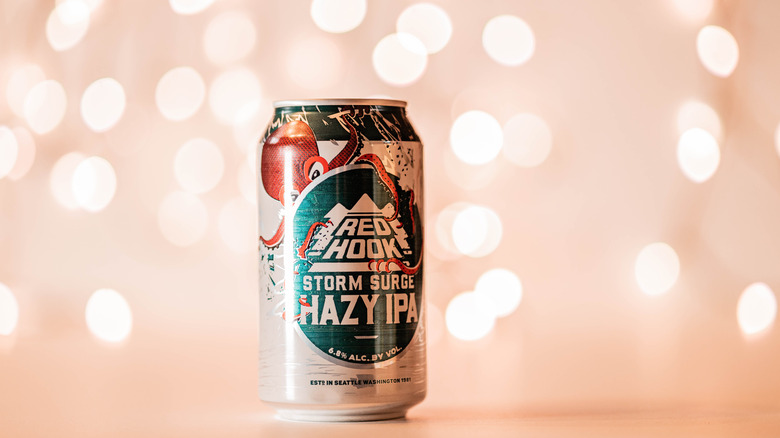 S.G. Howe/Mashed
There are a couple IPAs on this list that we deemed "IPAs for IPA haters" — they're the ones you'd be able to tolerate, and dare we say even enjoy, if there's nothing to order but India Pale Ales. Redhook Brewery's Storm Surge Hazy IPA (6.8% ABV) is one of those beers. It is a gently hoppy IPA bursting with juicy tropical flavor; immediately upon pouring, we were met with a heady blanket of foam that released fragrant notes of pear, pineapple, and mango. Storm Surge promises a slight malt taste to this beer, which was far more present than in the Green Skies Hazy IPA that made the same promise.
Storm Surge lacks the butt-kicking citrus teeth that most IPAs have, ditching the tired orange and grapefruit tones for the sweeter, more interesting mango and pineapple. According to the advent calendar, the best occasion for the Storm Surge is "when it's time to bring out the holiday decor." After a couple of these, we're not sure what will be more lit — you or your Christmas tree.
14. Kona Brewing Company Kona Classic Pipeline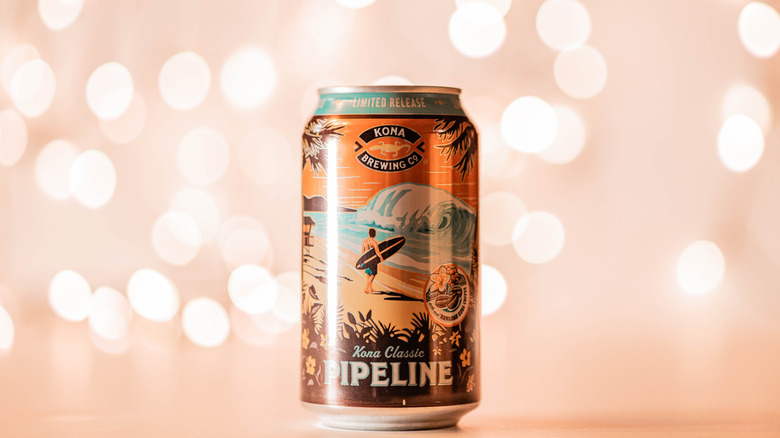 S.G. Howe/Mashed
Kona's Pipeline Porter (5.3% ABV) is a limited release, so you'd best get it and get it fast (via New School Beer). This is one of two coffee-inspired drinks on our list, and it was very difficult to rank one over the other. Pipeline Porter, infused with real Kona coffee from Hawaii, has a perfectly balanced presentation of beer and java. The drinking companion lists this porter's tasting notes as just roasted coffee, but it is much more intricate than that. The coffee itself has a bold, dark-roast taste — from that, we picked up strong notes of mocha and toasted nuts.
There wasn't a lot of body to the Kona porter. The pour was just a bit too thin and watery to secure a place over the espresso milk stout — but more on that later. It was easily our favorite of all the Kona brews in the collection, though. The best time for the Pipeline, the advent calendar says, is "when you demolish the leftover dessert tray."  At least if someone catches you licking the cheesecake platter you can blame it on the porter.
13. Elysian Full Contact Imperial Hazy IPA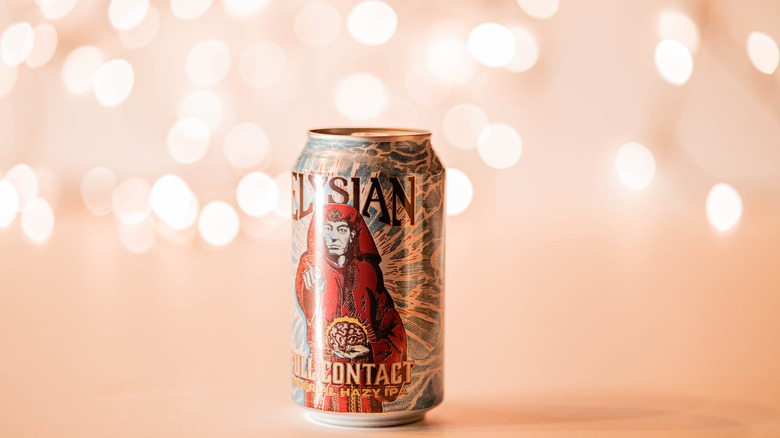 S.G. Howe/Mashed
Surely it takes talent to brew the strongest beer in the advent collection and not make it taste like 12 fluid ounces of regret. That is what was pulled off with Elysian's Full Contact Imperial Hazy IPA (8.8% ABV). This vibrant, full-boded pour had strong aromas of peach and tangerine, which also showed up steadily in the taste. The drinking companion identified Full Contact as lustrous and hoppy, but we found it to be much less offensive than the description conveys. There's a light overtone of melon in the taste and, if you really concentrate on putting every taste bud to work, a hint of vanilla cream. 
Elysian's Full Contact is there for you "when you have a night off from holiday get togethers," says the calendar. We'd be drinking 8.8% IPAs too, in that case.
12. Red Hook Brewery Winterhook Winter Ale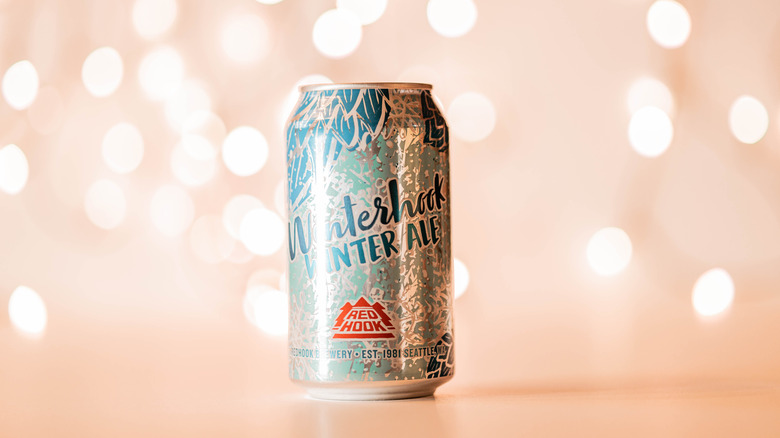 S.G. Howe/Mashed
What do a rich, dark amber cast and a wave of fragrant spices indicate? A winter ale, of course. Redhook Brewery is back again with its Winterhook Winter Ale (8.2% ABV). The first pour of this brew quickly frothed into a dense head, which put off the scent of malt and clove. Warming you as it goes, each drink of Winterhook tastes of Christmas toffee, homemade caramel, and brown sugar. The entire flavor experience is nostalgic and lively. We'd have placed Winterhook higher on the rank, but the intense malt taste and a hint of burnt sugar may be a turnoff for some drinkers.
Not to mention, it's a very strong beer that'll absolutely knock you flat as much as it warms you up. The advent calendar says it should be consumed "when the snow outside is snowman-worthy" — in other words, when you don't want to feel your fingers.
11. Goose Island Beer Company Hazy Beer Hug Hazy IPA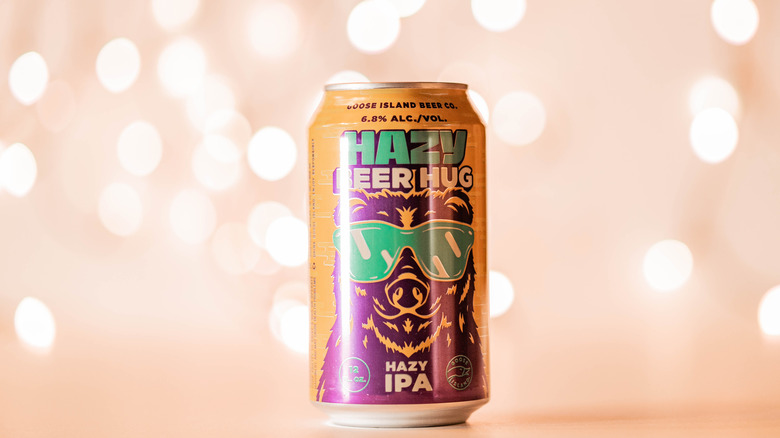 S.G. Howe/Mashed
Our other "IPA for IPA haters" is the Goose Island Beer Company Hazy Beer Hug Hazy IPA (6.8% ABV). This sunny pour is easily one of the least-hoppy IPAs we've ever tasted, while still maintaining the tangy, voluptuous flavor we associate with this type of beer. The head smells like pineapple and hops, but the taste is a complexly woven cornucopia of fruits — there's pineapple, peach, apple, lime, guava — that melts into a simple, wheaty beer flavor. Plenty to focus on in the space where so many IPAs just hope and pray that you enjoy the taste of hops and misery.
There's just one IPA that stole a higher place on our list of the best beers to have for the holidays this year, and it'll make sense why that is pretty soon. Apparently, you should crack open a Hazy Beer Hug "when you survive the work holiday party." It makes sense — surviving the celebration is worth a celebration.
10. The Joy Bus Wow Wheat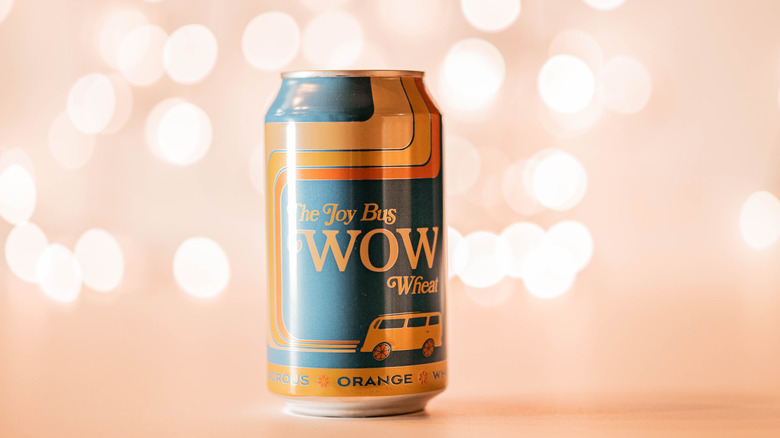 S.G. Howe/Mashed
It's like Blue Moon but hipster — that's how we would summarize Four Peaks' The Joy Bus WOW Wheat in six words. It's a vibrantly orange-gold beer, with immediate aromas of sweet tangerine and wheat when poured. Fragrance and taste translate pretty clearly with this one, making it a quality, albeit simple, wheat ale. It's a quite sweet, borderline candy-like beer, a safe option for people who don't love but tolerate beer. Each sip bursts with the taste of orange peel, an invigorating addition to the strong grain flavor of the ale. A couple of other wheat ales outperformed this one, but we wouldn't mind keeping it in rotation no matter the time of year.
Our Beers of Cheer guide recommends putting out The Joy Bus "when friends come over for your annual holiday party." We can't argue with that judgment; a light, unassuming orange wheat ale is a guaranteed crowd-pleaser.
9. Goose Island Brewing Company Christmas IPA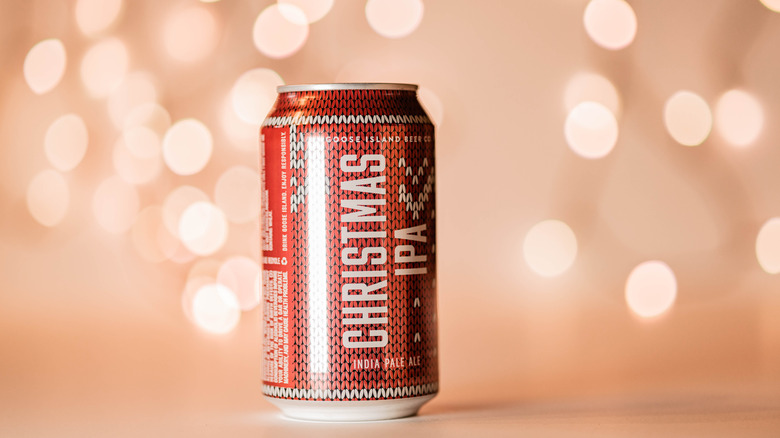 S.G. Howe/Mashed
For the last IPA on our list, we have the Christmas IPA from Goose Island Beer Company (7.5% ABV). The can alone looks like it's snuggled into a festive Christmas sweater, but the real holiday festivities kick off with the first pour. This IPA is very hoppy, but also very complex — that'll be thanks to the six different species of hops used during brewing, according to the drinking companion. Letting the introduction be an olfactory one, we caught notes of candied plum, cranberry, creme brûlée. The Christmas IPA surprised us once again with the first drink; beyond the hops, there was a continuance of the sweet and tart cherry-cranberry flavor, but also a smooth, almost indulgent taste of butterscotch or caramel.
The malty essence and whiff of Sapins liqueur that brings up the rear of the tasting experience make this Goose Island offering the most memorable IPA in the crowd. You're apparently supposed to pick up the Christmas IPA "when you hear the first holiday song of the season," and we have to concur. The jubilant cranberry and resinous pine aftertaste makes this brew taste as festive as holly looks — although we suggest sticking to the IPA and not consuming any holly.
8. Karbach Brewing Company Yule Shoot Your Eye Out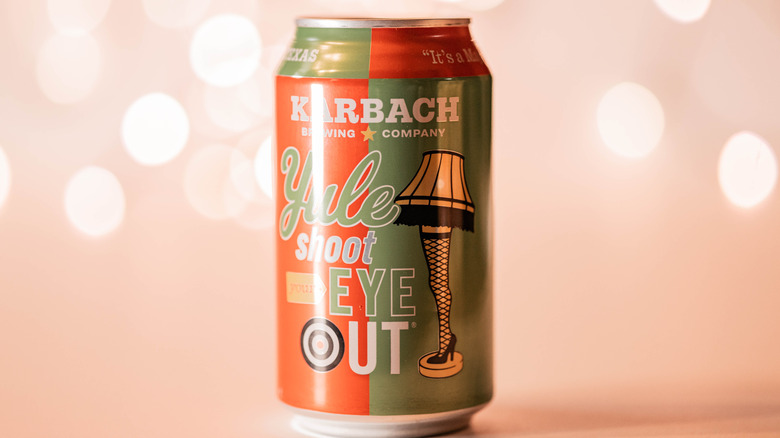 S.G. Howe/Mashed
From the green-and-red checkering to the provocative befishnetted limb lamp, there isn't a more jolly-looking can in this box of 24. This is Karbach Brewing Company's Yule Shoot Your Eye Out (5.6% ABV), a fabulously ridiculous pun and a beautifully rich red ale. This beer comes out of the can frothy, full-bodied, and smooth. The reddish amber pour emits strong orange notes, but on the taste buds it melts into malt, caramel, and toasted oat for an even balance of citrus and sweetness. The alcohol is mild and palatable with no bitterness. Orange peel and toffee flavors linger for an intriguing and festive duality — like some delicate Christmas confection.
We certainly will not be getting away without watching "A Christmas Story" no fewer than 60 times this year — and the advent calendar recommends cracking open the Karbach "when you watch that movie for the 100th time." Thanks, TBS. 
7. 10 Barrel Brewing Company Crush Cucumber Sour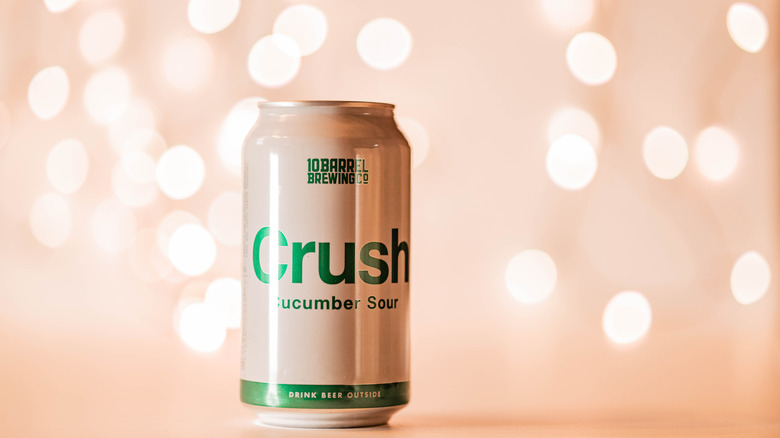 S.G. Howe/Mashed
Probably an unexpected addition to the top 10 of the best holiday beers, but we think this is a great option to have on hand for when all the heavy Christmas food and drink just becomes too much. We were uncertain about 10 Barrel Brewing Company's Crush Cucumber Sour (5.0% ABV) because a fruit as mild in flavor as cucumber seemed an unlikely basis for a sour. But it turned out that this is what worked towards this one's advantage — despite an initial soapy, heavily floral smell, the cucumber sour was a harmony of cool, refreshing melon and the lip-pinching tartness of a sour beer. It drank more like a cider: a slight pucker, a delicate fruitiness, and no wheaty weight. 
Want to ask the all-knowing advent oracle what the good scenario for a cuke sour is? Apparently, it's "when you come home with the most obscure white elephant gift." An obscure beverage for an obscure tchotchke, we guess.
6. Golden Road Brewing Mango Cart Mango Wheat Ale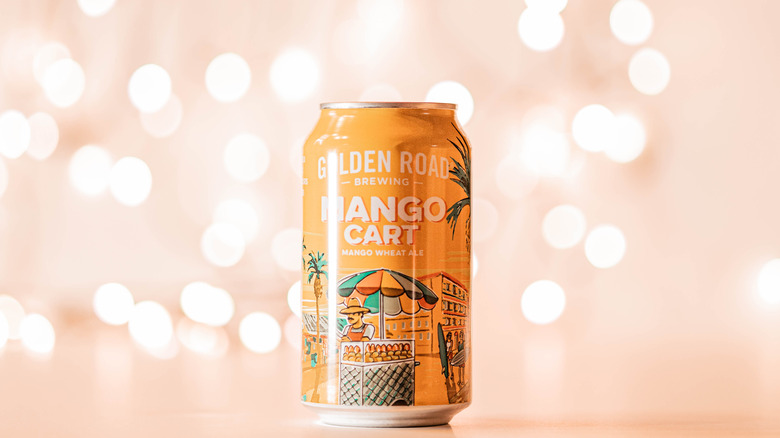 S.G. Howe/Mashed
Ah, the redemption arc of Golden Road Brewing. This Mango Cart Mango Wheat Ale (4.0% ABV) brings summer to December with its sweet, light mango flavor. The low ABV and golden wheat notes make it an easy drinker with gobs of personality. It has just enough tartness for another level of flavor, and an unexpected green apple aftertaste. Any less of a wheat taste would lean this towards a cider, but just enough of it strikes a delicate balance and puts Mango Cart firmly in the category of truly enjoyable beers.
With that bright balance and juicy mango, Golden Road Brewing gives us one of our favorite wheat ales on this roster. If there's ever a point "when the in-laws overstay their welcome," that's when you should kick back with a Mango Cart, says the advent calendar. The sugary tropical ale is about as close as you'll get to a stress-free day under palm trees and cabanas in that moment — wasted away again in Mango-Cart-ville.
5. Elysian Split Shot Espresso Stout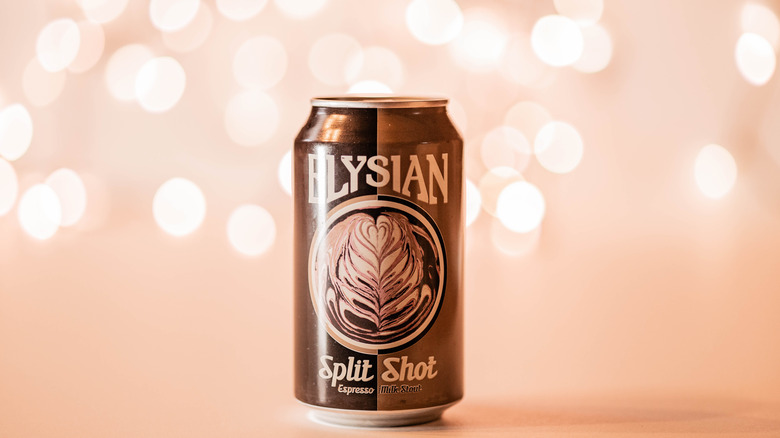 S.G. Howe/Mashed
The lineup of the final five ranks was close enough race to create bigger rifts in our review panel than a Monopoly game could. But ultimately, the Elysian Split Shot Espresso Milk Stout (6.0% ABV) was definitely going to end up in the winners' circle. The milk stout provides a full-figured, hearty brew as this beer's foundation, while espresso from Stumptown Coffee Roasters offers an emboldened dark roast taste (via Brewhound). Together, the two elements taste like a silky nitro cold brew — it's so smooth that you may not believe there was alcohol in here at all. We're longtime fans of Stumptown, and the beans used here have a smoky caramel hint over milk chocolate.
The Split Shot is easy to drink and would bode well with a heap of pancakes and bacon on Christmas morning, which coincidentally aligns with the advent's recommendation — "when the floor is covered in wrapping paper." All parents know you need the power of espresso to thunder through that mess.
4. Brrr Hoppy Red Northwest Red Ale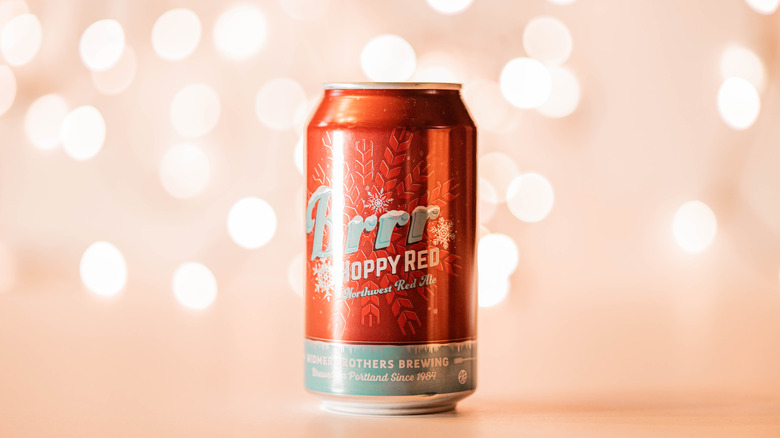 S.G. Howe/Mashed
Imagine the split second when you bite into a candied orange peel. First a wave of sweetness, then a burst of tart citrus. That's the flavor experience of Widmer Brothers Brewing's Brrr Hoppy Red Northwest Red Ale (7.2% ABV) — after you are able to shove past the hops, of course. It's not like the bitterness snuck up on us; monsieurs Widmer told us right on the can to expect a hoppy red. But even the hoppy bite is quite smooth in a well-crafted ale like this one. There's a caramel-like sweetness that meets bright notes of grapefruit and orange on an unexpected common ground. For how unique and expertly done this winter beer is, there's no way we could have denied it a spot in the top five.
And the trusty advent suggests knocking back a Brrr "when you're called for snow shoveling duty" — for the times when you really need to "hop" to it, we suppose.
3. Elysian Night Owl Pumpkin Ale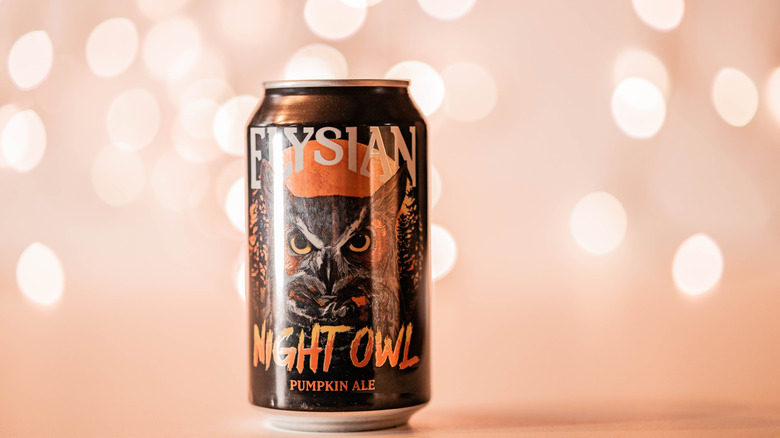 S.G. Howe/Mashed
You may be over anything pumpkin for the year, to which we say more Elysian Night Owl Pumpkin Ale (6.7% ABV) for us. The pour of this autumnal ale is a dark, beautiful amber, and releases a plume of warm holiday spices. Those notes of cinnamon, clove, and nutmeg hold strong from nose to mouth where they intermingle perfectly with the taste of pumpkin. This beer is not an assault of the love-it-or-hate-it squash, as so many fall-time pumpkin products are; rather, it paints a quiet homage to one of the flavors that encapsulates the fondness and nostalgia of the holidays. Night Owl is none too sweet, but not bitter either — in fact, it's almost easy to forget that it's a beer you're tasting and not a warm pumpkin cake donut. 
When's the right time to enjoy a Night Owl, besides while giving thanks? The advent calendar says "when you stay up all night to wrap all your presents." May the light of the pumpkin moon guide you.
2. Kilt Lifter Scottish-Style Amber Ale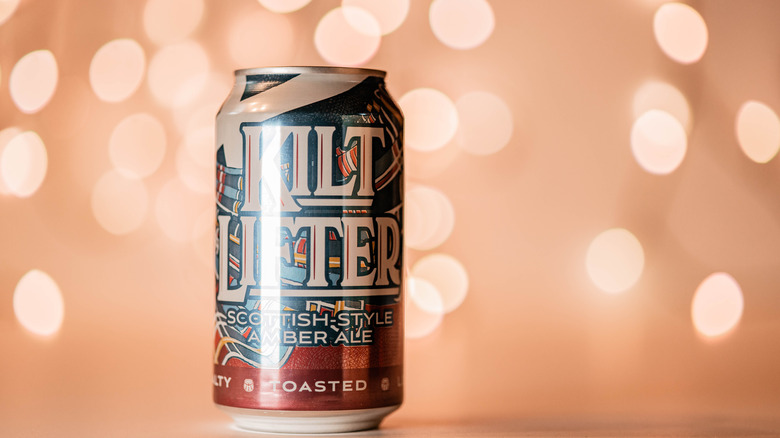 S.G. Howe/Mashed
Do you know the crumbly streusel topping that comes on all the best baked goods, like apple crisp or blueberry muffins? Well, if one could take that topping, extract its essence, and put it into a beer, that would be Four Peaks' Kilt Lifter Scottish-style Amber Ale (6.0% ABV). This beer is rich, toasty, and warm, with a strong malt current layered over by the taste of buttery caramel. The thick pour readily heads into a cloud of fragrant foam, smelling faintly of toasted oats. It's not a light beer, but drinking it is very easy. There's no bitterness in this brew, but it's hefty enough to keep you warm when the winter winds blow. 
The drinking companion says Kilt Lifter is an award-winning beer that follows in the tradition of legendary Scottish ales — and while we're no beer historians, we certainly believe it. We're advised to reach for this brew "when you brace the cool weather to fire up the smoker" — to slow-cook a freshly hunted bounty from the Scottish highlands, we assume?
1. Golden Road Brewing Christmas Cart Wheat Ale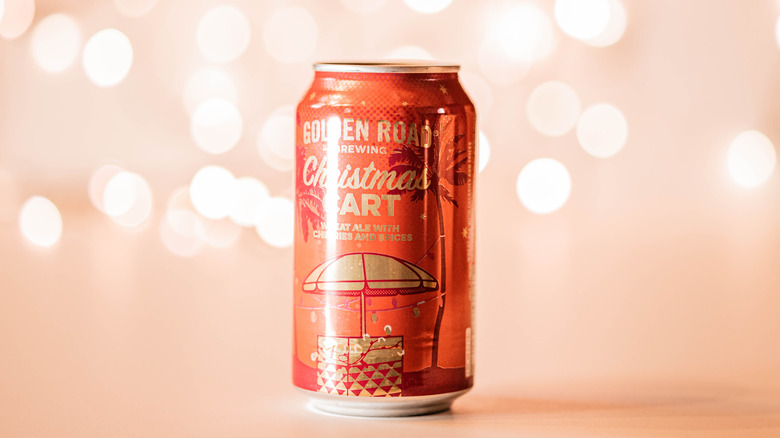 S.G. Howe/Mashed
At long last, the pinnacle of yuletide beers, our choice for the best craft holiday beer of 2022: Golden Road Brewing's Christmas Cart (6.0% ABV), a wheat ale infused with cherry and holiday spices. The advent guide says you should reach for Christmas Cart "when you're tasked with baking for the cookie exchange." That's probably because you need the spirit of Saint Nick himself moving through you to make eight dozen cookies, and this beer definitely tastes like it was blessed by the big man. The ale pours out a stunning ruby-amber. It's gorgeously aromatic, an intense candle- or potpourri-like fragrance of berries and cinnamon, almost able to pass as a mulled wine. The taste is true to the smell: sweet cherries and warm cinnamon and nutmeg. There's just enough of the winter spice to heat your throat at the end of each drink, while remaining subdued enough to leave the notes of fresh, juicy cherry untouched.
Sure, the flavors are everything that is Christmas, but it's not an extremely wheaty beer — in fact, it would work well for non-beer-lovers. A pastry in a café window beckoning you in from the cold ... that feeling, that anticipation of buttery flaky crust and a molten center of cinnamon and bursting berries, that's what this ale tastes like. It's all you need for a holiday season that is merry and boozy and bright.