We Tried LankyBox Kitchen's Chuck E. Cheese Ghost Kitchen Collaboration. It's Greasy, Nostalgic Fun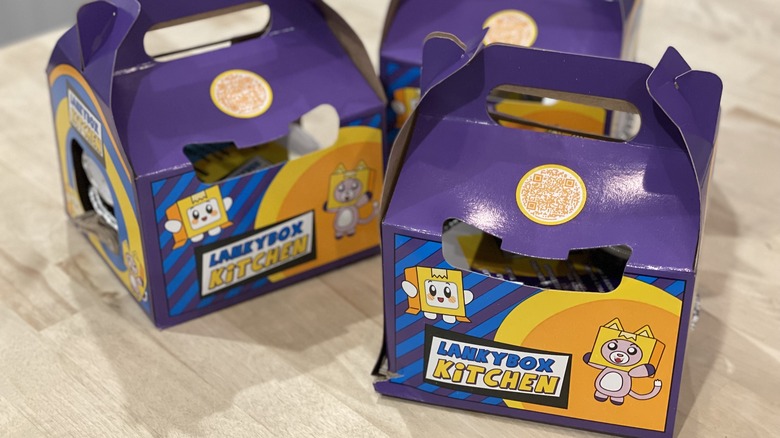 Steven John/Mashed
If you're not familiar with LankyBox and you are over the age of, say, 25, then we advise you not to bother trying to understand the brand. After doing a considerable amount of research, viewing multiple perplexing YouTube videos, perusing page after page of merchandise, and even trying the Lankybox foods, we really still don't understand it ourselves. To younger folks, the LankyBox brand makes sense: These guys have nearly 22 million subscribers on YouTube and their videos have garnered billions of views. But for the rest of us, this rather unusual blend of cartoon, video game, product unboxing and testing, music video parodying, and meme-heavy content is downright confusing. That's OK, though, because their content is geared toward kids, and kids seem to love it.
You know what else kids love? Pizza, mac and cheese, french fries, and dessert. So it only makes sense that when the guys behind LankyBox (that's Justin Kroma and Adam McArthur, FYI) decided to start offering foods, those are the foods they chose. And it makes further sense that LankyBox, in partnership with Virtual Dining Concepts, chose to use the kitchens at Chuck E. Cheese restaurants as the ghost kitchens for their delivery-only foods — after all, Chuck E. Cheese has some experience cooking kid-friendly foods (via Tubefilter). But how good can you expect personal pizzas, fries, and chicken wings inspired by the wacky minds at LankyBox and cooked at Chuck E. Cheese to be? We had to find out.
What's available from LankyBox Kitchen?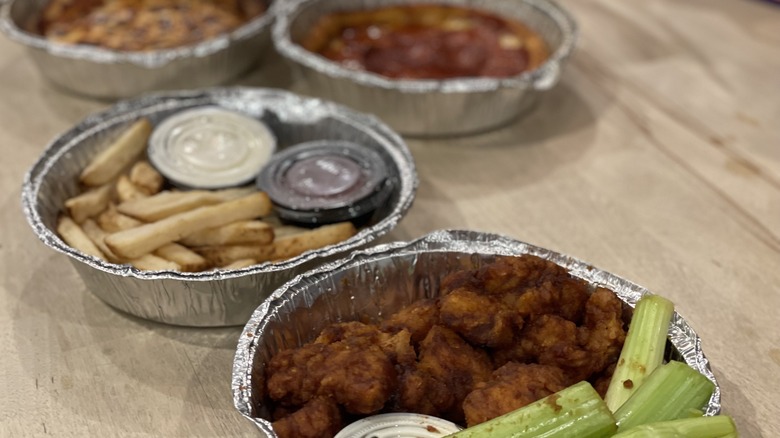 Steven John/Mashed
The kid-centric menu from LankyBox Kitchen features many variations of a few basic dishes. At the time of this writing, LankyBox Kitchen offers three different pizzas, each of which is a modest six inches in diameter. The options are cheese, pepperoni, and veggie, which has mushrooms, onion, green peppers, and cherry tomatoes. All of the pizzas feature a deep garlic butter crust and classic red sauce and mozzarella cheese. You can also get three kinds of mac and cheese: a classic take, a Buffalo mac, which consists of "yellow cheddar mac with mozzarella cheese, crispy chicken, shredded carrots, ranch, and buffalo sauce," and a Pizza Mac, which is "yellow cheddar mac with mozzarella cheese, pepperoni, cherry tomatoes, and pizza sauce."
Also available are boneless or bone-in chicken wings with various flavor options including BBQ, Buffalo, Sweet Chili, Lemon Pepper, and a few others. LankyBox Kitchen currently offers three salads, a classic garden salad, a club salad with chicken and bacon, and an Italian salad with pepperoni, peppers, and black olives tossed in with the veggies. There are four types of fries: plain, BBQ bacon fries, cheeseburger fries, and spicy BBQ pepperoni fries. And then there are two desserts: Rocky's brownie cookie and Foxy churros. Oh, and at present, you can also order one of three beverages: Pepsi, Diet Pepsi, and Mountain Dew. And that's the whole menu.
What are the prices like at LankyBox Kitchen?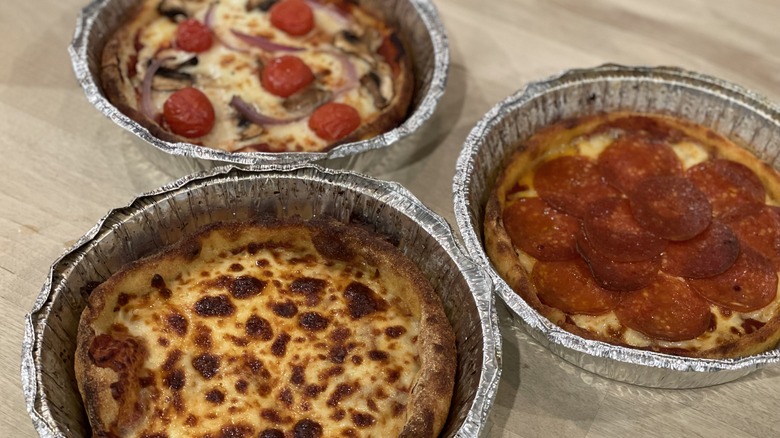 Steven John/Mashed
You can actually get some pretty great deals on decent-sized meals from LankyBox Kitchen when you order the bundles. The most basic of those is the LankyBox Combo, which consists of a pizza, wings, and a salad for $22.79. It's a hearty meal for one and could easily be divided into two portions, especially for kids. The next bundle is the Boxy Bundle, which is two pizzas and an order of wings for $23.79, and that's enough food even for a couple of adults — adults who are OK with a few celery sticks as their only veggie, anyway. Then we come to the $47.99 Foxy Family Feast, which comes with a pizza, fries, mac and cheese, chicken wings, a salad, a dessert, and four soft drinks.
Individually, the cheese pizza is $7.99 while the other two are $8.99. The classic mac is $10.99, while the pizza mac and Buffalo mac are $12.99 and $14.99, respectively. An order of six to eight bone-in wings is $15.49, while a 12- to 16-piece order is a hefty $25.49. Boneless wings are cheaper, at $12.49 for about eight pieces or $20.99 for 14 to 19. Fries are $4.79 for the plain and $8.99 for all others, while the basic salad is $6.59, the others $8.99. The desserts are both $8.29 and the sodas are $2.99 each.
Where are LankyBox Kitchen foods available?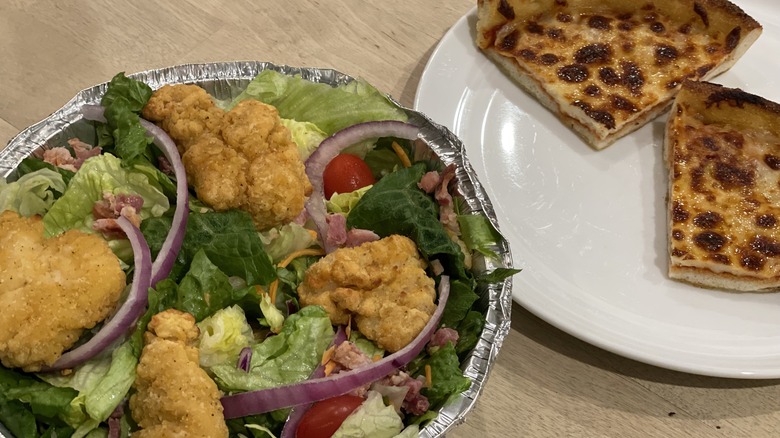 Steven John/Mashed
Wherever there is a Chuck E. Cheese, LankyBox Kitchen's foods can find their way to you, more or less. While not all Chuck E. Cheese locations participate in this new ghost kitchen venture, most do. Per LankyBox's FAQ page, that means more than 450 locations at the ready to deliver food to your house via DoorDash or one of a few other food delivery services. The thing is, your proximity to a Chuck E. Cheese is not necessarily a guarantee you can place a LankyBox Kitchen order. The company's site explains it this way: "Lankybox Kitchen is a delivery-only food brand made from the kitchens of Chuck E. Cheese ... We deliver within 5-10 miles of the Chuck E. Cheese locations." So if you're farther than 10 miles from a Chuck E. Cheese, or if in your neck of the woods the cutoff is a mere five miles, you may be out of luck, because pickup service is not allowed.
Still, it's a good chance that, if you live in or near any urban metro area, you will be in range of a LankyBox Kitchen delivery. Currently, only six states have no availability (Hawaii, Montana, Wyoming, North Dakota, Vermont, and Maine are all left wanting as of the time of this writing) and LankyBox Kitchen has stated plans to grow rapidly in the coming months and years.
How does the new menu compare to classic Chuck E. Cheese foods?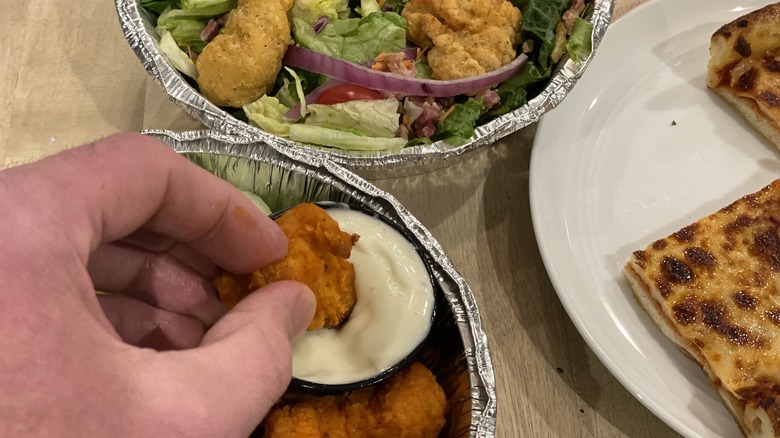 Steven John/Mashed
To be clear, Chuck E. Cheese and LankyBox Kitchen have a deal for the former to prepare and cook the foods for the latter, but they are not the same company. It just so happens that the limited menu currently offered by LankyBox Kitchen is very close to many of the core foods on the Chuck E. Cheese menu. Indeed, Chuck E. Cheese serves Unicorn churros that look suspiciously similar (OK, identical) to the Foxy churros on the LankyBox Kitchen dessert menu. Those bone-in or boneless wings Chuck E. Cheese offers, which come in flavors like hot buffalo, smoky BBQ, sweet chili, and more? Say, aren't those the same wings and wing flavors we could choose at LankyBox Kitchen's site? 
Anyway, you get the point here: The foods on offer for delivery from LankyBox Kitchen are quite comparable to those you get down at your local Chuck E. Cheese. Sure, Chuck E. Cheese has a salad bar whereas LankyBox has only three options; Chuck E. Cheese has multiple prepared pizza options and a build-your-own whereas, again, LankyBox has only three. And the mac and cheese menu options from LankyBox are something new for a Chuck E. Cheese kitchen, but overall, if you know Chuck E. Cheese's fare, LankyBox Kitchen's foodstuffs will make plenty of sense to you.
What's the nutritional info for LankyBox Kitchen?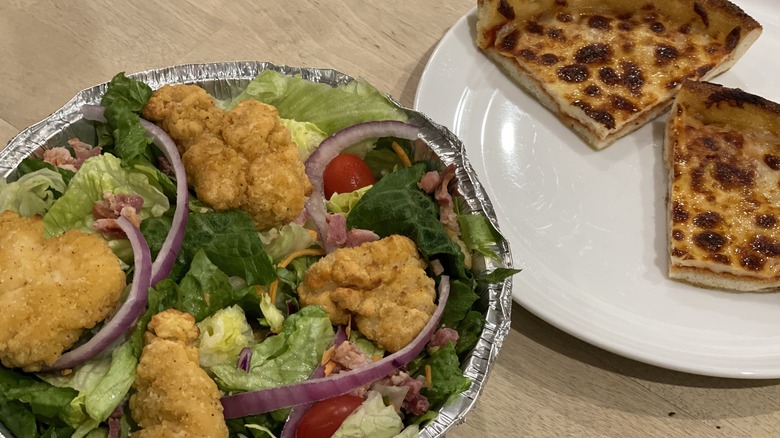 Steven John/Mashed
LankyBox Kitchen has not yet posted the nutrition information for its foods, so we're doing our best culinary detective work to arrive at approximate stats. Since Chuck E. Cheese is a close comp for LankyBox Kitchen, we'll use its nutrition figures to guide us. A small, plain order of wings from Chuck E. Cheese, which is comparable in size to LankyBox's regular size, has 500 calories, 33 grams of fat, 10 grams of saturated fat, and 2,190 milligrams of sodium. The BBQ wings kick that to 680 calories and 2,960 milligrams of sodium, leaving the other stats basically unchanged. The Buffalo wings? 600 calories, 37 grams of fat, and a whopping 4,080 milligrams of sodium.
Now let's talk churros: Chuck E. Cheese's Unicorn churros, which are, again, the same as LankyBox's Foxy churros, have 217 calories per serving, 25 grams of fat, 13 grams of saturated fat, and 450 milligrams of sodium. For the pizza, the closest comparison we could find was Pizza Hut's classic Personal Pan Pizzas. They are slightly larger than LankyBox pizzas, so we're trimming 25% off the stats to find a cheese pizza has about 450 calories, 18 grams of fat, 7.5 grams of saturated fat, and 930 milligrams of sodium. For pepperoni, it's actually the same stats, and for veggie pizzas, the numbers are a bit lower. Keep in mind that this is just a very rough estimate of the actual stats for LankyBox.
Did we enjoy the food from LankyBox Kitchen?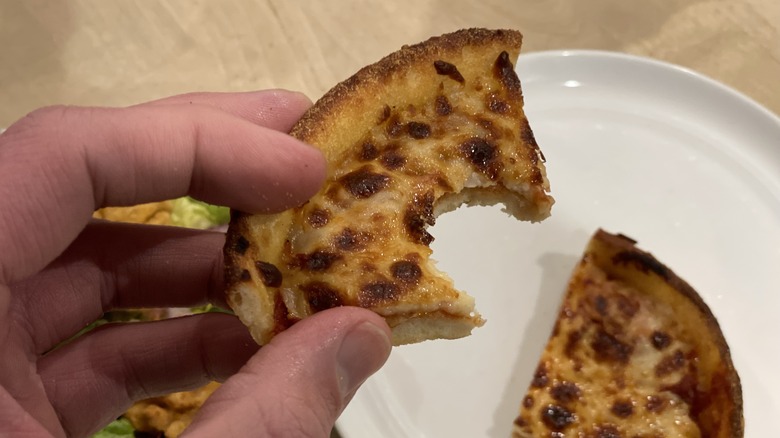 Steven John/Mashed
We enjoyed the foods from LankyBox Kitchen in just the same way we enjoy occasionally breaking out an 8- or 16-bit video game system for some retro fun. Just like playing old-school Super Mario or Sonic games is fun now and then, so too was the nostalgia-flavored feast we got from LankyBox; the foods literally tasted like childhood. And while certainly here in adulthood we're going to stick with brussels sprouts, barley, steak, kale, and our peerless lentil stew most of the time, it's fun to know that, just down the road and a few clicks away, this timeless comfort food awaits.
As for the specifics, the pizzas were grease bombs but delicious in that unhealthy pizza way — spongy, buttery crust, well-placed toppings and even cheese distribution, and a good size for one adult to enjoy, provided said adult is also eating other foods. Which we did. The Buffalo wings were milder than we like, but that made them acceptable for more sensitive young palates, while the BBQ wings had a lovely smoky sweetness. The salads were on the boring side, but at least they provided vegetables. Our fries arrived pretty soggy and needed pan frying to be made palatable, but that's what happens with all delivery or takeout fries anyway. As for the mac and cheese or desserts, we'll just have to try those the next time we want some retro nostalgia eats.