Hacks For Making Your Boxed Brownie Mix Taste Homemade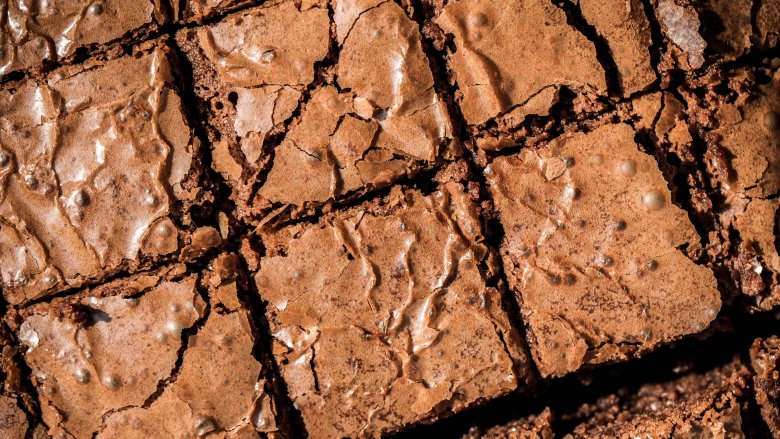 Shutterstock
Boxed brownies are one of the simple pleasures in life. A pre-packaged mix, easy to follow directions, and a few simple steps have you only minutes away from a gooey, chocolatey treat you can't wait to sink your teeth into. This amazing invention is the ideal quick-fix answer to your chocolate brownie cravings. With the science of baking and recipe hassle already figured out for you, there's no need to make brownies homemade. Well, that is until you need to impress your guests or want to take things to the next level. That's when you start scouring for brownie recipes and become stressed with fears of baking failures. Luckily, there are a few hacks you can do to jazz up your boxed brownies that will fool anyone into thinking those decadent squares are homemade. From adding toppings to using creative ingredients in the batter, here's what you can do to disguise boxed brownies as homemade.
Use creative toppings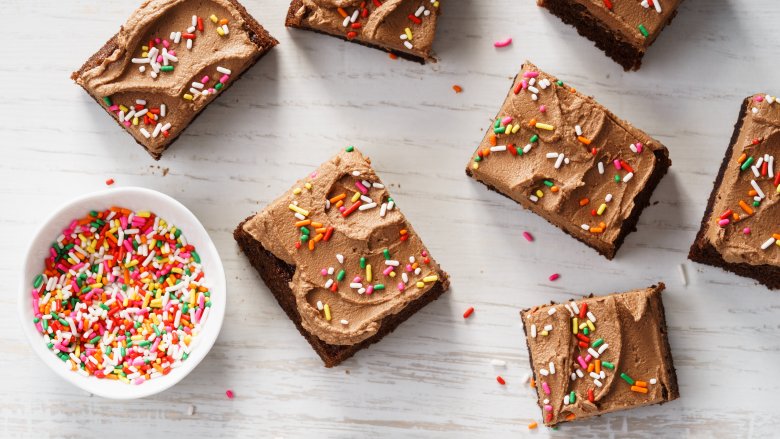 Shutterstock
The simplest way to make a box of brownies taste homemade is by adding on toppings. Like jazzing up an ice cream cone at the scoop shop, there are an endless array of combinations that would fool any sweets eaters into thinking your boxed brownies are homemade.
For entertaining a younger crowd, you could smear on homemade chocolate frosting and add a handful of rainbow sprinkles that the kids will absolutely love. For the adults, add a bit of elegance with crushed pistachios and a handful of fresh raspberries. If you have anyone with a sweet tooth that needs an extra sugary fix, try a mixture of your favorite candy bars or cookies crushed on top, or double up on the frosting with a layer of creamy peanut butter and a rich chocolate ganache. Or try crushed Graham crackers and peanut butter cups over your chocolate icing. You can even go all out with a s'mores topping consisting of Graham cracker, mini marshmallows, and Hershey's chocolate candy bar pieces — sprinkled on when they're fresh out of the oven so they get a perfect melt. The point is to mess around with it and have fun. If you think it would taste good on a brownie, it probably will. 
Add a variety of chocolate chips to the batter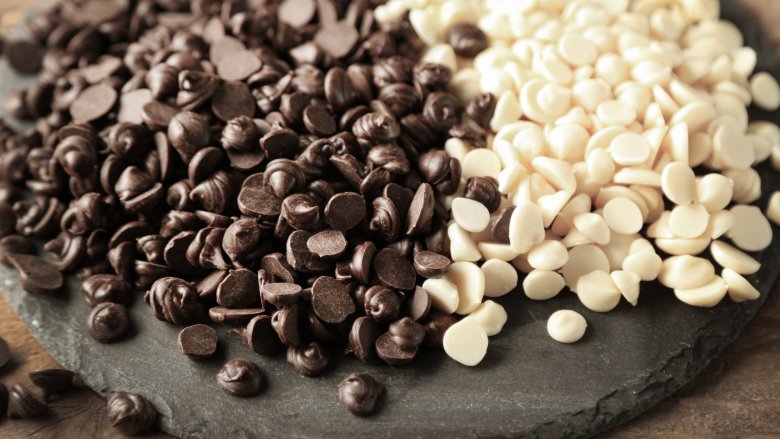 Shutterstock
We understand if you want a homemade taste, but don't want to mess with the perfected baking science of a boxed brownie mix. In this case, you can't go wrong with adding in chocolate chips. Taking that box and turning it into a chocoholics heavenly dream, stir in a mound of milk chocolate, dark chocolate, or white chocolate chips (or all of the above!) to the prepped batter. You could even add in bittersweet or mint chocolate chips for a twist. From there, you can prepare the brownies as normal.
Don't worry, the extra ingredient won't change the baking time or call for a temperature adjustment. What it will do is elevate your brownies to the next level. Filled with extra chocolatey goodness, there is nothing quite like biting into a warm, gooey chocolate loaded brownie that has melted chocolate chips oozing out. Pour a cold glass of milk, you're going to need it for this one.
Use avocado as the secret ingredient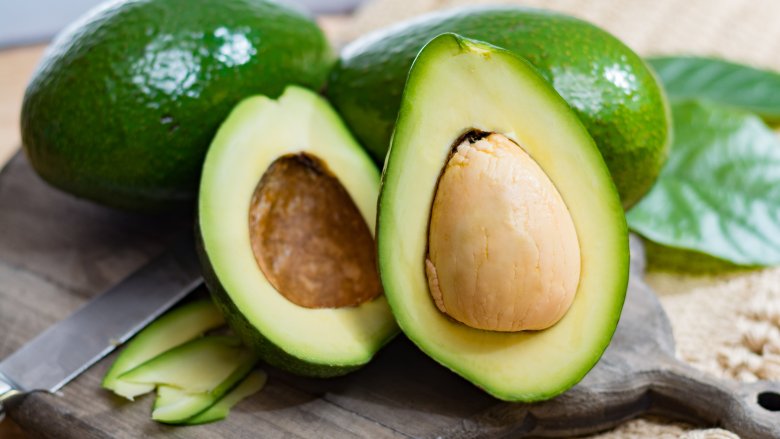 Shutterstock
Want to turn your boxed brownies into a creamy treat? Add in an avocado. It may sound like a strange ingredient to add, but avocados are the secret ingredient you've been looking for. When preparing your batter according to instructions, whip in a smashed avocado, then bake. Once the brownies are done, you'll have achieved a creamy, fudgy texture.
You may be a bit skeptical at first, but you shouldn't be. The chocolate of the brownie mix is so overwhelming, it will mask the mild flavor of avocado. You probably won't even be able to detect the avocado. Of course, if you love avocados you can put a few fresh slices on top once it's done baking.
Purely for texture, this is a fun baking hack you'll love to use over and over. Your brownie lovers will love it too. A single bite of these gooey, creamy brownies and everyone will be asking what your secret is. We won't tell if you don't!
Add in swirls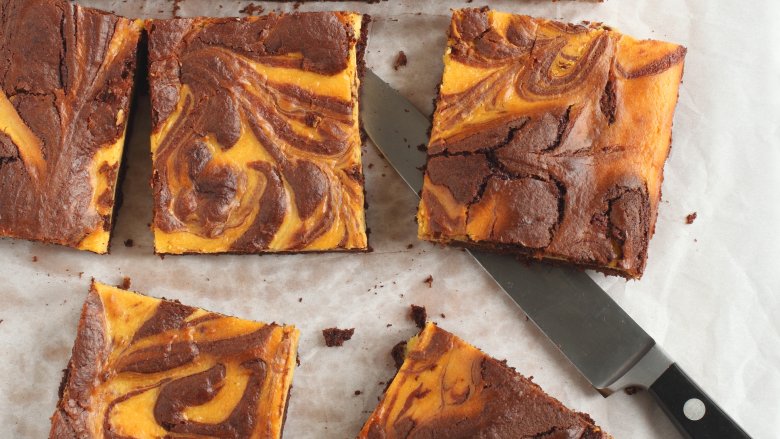 Shutterstock
If you get a kick out of adding toppings to your brownies, then you'll go crazy over adding in swirls. Brownie swirls taste great, look decadent, and are fun to make. Using raspberry jam, peanut butter, Nutella, caramel, marshmallow fluff, cream cheese, or whatever else you like, you can make swirls out of a variety of ingredients that really complement this chocolate treat.
Adding swirls to boxed brownies is easier than you may think. To start, pour the prepared brownie batter into a baking dish. Once it's leveled out, add several spread out dollops of whatever extra ingredient you are using. As long as the ingredient is spreadable and not watery, it will swirl nicely. Then, take a skewer or butter knife and drag it through the batter, as if you were cutting them to serve. As you do this, you'll notice a mesmerizing swirling effect taking place. Once the brownies are baked, they will look — and taste — so scrumptious that nobody will be able to tell they weren't homemade.
Stuff them with cream cheese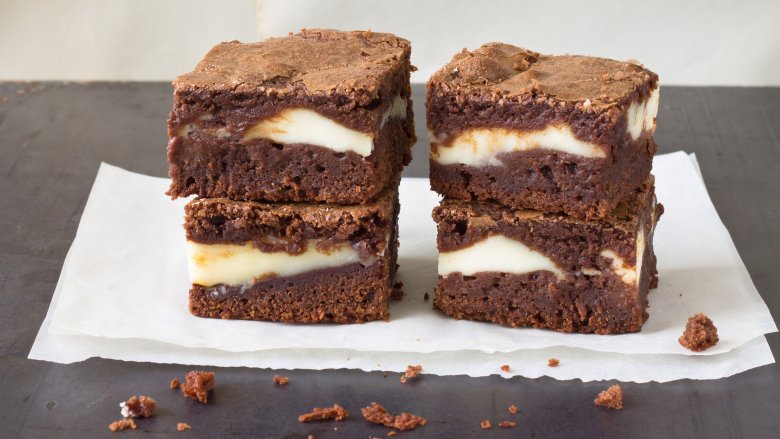 Shutterstock
Can't decide between a decadent cheesecake or a fudgy brownie? Have both. With a dessert mashup like cheesecake brownies you get the best of both worlds. What's even better than that is with a boxed brownie mix and a quick cream cheese filling, you don't have to spend too much time in the kitchen making a fabulous dessert.
To make cheesecake brownies, you'll need a package of regular cream cheese, one egg, a quarter cup of sugar, and a dash of vanilla extract. Let the cream cheese sit at room temperature to soften or nuke it in the microwave for a few seconds if you can't wait. Whip in the egg, sugar, and vanilla. Then, in a baking dish pour in half the brownie batter and cover with the cream cheese filling. Be sure to spread it out as evenly as you can. Top that off with the rest of the brownie batter and bake. Due to the addition of the cream cheese mixture, the cooking time may need to be extended. To test for doneness, poke the brownies with a toothpick. If the brownie batter has set, you're ready to devour your dessert mashup.
Mess around with extracts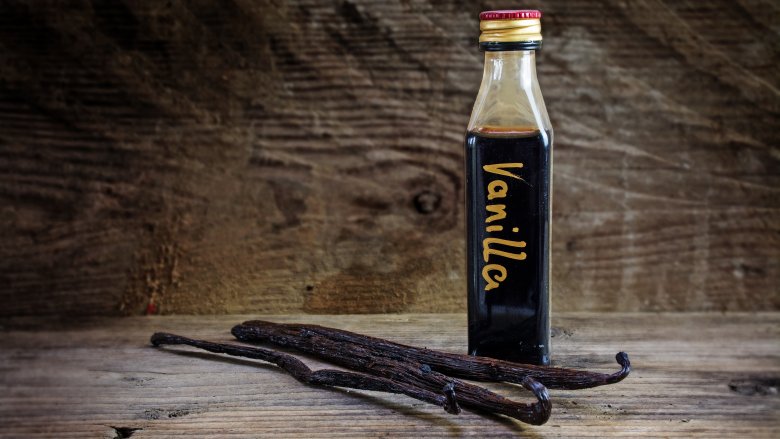 Shutterstock
Speaking of vanilla extract, if you want more out of your boxed brownies try messing around with a variety of extracts. Extracts are a fun and easy way to experiment with boxed brownies without requiring much more work. When it comes to flavors, vanilla is a popular one that won't steer you wrong. If you're feeling a bit more creative, try coconut, cinnamon, orange, maple, coffee, bacon, root beer, rum, chai, mint, lavender, or any other extract that pairs nicely with chocolate. Even if vanilla is your favorite, there are many options you can mess around with. Madagascar vanilla, Mexican vanilla, Indonesian, and Tahitian vanilla extracts all provide their own unique characteristics.
When adding extracts, be careful not to use too much. A few drops, about a teaspoon worth, can go a long way. While the use of extracts are meant to add a subtle yet detectable twist, with a simple dash you can transform the flavor of your pre-packaged brownie mix.
Sub out water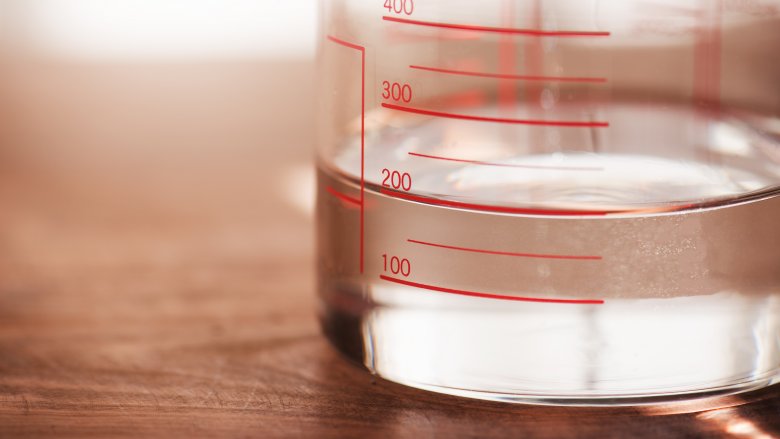 Shutterstock
The directions on the brownie box may call for water, but replacing it with another ingredient is an excellent opportunity to enhance the overall flavor of your brownies. While water is an accessible ingredient, it tends to make the brownie batter, well, more watery. It doesn't add as much flavor as other ingredients can.
So what should you sub out water for? It all depends upon your desired flavor. If you want your brownies to be more creamy, try using milk or even heavy cream. Either one will add more depth to the packaged brownie mix. Another creative option is to use brewed coffee. Coffee already goes smashingly with dessert, so why not put it in the recipe? Brewed coffee will enhance the chocolatey flavor of the brownies without overwhelming them. The subtle contrast certainly kicks up the brownies a notch, making it hard to tell they came from a box.
Sub out oil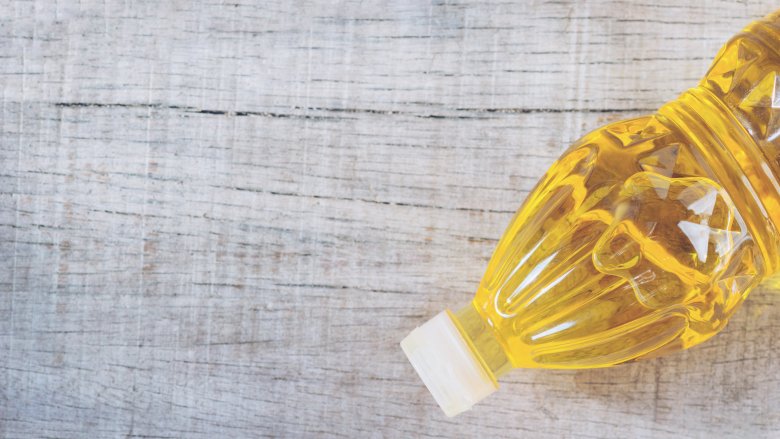 Shutterstock
While we're on the subject of substitutions, another ingredient you can make a substitution for is the oil. The directions on the back of the box usually call for using vegetable or canola oil. But why stick to just that? With so many other options, it's time to think outside the box — or should I say beyond the instructions on the box.
Rather than using the average cooking oil, use butter to make the brownies super rich. You can even try using ghee. Another option is to use coconut oil. Coconut oil will add in a hint of a tropical flavor that pairs nicely with the chocolate — just be sure to melt it first, as solid coconut oil will be hard to mix into the batter. Another route you can take is to sub out half the oil for a fruit option such as mashed banana, applesauce, or fruit purees. No matter your preference, don't miss this easy opportunity to snazz up your boxed brownie mix.
Try different spices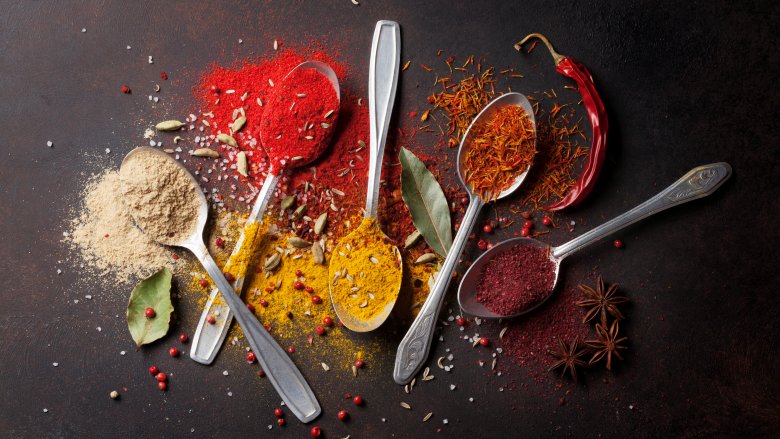 Shutterstock
The answer to your boxed brownie dilemma is hiding in your pantry. Actually, you have many answers hiding in your pantry and it comes in the form of spice. A dash of spice is a simple food hack to enhance premade brownie mixes. The trick here is to compliment and contrast with your spices. Cinnamon, allspice, chili powder, cayenne powder, ginger, anise, pumpkin spice, clove, grains of paradise, mace, and cardamom are a few to start with. Try using a single spice or a combination.
One that works really well if you like a bit of heat with your chocolate is half a teaspoon of cayenne powder and cinnamon. Mimicking the flavor of a Mexican hot chocolate, it adds just the right amount of kick without burning your pallet. If you can't take the heat, take it down a notch with a touch of nutmeg. Nutmeg will add a sweet, nutty flavor you can't get from a box. Either way, you'll be delighted with this new trick.
Make it sweet and salty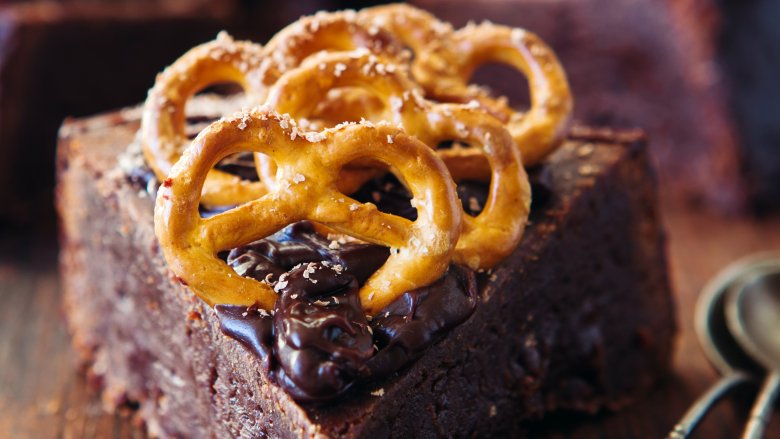 Shutterstock
If you thought biting into a warm brownie sent your taste buds to their happy place, then wait until you add in the contrast of something salty. A little bit of sweet with a touch of salty will take your brownies to a whole new level.
So how do you achieve such a stellar sweet and salty combination? Start with a basic ingredient like sea salt. Sea salt can taste just as good in sweets as it does in savory foods. When your brownies are finished baking, simply drizzle on some caramel and sprinkle with sea salt. That's it. If you're more of a peanut butter fan, spread some peanut butter on top of the brownies and top with pretzel twists. Even better yet, top it with chocolate covered pretzels. The ultimate sweet treat, chocolate-covered pretzels were made to be a brownie topping. One bite of this sweet and salty duo, and this will become your new favorite brownie hack.