President Biden's First State Dinner Included Lobster, Caviar And A 'Calotte Of Beef'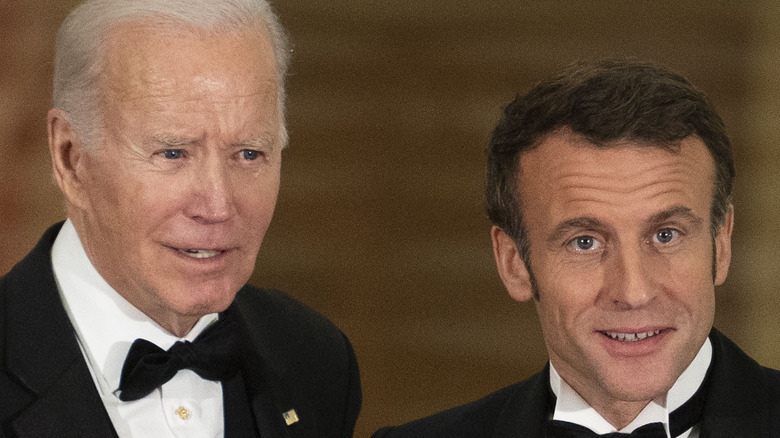 Bloomberg/Getty Images
It's been a minute since the last state dinner was held at the White House, thanks in large part to the COVID-19 pandemic. In fact, President Joe Biden and First Lady Jill Biden just hosted the first of his presidency, which is already two years in. Such an event is held at the White House when playing host to a "visiting head of government or reigning monarch," says The White House Historical Association (WHHA). According to WHHA, the very first state dinner was held in 1874 when President Ulysses S. Grant welcomed the Kingdom of Hawaii's foreign head of state. That meal included a whopping 20 courses! Other notables have noshed at such events in the years since, including heavy hitters like King George VI, Queen Elizabeth II and husband Prince Philip, President Anwar Sadat of Egypt, Nelson Mandela, Mikhail S. Gorbachev, and many others.
On December 1, the White House welcomed repeat visitors, French President Emmanuel Macron and his wife Brigitte Macron. The pair also attended a 2018 state dinner hosted by then-President Donald Trump. The monsieur and madame were hardly the only guests on hand for the event, however. More than 300 guests attended the black-tie affair, including celebs like John Legend, Chrissy Teigen, Vogue editor-in-chief Anna Wintour, Julia Louis-Dreyfus, Stephen Colbert, and more, Politico reports. Hopefully, each and every guest came hungry enough to truly enjoy a carefully cultivated menu fit for a king, er, president.
The state dinner menu spared no expense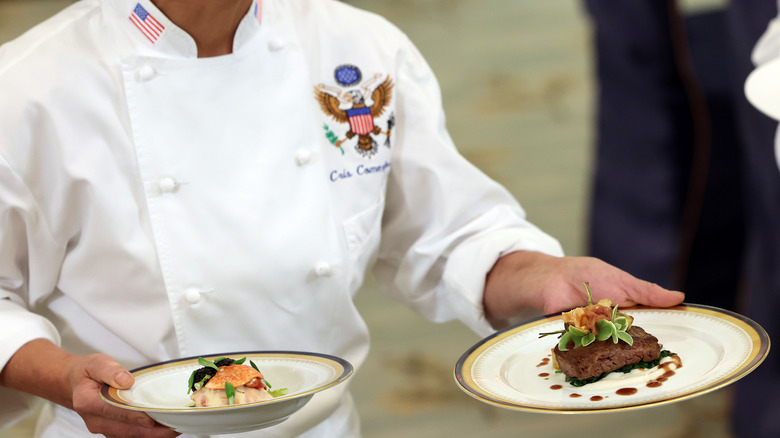 Kevin Dietsch/Getty Images
Planning a state dinner is a massive task, and considers the culture and preferences of the honored guests. In 1980 the prime minister of Israel visited and the meal was designed to be both dairy-free and kosher. A rabbi was sent ahead of time to oversee the menu, WHHA says.
The 2022 state dinner didn't have those parameters, but there's always a specific gesture made to honor the cuisine of the visiting guests, while also incorporating American fare. One of those nods for the French guests was a cheese course, served before dessert. However, it didn't include traditional French cheeses, but rather artisanal cheese options made in the USA. One was the 2019 World Cheese Awards champion, a Rogue River Blue cheese, The Washington Post reports.
Prior to the cheeses, however, the dinner got off to a highbrow start thanks to a first-course serving of lobster with tarragon sauce. American osetra caviar was also served, considered to be one of the very best types of caviar available in the world, per Caviar Lover.
Red meat also made an appearance on the menu, in the form of a "calotte of beef." This particular cut of beef is said to possess the best of both the tenderloin and ribeye cuts, per Ranchly. Also known as a "coulotte," this cut is described by the Washington Post as "well-marbled," meaning that there's plenty of flavorful fat throughout. Bon appétit, mes amis!