Michael Symon Says Garlic And Butter Doesn't Normally Go In Italian Alfredo Sauce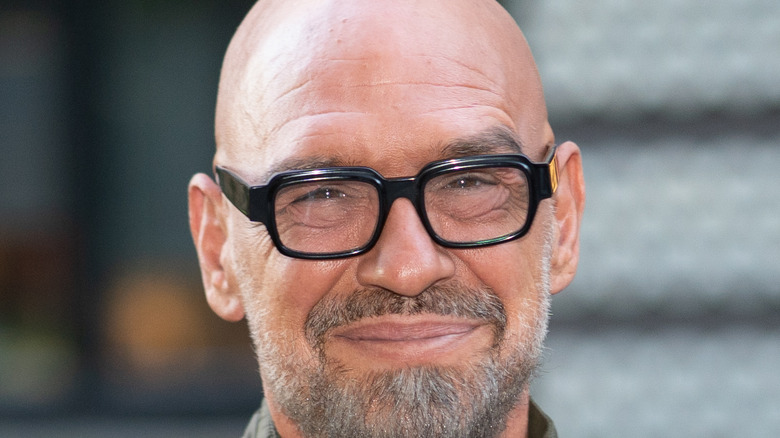 Mark Sagliocco/Getty Images
Pasta and barbecue aficionado Michael Symon is known for sharing his knowledge about all things food through his Twitter account. On the social media platform, he's previously educated trolls about the multiple different types of gnocchi and shared his opinion on what he believed was the perfect burger. And something notable about a lot of Symon's Tweets is that they are always almost thought-provoking, with users in the comments going back and forth about topics ranging from not using ketchup to how to scramble eggs.
And just recently, the celebrity chef just dropped another hot take on the platform — that garlic and butter don't belong in Italian alfredo sauce. To many, this might come as a surprise, as this popular pasta sauce is known for its slightly pungent taste and creamy consistency. However, on Twitter, Symon revealed that he's never enjoyed alfredo sauce in Italy with both garlic and butter.
Italian chefs don't typically use the ingredients in their sauce, Michael Symon says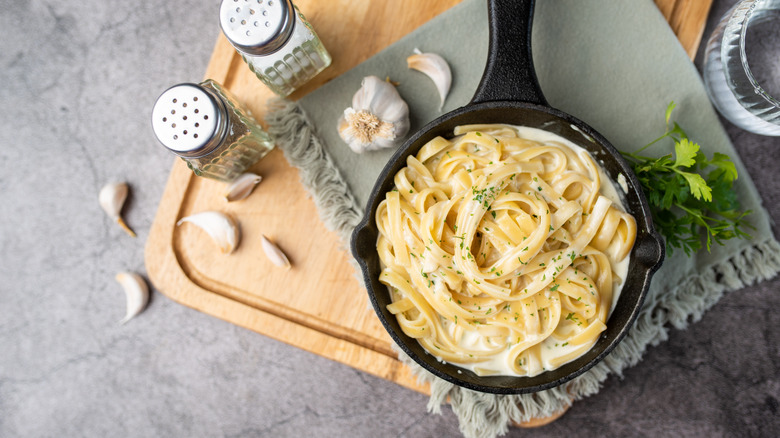 Tanya Consaul Photography/Shutterstock
What prompted Symon to drop this confession was a post he was tagged in by a fan. The original tweet read, "American chefs get this recipe so wrong it's criminal. Cooking tip no. 101. There's NO cream in authentic Italian Alfredo sauce! Please make a note of it. You're making something else. Not Alfredo. Call it American white sauce not Alfredo!"
The post got quite a bit of traction — including from Symon himself. In a tweet, he agreed that he never encountered an alfredo sauce made with cream by chefs in Italy, with just one exception. Additionally, one commenter responded with their own recipe for the sauce, which included parmesan cheese, white pepper, butter, fresh garlic, and pasta water from cooking fettuccine.
In response to this combination, Symon noted, "Never had with garlic in Italy." He later added in another reply, "And often not butter." But although the Food Network star has yet to sample an alfredo recipe in Italy with both garlic and butter, his own recipe utilizes the latter ingredient (via Keyingredient.com). That doesn't mean the sauce isn't any less rich than the Italian kind, but like Parmigiano Reggiano, another key ingredient in alfredo, the American and Italian versions aren't exactly the same.