The Best Pizza Stones To Buy In 2022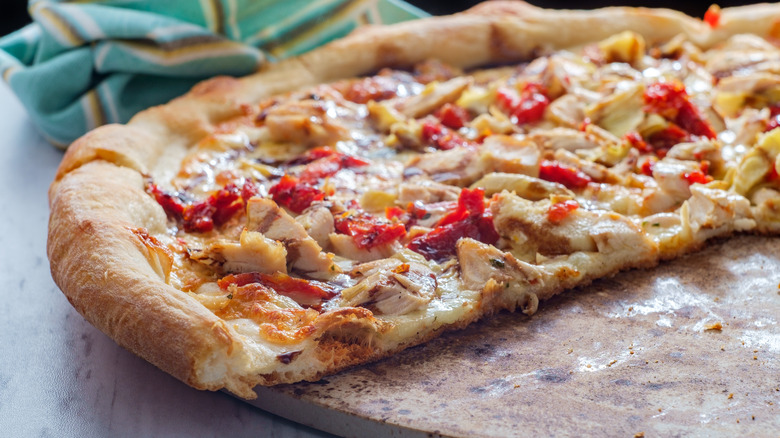 Ezumeimages/Getty Images
We may receive a commission on purchases made from links.
If there's one food in the world that every person has tried, it just might be pizza. It is a wildly popular dish, with each country having its own twist, and thousands of pizza places dedicated to serving it. It's traditionally made with dough, sauce, and cheese. Pizza aficionados across the globe have put their own unique spin on the tasty food, and professional chefs and home cooks alike fancy themselves culinary artists in regards to their own recipes.
But behind every pizza, or underneath it, to be more specific, is a great pizza stone. Pizza stones are an integral part of the cooking process, especially at home where kitchens aren't equipped with the tools and technology on par with professional cook spaces. If you're going to make a stellar pie at home, you're going to need a stellar stone.
Cooking pizza is no joke. Though it's not the most difficult dish to make, there is both an art and a science to it, and an important part of both is the stone that's used. No matter the shape, material, or price, the most important quality it needs is a high performance. We've rounded up the best pizza stones of the year, each one certain to deliver a high-quality pizza. No matter your pizza stone need, we've got you covered.
How we chose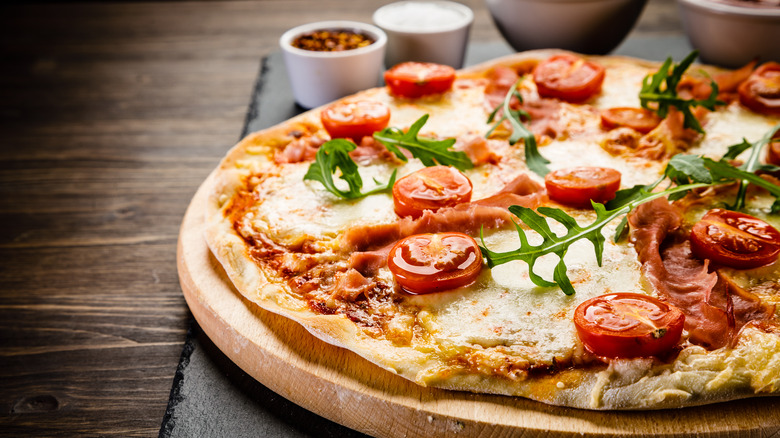 Gbh007/Getty Images
Choosing great pizza stones isn't easy, and choosing the best is even harder. Before we even began sifting through our options, we determined what we look for in a single great pizza stone. It must be able to withstand high temperatures, to evenly distribute heat, to be used with a variety of heat sources, and to be easy to handle.
We used those criteria to guide our decisions. Any pizza stone that didn't meet them was automatically disqualified, and after we had a group of stones that met our standards, we factored in other aspects to purchasing stones. Price, material, and shape were our next set of criteria.
After finding stones that fit what we were looking for, we categorized them according to their most outstanding feature. The list is succinct and deliberate, and it includes only those pizza stones we'd want to use ourselves. These are the best pizza stones you can buy this year.
Best overall
Of all the pizza stones available to purchase this year, the best in our book is the Augosta Pizza Stone. It's versatile, a great heat conductor, and easy to clean, and it gives great results. A rectangular shape, this stone is made of cordierite, a natural mineral that makes the stone durable and able to withstand an oven as hot as 1,112 degrees Fahrenheit. Whether you're making pizza on a grill or using a wood-fire oven, the Augosta stone will soldier on, delivering you tasty pies for years to come.
As customers have found, this pizza stone won't crack, and it'll improve the taste of your pizza. "After having two round pizza stones crack, we did more research about how to avoid that issue and landed on this product to try next. Our first two oven pizzas were fabulous! The crust cooked perfectly both times," one reviewer on Amazon said. And as another Amazon customer noted, "This thing really does improve frozen pizza." 
The Augosta pizza stone also comes with a wooden paddle to make retrieving your pizza easier. The combination of the tools makes it a fantastic deal for a great price. It's absolutely a purchase worth making if you're a pizza fan. The Augosta Pizza Stone can be purchased on Amazon for $31.99 as of December 2022.
Best affordable
Pizza stones aren't typically an investment, per se, though it is nice to find one that won't break the bank but will still elevate your pizza. That's why we love the Handook pizza pan. This steel pan is round and features a platform with holes to let your crust get a bit of direct heat, too. It's a great design that saves on cost without sacrificing taste and texture.
The Handook pizza pan is incredibly lightweight, and it's safe in ovens up to 500 degrees Fahrenheit. Though it can't be used in a wood-fire oven, it's still safe to put on the grill, and it's perfect for all your pizza nights indoors. And thanks to its 12-inch diameter, it can even fit in some air fryer toaster ovens.
The Handook branded item is perfect for anyone who wants a pizza pan that isn't high-maintenance or exorbitantly priced. And we're certain you'll still end up with a tasty pie. Per one Amazon customer, it delivers "Unbelievable pizza! This pan really does have some kind of magic, the pizza is super crunchy and delicious it just cooks entirely differently with those little holes. And nothing seems to get stuck in them. It's the greatest little investment ever." Purchase your Handook pizza pan on Amazon for $12.99 as of December 2022.
Best splurge
If you're going to splurge on a pizza stone, we suggest going all in on the FibraMent-D Rectangular Home Oven Baking Stone. Though it just looks like a slab of stone, the FibraMent-D pizza stone is actually a well-engineered piece of baking and cooking technology. It's designed to stay in your oven and be used in place of your regular baking pans for pizza, cookies, and more. Though not everything, like bread and cakes, for instance, can be made directly on the FibraMent-D stone, it does act as a stellar platform for your traditional pans.
You can get tons of use out of this stone, but even if you only use it for pizza, you'll be pleased. Its presence in your oven keeps the internal temperature more consistent, making for a more even cook throughout the pizza. The crust will have texture, the middle will be cooked through, and the cheese will be perfectly melted. It makes for a superior pie. "AMAZING STONE!!! A must if you're serious about making awesome pizzas," one reviewer shared on Breadtopia. "I cannot say enough good things about the Fibrament-D baking stone," an Amazon customer echoed. 
It won't take long to get your money's worth out of this pizza stone. With two sizes to choose from, you will discover that any oven can benefit from its presence. Get the FibraMent-D pizza stone from Amazon for $142 as of December 2022.
Best ceramic
Ceramic bakeware is as useful as it is beautiful. Ceramic is a good heat conductor, and it evenly distributes heat, too, making it a great material to bake a pizza on. Nobody wants a pizza with an underbaked middle and a burnt crust, and when you use the Kamado Joe Ceramic Pizza Stone, that isn't even a possibility. This stone just about guarantees perfect pizza.
Kamado Joe is best known for its Kamado grills, and Kamado grills make fantastic pizza. The brand making its own pizza stone was a natural progression, and although the stone fits perfectly inside a Kamado Joe grill, you don't have to own one for the stone to do its magic. It works just as well inside an oven. "Worked like a charm. Pizza was great! And it was easy with the Stone," one customer shared on Komado Joe's website. There's a lot to love about this pizza stone, but do note that Kamado Joe recommends using a heat deflector so your pizza doesn't burn. 
Aside from that, it's about as good as a ceramic pizza stone gets. "If you're looking to grill pizza at the high temps in a ceramic grill, this stone is up for the task," another customer noted on Amazon. Get your Kamado Joe Ceramic Pizza Stone for $49.08 on Amazon as of December 2022.
Best cast iron
Ceramic is a superb material for bakeware, but cast iron has its place, too. Known for its durability and as a great conductor, cast iron can give your food exceptional taste and texture. It's a wonderful option when it comes to pizza stones. If you're after a cast-iron pizza stone, look to Lodge. Its 15-inch stone boasts plenty of space for your pizza, and it comes with handles, making it easy to put into and pull out of the oven.
Cast-iron pizza pans work well for a variety of reasons. They're incredibly versatile when it comes to heat sources. Cast iron can withstand unbelievably high temperatures — likely higher than even your wood-fire oven can reach — so they can be used in an oven, on the grill, or over a campfire. If you want one stone to use indoors and outdoors, cast iron is the way to go.
Cast iron can be washed only by hand, and if you don't care for it properly, you will quite literally ruin it. It may pose some difficulty when it comes to cleanup, but if anything is stuck, you can burn it off without ruining the pan. And if you can overlook that caveat, you'll be immensely pleased with this pan. "I love cooking with cast iron and this pan met all of my expectations ... Well worth the money," one Amazon buyer said. Lodge pizza stones are available on Amazon for $39.90 as of December 2022.
Best circular
If you're ardently of the opinion that pizza should be round, you'll need a circular pizza stone. Circular pizza pans are not difficult to find, but good ones can be, and we suggest the Cast Elegance Thermarite Pizza and Baking Stone. This stone is thick and durable, and its thickness soaks up heat that's distributed evenly throughout, making for one heck of a pizza. Hand wash only, the Cast Elegance stone can be used indoors or out, and it's easy to clean no matter where you're making pizza.
Others who've tried the Cast Elegance pizza stone are taken with it. Like one Amazon customer commented, "This is the perfect pizza stone. It will give your pizza crust a nice crunch, like it was made in a brick oven. Everyone that has tasted pizza in our home immediately wants to buy this same pizza stone." As The Spruce Eats said, "I liked the Cast Elegance Round Pizza Stone a lot. Pizzas emerged with a nice crust, and it was plenty large to fit frozen or homemade pizzas."
Cast Elegance stones are also engineered not to retain odors, so every time you reach for the stone, it'll be as fresh as when you first used it. It's a great piece of equipment for pizza lovers to have at home. Get your own Cast Elegance Pizza and Baking Stone on Amazon for $39.95 as of December 2022.
Best rectangular
Facing off against round pizza lovers are the rectangular pizza lovers. Though there might not be as many rectangular fans as round, there are enough to warrant plenty of options in rectangular pizza stones. And the best of them all is the Unicook Pizza Stone. It's affordable, thick, and perfect for grills and ovens alike.
Made from cordierite, this stone is heavy. You probably won't reach for it to cook a frozen pizza (although it would definitely improve the outcome), but it's fantastic for nights where you're cooking from scratch, or at least assembling from scratch. The Unicook stone weighs well over 6 pounds, and it's got specific care instructions. However, it comes with a scraping tool to make cleanup easier, and its results speak for themselves. Once you've made a pizza on this rectangular stone, you'll be hard-pressed to use another option.
"Works like it should! ... As far as I can tell, it distributes the heat evenly, and my pizzas come out great," one Walmart reviewer stated. "I have this same stone at another location and it works great for both pizza and calzones," an Amazon customer said. Purchase a Unicook Pizza Stone for $35.99 on Amazon as of December 2022.
Best for ovens
If you need a pizza stone only for the oven, check out the CucinaPro. Like many, this rectangular pizza stone is made from cordierite, and that material makes for great pizza. This stone was made to retain moisture and heat your pizza evenly, which results in crispy, texturized pies that taste as good as they look. And although it's rectangular, the CucinaPro is large enough to house round pizzas, too, so no matter the shape you want, this stone can handle it.
But you'll love the CucinaPro for more kitchen ventures than just pizza. As one customer noticed, this baking stone, when left in your oven, will improve the outcome of all your dishes. "By keeping the stone on the rack one slot below the middle slot in my oven, the oven's temps are very reliable and consistent. The stone absorbs a lot of heat then radiates that heat very evenly. This makes the temperature very consistent in my oven and unintentionally solved my oven's irritating hot-cold spots which complicated baking," the Amazon customer said. Any item that can elevate all your food is definitely worth having.
With good care, this pizza stone will last a lifetime, and it'll season itself over time, further improving your pizzas. It's one of the tastiest investments you'll make all year. These pizza stones can be purchased on Amazon for $39.95 as of December 2022.
Best for grills
Pizza tastes amazing no matter the cooking method, but there's something special about making it on a grill. The indirect heat gives it a crispy texture every single time, and the flavor is always rich and divine. Whether you're using secret family recipes for sauce and dough or buying every ingredient from the freezer section at the grocery store, you will find that grilled pizza is unmatched. And it only gets better when you have a good pizza stone. When it comes to grilled pizza, the best pizza stone is from Hans.
The Hans Grill pizza stone is made from cordierite, which we've established is a superior material for pizza stones, and it's thick and highly heat resistant. We like this stone for many reasons, but it's great for the grill because it comes in two separate shapes, circular and rectangular, so it'll fit your grill no matter the grate. It also comes with a complimentary paddle, making continuous pizza cooking a breeze.
Fans of this pizza stone have been vocal about their love. "I've always struggled with pizza peels but this one is great! The stone goes right on our grill and works wonders. Super happy with it!" one fan on Amazon said. "The Hans Grill pizza stone is better to cook on due to the extra space thanks to the rectangular design," a Love2BBQ reviewer noted. You can find the Hans Grill pizza stone on Amazon for $34.99 as of December 2022.
Best dishwasher safe
Homemade pizza nights are equal parts fun and delicious, but none of us is above tossing a frozen pizza in the oven for a quick and easy meal. And if quick and easy are your only criteria for a meal, the same likely applies to cleanup. If that's the case, you want a pizza pan that can be tossed in the dishwasher the second you're finished using it. For those nights, we suggest Cuisinart.
Just as one Amazon customer said, "This pizza pan was really heavy duty and quality made. Usesd it on my frozen pizzas and this is exactly what I needed to help give the bottoms of my pizzas a good even cook so they weren't all doughy. I highly recommend." But even if you don't plan to reserve its use to frozen pizzas, this will do the job. "Love these pans for homemade pizzas! We were having trouble getting a crispy bottom. These pans did the trick!" another Amazon reviewer shared. 
Cuisinart's pizza pan is high quality for the price, made from stainless steel, and quite durable considering its size. It won't warp in the oven or the dishwasher, so you can be confident that your purchase will last for years to come. The Cuisinart pizza pan is available on Amazon for $17.99 as of December 2022.